Go Glider - Pink
From: GLIDE BIKES
Other products from GLIDE BIKES
Shop for It!

(Read Review below)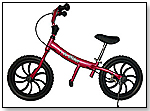 MSRP: $129.99
Age Range: 5 to 10
Launch Date: January 2008
Gender: Girls
Designed for children who are learning to ride a bike, the Go Glider allows kids to practice balance and movement on a model that does not consist of pedals or training wheels. It has 16" EVA foam tires (no air), adjustable handlebars and a seat that is adjustable from 17.5" to 23". Launch date: 2008.
TDmonthly Review:
What It Is
This balance bike is created for 5- to 10-year-olds who are still working to perfect the art and balance of bike riding. It does not have training wheels or pedals, and is outfitted with 16" EVA foam tires and an adjustable seat and handlebars.

What We Thought
A 7-year-old girl who tested out the Pink Go Glider had a blast, commenting that, "It´s like a scooter but more fun." She had a very easy time navigating the bike and learning how to ride it. She felt very safe on the Go Glider, too, except when riding downhill; she thought she might have more control over a regular bike in that situation. Her younger sister, 4, had a harder time riding the bike but enjoyed it, nonetheless, as long as someone was around to supervise.
[There´s also a Mini Glider for ages 2 to 5.]
The bike´s strong, sturdy quality speaks for itself, as does its potential for fun! It does, however, carry a higher price-point than some balance and traditional bikes.

Why They´ll Want It
In addition to the rich pink shade (blue and red are also available), this bike offers adjustability to grow with the child, and provides a sturdy base for kids to learn the balance and confidence they need for riding. Since most balance bikes are sized for younger children, this one distinctively opens up opportunities for a different age range, including use in therapy and development for kids with disabilities. It features quality construction and keeps children active, which is something both parents and their kids can appreciate. — Julie L. Jones, 4/1/2009