Star Wars Jedi Projector
From: UNCLE MILTON INDUSTRIES INC.
Other products from UNCLE MILTON INDUSTRIES INC.
Shop for It!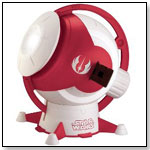 This product projects 24 images on your wall or ceiling, and includes exclusive images of Clone Wars vehicles with a synchronized audio tour narration on CD. Also features bright, clear projection with a focus dial, narration by Captain Rex. Dimensions: Length: 8.5 "; Height: 6.0 "; Width: 8.5". Product Weight: 2.0 Lb.
— As of 10.25.10, this product was listed in the top 30 best-selling toys and games on Target.com.