Joanie Leeds and the Nighlights - What a Zoo!
From: LIMBOSTAR
Other products from LIMBOSTAR
Shop for It!
TDmonthly rating:


(Read Review below)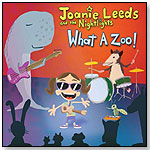 These 14 songs are all about animals. Children's musician Joanie Leeds belts it out with songs that are intended to make kids more interested in the well being of the animal kingdom.
Awards: 2013 TDmonthly Seal of Approval, 2011 Parents Magazine Top Children's CD
TDmonthly Review:
WHAT IT IS
On this album, singer/songwriter Joanie Leeds belts it out on 14 tracks that she hopes will make kids more interested in the well being of the animal kingdom. "Bottom line, we need to teach out children and generations to come how important it is to ´Be Green´ and make intelligent choices when it comes to eating animals," Leeds says in the CD's liner notes. Most of the songs are originals, though there are covers of "Froggie Went A Courtin'," "Possum" by Phish, and "Wimoweh."
WHAT WE THOUGHT
Leeds´ pleasant vocals and fun lyrics about different animals and insects are accompanied by a punchy, poppy instrumental backing. The first track on the album, "All the Animals," is a simple counting song that features different critters and their legs. The lyrics are well suited to the preschool set, and the music is sophisticated enough that mom and dad won´t mind listening.
The songs on the album are catchy without being repetitive or annoying. The melodies take refreshing, unexpected twists and turns that allow Leeds´ voice to shine, all without distracting from the well-written and charmingly simple lyrics. It´s the kind of CD that can be listened to and loved by kids of a wide age range - the lyrics are appropriate for younger kids, but not so infantile as to be off-putting to their older siblings.
The third track, a jazzy, old-timey rendition of "Froggie Went a Courtin'" is especially representative of Leeds´ unique knack for combining a high-level of musicianship with child-friendly lyrics, and a zippy rap interlude performed by children's rapper Secret Agent 23 Skidoo gives the song even more pizzazz. This dynamic song showcases the versatility and talent that shines throughout the entirety of album.
WHY THEY´LL WANT IT
Kids will like bopping around to the high energy, positive songs about animals, while parents will appreciate the expertly crafted songs and Leeds´ beautiful, effortless vocals.
— Justina Huddleston
ToyDirectory Product ID#: 34370
(added 5/30/2012)
---