TDmonthly's Toy Fair 2009 Highlights
Whether you went to Toy Fair 2009 or not, TDmonthly Magazine has coverage you don't want to miss! Coverage includes Products of the Day and Toy Fair Photo Reports, as well as What Buyers are Saying and Exhibitor Tips.
Day 4 - Wednesday, February 18th
Products of the Day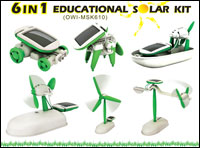 6 in 1 Educational Solar Kit by OWI INC.
Including six different snap-together models, this kit provides children with examples of many uses for solar panel technology. A car, robot dog, hover boat, and other models spring to life when their solar panels are hit by direct sunlight, or the illumination of a 50 watt halogen bulb. Models are compact and light weight, making them easy to take outside and watch as the sun's rays are converted into clean electrical energy.

SEE THE FULL LIST
Toy Fair Booth Specials
We've collected Toy Fair booth specials, and will be adding more each day.

GO TO LIST OF TOY FAIR BOOTH SPECIALS
Toy Fair Photo Reports
Some snapshots of the ongoings of Toy Fair:


| | |
| --- | --- |
| | |
| Gobblet Gobblers spread cheer at the Blue Orange booth. | TDmonthly films a product demonstration at cloud b. |
Toys in the News
Mini-Me ModelWorks Smash-Me Bernie Doll Exceeds 1000 Orders at Toy Fair. February 18, 2009 — The Mini-Me ModelWorks Smash-Me Bernie doll, an effigy of the disgraced financier Bernard L. Madoff, was introduced at Toy Fair 2009, and is generating buzz. Priced at $99.95, the small doll features a smiling Mr. Madoff in a red devil suit with a pitchfork. It comes with a gold "commemorative" hammer for the purpose of pulverizing the doll. Orders have already exceeded 1000, according to company President Graeme Warring.

LEGO Announces Digital Camera At Toy Fair. February 18, 2009 — LEGO announced plans to introduce a line of electronic gear, including a digital camera and a clock radio encased in the brand's signature building blocks, available in Fall 2009, according to the Journal Gazette. The products are being made in conjunction with Digital Blue Inc., a maker of interactive electronics and software based in Marietta, Ga.

CLICK HERE FOR MORE TOYS IN THE NEWS
Feature Articles
Toy Fair 2009 Overcomes Doom and Gloom
Low Prices and Quality Traffic Define 106th Annual Toy Show

Toy Fair 2009, Feb. 15-18, managed a decidedly positive buzz despite recession woes and admitted hardships over compliance with the lead- and phthalate-restricting CPSIA. New York City's Javits Center saw more than 1,100 exhibitors, down from last year's 1,200+, but is estimated to have welcomed in excess of 20,000 attendees, including a whopping 16,000 retail buyers, according to the Toy Industry Association. READ FULL ARTICLE
Mass-Market Mania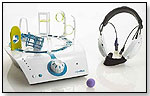 Mind Flex by MATTEL INC.
This brain-powered game challenges users to move a ball through an obstacle course using the power of the mind. It comes with a three-sensor headset that measures brainwave activity and determines the user's level of concentration. The game unit features a fan that blows more powerfully to lift the ball as focus increases.

What Buyers are Saying
"I think the most refreshing thing [at Toy Fair] was to rub elbows with upbeat people. There's been so much gloom and doom on the TV, but there are pockets of success everywhere. There are lots of success stories, and that's been a really pleasant surprise."— Kate Tanner, owner of Kidstop, Scottsdale, Arizona

"We saw a couple of new games ... Simplexity, and Trixos from Foxmind ... there have been lots of great new introductions. It's nice meeting with all the sales managers. ... If I have an issue, they're right there 3' from me and I can tell them about it. Or, if I'm really happy, I can tell them that, too." — Gwen Ottenberg, owner of Imagine That Toys, Wichita, Kansas

"I was excited to see that Manhattan finally put zip-off tails on their mermaids and introduced a natural Skwish ball." — Linda Hays, owner of Hopscotch Toys and Games, McMinnville, Oregon

Click here to add your own comments.

Exhibitor Tip of the Day
"Mentally visualize yourself on the same side of the table as the prospect, as his or her 'assistant buyer.' It's important to be highly assumptive, yet consummately respectful, while leading the prospect through a series of minor decision-making questions." — Charles Allen, C.W. Allen Group