---
Toys in the News: 2-27-09
Click Here for Current News

Spider-Man Webs to Broadway. February 27, 2009 — Marvel's beloved superhero Spider-Man will soon have a new stage on which to strut his stuff. "Spider-Man, Turn Off the Dark" will debut at NYC's Hilton Theatre Feb. 18, 2010, under director Julie Taymor and featuring a musical score from Bono and The Edge of U2. Casting has not yet been announced, the Associated Press reported.

Cary, N.C., Loses Two Toy Stores. February 27, 2009 — Two independently owned toy stores in Cary, N.C., are closing their doors — AbraKIDabra this weekend and The Toy Chest of Preston Corners around the end of March. The recession has made it too difficult to keep up a brick-and-mortar location, Owner Sharon Heath of The Toy Chest told the News & Observer. Both toy stores will continue their businesses online.

CBB Group Recalls Toys for Lead and Choking Hazard. February 25, 2009 — The U.S. Consumer Product Safety Commission, in cooperation with CBB Group Inc., has announced a voluntary recall of various toys, including fishing games, baby rattles and pull-a-long cars that have small parts that can come off and pose a choking hazard, and mini pull-back cars and cartoon bubble guns that contain excessive levels of lead in surface paints. The products retailed at toy and dollar stores from July 2007 through December 2008.

Activision to Release Bakugan Video Games. February 24, 2009 — Activision Publishing has signed an agreement with Nelvana Enterprises, of Corus Entertainment, to create and release video games based on the cartoon series and Spin Master toy line Bakugan Battle Brawlers, beginning this fall. The debut game will be available for Nintendo's Wii and DS, Microsoft's Xbox 360 and Sony's PlayStation 2 and 3 computer entertainment systems, according to a press release.

CandyRific Welcomes New Sales Manager. February 23, 2009 — Louisville, Kentucky-based novelty candy maker CandyRific has welcomed a new sales manager, Greg Decker, to its team. Decker previously worked for Cap Candy and Pez, according to a press release.

Revised ASTM Standard Issued. February 23, 2009 — An international committee has issued ASTM F963-08, an updated version of the toy safety standard that includes revisions pertaining to the following safety issues: ingestion of small, magnetic components; acoustics; strangulation by yo-yo tether toys; impaction hazards; flammability testing; jaw entrapment; hinges and folding parts; and packaging film/age designations related to testing. An ASTM release makes clear that lead-testing requirements, as outlined in the CPSIA, remain as set forth in ASTM F963-07.

LEGO's Profit Keeps Building. February 23, 2009 — After seeing a sales increase of 17 percent in 2008, LEGO is again positioned to perform well in '09, though the company hasn't specified what profits it expects to see. According to Bloomberg News, LEGO benefited last year from its "Indiana Jones" and "Star Wars" licenses, and also markets sets based on "Harry Potter" and "Batman" themes.

Jakks Says Hello to "Hello Kitty" License. February 19, 2009 — Jakks Pacific has snagged the North American toy license for Hello Kitty and other Sanrio properties and will launch the range — to include plush, figurines, furniture, playsets and more — this fall, the Los Angeles Business Journal reported.

Old Navy Recalls Stuffed Toys. February 19, 2009 — The U.S. Consumer Product Safety Commission and Health Canada, in cooperation with Old Navy LLC, has announced a voluntary recall of about 35,500 stuffed animal and creature toys in the United States and 5,400 in Canada because the button eyes can come off and present a choking hazard. The toys were sold at Old Navy stores and online from July 2008 through February 2009.

Hasbro and Marvel Extend Licensing Agreement. February 18, 2009 — Hasbro, Inc. and Marvel have agreed to extend their licensing agreement through 2017. It guarantees between $100 million and $240 million in royalties, depending on Marvel's slate of marketable theatrical releases, according to The Bloom Report.

Evenflo® Recalls Children's Activity Centers Due to Fall Hazard. February 18, 2009 — The U.S. Consumer Product Safety Commission, in cooperation with Evenflo Co. Inc., of Miamisburg, Ohio, today announced a voluntary recall of Evenflo Activity Centers. According to the CPSC, when used as an activity table, the cap on one end of the product can loosen and fall off, posing a fall hazard to a young child. The recall involves Evenflo ExerSaucer Triple Fun stationary activity centers made between October 2006 and December 2008. The model number is 6231711. No other ExerSaucer models use end caps and, therefore, no other models are included in this recall.

Mini-Me ModelWorks Smash-Me Bernie Doll Exceeds 1000 Orders at Toy Fair. February 18, 2009 — The Mini-Me ModelWorks Smash-Me Bernie doll, an effigy of the disgraced financier Bernard L. Madoff, was introduced at Toy Fair 2009, and is generating buzz. Priced at $99.95, the small doll features a smiling Mr. Madoff in a red devil suit with a pitchfork. It comes with a gold "commemorative" hammer for the purpose of pulverizing the doll. Orders have already exceeded 1000, according to company President Graeme Warring.

LEGO Announces Digital Camera At Toy Fair. February 18, 2009 — LEGO announced plans to introduce a line of electronic gear, including a digital camera and a clock radio encased in the brand's signature building blocks, available in Fall 2009, according to the Journal Gazette. The products are being made in conjunction with Digital Blue Inc., a maker of interactive electronics and software based in Marietta, Ga.

U.S. Commerce Dept. Reports Specialty Store January Sales Up. February 17, 2009 — A February 12th report from the U.S. Department of Commerce revealed month-over-month sales by all retailers and food service providers were up 1% in January to $344.6 billion, contrary to expectations that the numbers would continue to slide. Specialty stores reported a month-over-month sales increase of 1.6% percent, while department store sales fell 0.3%, according to Earnshaw's.

Learning Curve And Muppets Creator Sign "Dinosaur Train" Licensing Deal. February 17, 2009 — The Jim Henson Co. has signed a deal with RC2 Corp. for a multiyear agreement as the global master toy licensee for the upcoming animated series "Dinosaur Train," according to The Daily Herald. RC2 Corporation's Learning Curve Brands will feature a line of preschool products that will bring to life the rich and detailed world of the series, with a planned introduction in the latter half of 2010. "Dinosaur Train," created for 3-6 year old children and currently in production for PBS Kids, features Buddy, a preschool-aged Tyrannosaurus Rex, who, along with his adoptive family of pteranodons, goes for adventures on the Dinosaur Train to discover and visit with all kinds of dinosaurs while learning the basic concepts of natural science, natural history and paleontology.

Hasbro To Launch Marvel Universe Action Figures in Spring 2009. February 17, 2009 — Hasbro, Inc. will launch the first-ever line of Marvel Universe 3-3/4 inch action figures this Spring. The detailed, highly articulated action figures will feature a wide variety of Super Heroes from Marvel's comic books, including favorites like Spider-Man, Hulk, Wolverine, Daredevil, and Captain America. Hasbro will also offer a selection of new assortments in its existing Marvel toy lines in 2009. A dozen new Marvel Transformers Crossovers will be introduced, as well as a wide variety of new toys and characters to the popular Spider-Man, Marvel Mighty Muggs And Super Hero Squad lines, according to Superhero Times.

Bandai America Introduces Exciting Fall Lineup. February 17, 2009 — Bandai America unveiled its new Fall 2009 lineup at Toy Fair, introducing products designed to inspire creativity and encourage social development through interactive experiences. Bandai America is the manufacturer and master toy licensee of some of the most popular brands in children's toys and entertainment today, including Power Rangers™, Ben 10™, DragonBall Z® and Tamagotchi®.

LEGO and Disney Announce Licensing Agreement. February 17, 2009 — The LEGO Group and Disney Consumer Products announced a multi-year licensing agreement that gives LEGO access to an extensive portfolio of Disney and Disney Pixar properties. LEGO(R) and LEGO DUPLO(R) products are currently in development for three franchises - Disney Pixar's "Toy Story and Cars" and "Prince of Persia", and are scheduled to launch in 2010.

TIA Presents Toy Of The Year Awards at Toy Fair 2009. February 16, 2009 — The Toy Industry Association (TIA) presented its Toy of the Year Awards (TOTY) Sunday evening, and the big winner was Spin Master for its Bakugan Battle Brawlers Battle Packs, which took home two awards, plus Property of the Year honors for the Bakugan property overall. Educational Toy of the Year, recognizing a toy that, through play, helps children develop special skills and/or knowledge, went to LeapFrog's LeapFrog TAG Reading System. Two inductions to the Toy Industry Hall of Fame were also made: Joan Ganz Cooney, the co-founder of Sesame Street Workshop; and Jack Pressman (deceased), founder of Pressman Toy. For a complete list of all the other TOTY winners, visit the TIA.

Board Games Up 6% in 2008. February 16, 2009 — Despite the overall 3% decline in U.S. Toy Sales, board game sales climbed 6% in 2008, reaching $794 in sales in the U.S., according to NPD Group.

Great Kid Gifts Completes Deal With Melissa and Doug. February 16, 2009 — Sources at Great Kid Gifts say they are working hard to incorporate the Melissa and Doug's product line into their existing line after completing a deal with Melissa and Doug on February 3, 2009, according to The Bloom Report. Both companies focus on educational toys that enhance learning building skills children need. Great Kid Gifts is a division of Supreme Standards LLC based in McPherson Kansas, dealing in Kids Toys, Gifts Item, Educational Toys, etc.

CPSC Seeks Public Input On Phthalates Requirements In New Child Safety Law. February 16, 2009 — The U.S. Consumer Product Safety Commission (CPSC) staff has issued more guidance in draft form for public comment regarding questions concerning applicability of phthalate limits. The guidance is intended to help manufacturers, importers, retailers and consumers determine what products are covered by the phthalate limits. According to the CPSC, until the draft guidance is finalized, the organization intends, given its limited resources, to focus its enforcement efforts on the products most likely to pose a risk of phthalate exposure to children. Specifically, it will focus its enforcement efforts on bath toys and other small, plastic toys (especially those made of polyvinyl chloride) that are intended for young children and can be put in the mouth.

Toy Fair 2009 To Focus On Price, Value, And The Economy. February 15, 2009 — The recession is causing manufacturers to think carefully when presenting new lineups to consumers, who have become extremely budget conscious, according to The Bloom Report. "Price, value and the economy are going to be the key focus," said Reyne Rice, toy trends specialist for the Toy Industry Association (TIA). Both large manufacturers and small companies are expected to respond with interesting products at New York's 2009 American International Toy Fair at the Jacob Javits Convention Center that is expected to feature more than 1,200 exhibitors and more than 20,000 consumers and retail buyers between February 15-18.

Hasbro Freezes Salaries And Travel Expenses. February 15, 2009 — Brian Goldner, Hasbro's president and chief executive officer, told investment analysts the company has frozen salaries and travel expenses as the company deals with the worsening economy, according to The Providence Journal. On February 9, Hasbro Inc. reported its fourth-quarter profit fell a sharper-than-expected 30 percent. Goldner indicated he told Hasbro employees there will not be "wholesale layoffs" at the company as a result of the weakened economy.

Mattel "Interested" In Settling Bratz Case. February 14, 2009 — According to the Bloom Report, Mattel Inc is "interested in settling" its copyright infringement litigation against MGA Entertainment Inc over the Bratz doll franchise in California, the toy giant's attorney has told a court. Last year, a Riverside, California jury found that Mattel owned some of the original drawings for the Bratz doll line, awarding Mattel up to $100 million in damages. The two companies continue court proceedings over which has the rights to sell Bratz products and what amount of damages MGA owes Mattel.

Mattel Appointed Licensee For 'Avatar' Film. Feb. 13, 2009 — Mattel has been appointed the master toy licensee for James Cameron's sci-fi film Avatar by Twentieth Century Fox Licensing & Merchandising, and plans an October introduction of action figures and vehicles two months in advance of the film's release, according to Business Wire. Each action figure or vehicle will come with a 3-D web tag that consumers can "scan" using a webcam to unlock special content unique to the product. Avatar is the story of an ex-marine, Jake Sully, torn between duty and honor when he finds himself caught in a battle between the heavily armed forces of Earth's most powerful star-faring consortium and an exotic, noble alien race whose world is threatened by human invaders.

LEGO Sets 2008 Sales Record. February 13, 2009

— Lego Systems reported a record 38 percent jump in U.S. consumer sales in 2008, according to PR Newswire. The North American division of Denmark's privately held The Lego Group attributed said that the 2008 sales gain was its fourth consecutive year of consumer sales growth. It propelled the company to fifth place on The NPD Group's list of top U.S. toy manufacturers for 2008, according to Lego, responsible for 3 percent, or approximately $650 million, of the U.S. toy industry's $21.6 billion in 2008 sales, in contrast to the toy industry's overall sales decline of 3 percent in 2008. Lego Star Wars was the top-selling brand, with sales surging 78 percent from 2007. Also achieving significant double-digit sales gains over 2007 were Bionicle and generic Lego buckets and tubs, among others.





Toys "R" Us Acquires eToys.com. February 12, 2009 — Toys "R" Us announced this week its purchase of eToys.com, BabyUniverse.com and ePregnancy.com from The Parent Co., which declared bankruptcy in December. All three sites will continue to exist under their current names, the Associated Press reported.

U.S. Toy Sales Fell 3% in 2008. February 12, 2009 — The NPD Group reported that the retail sales for the toy industry hit $21.64 billion last year, posting a 3 percent decline from the total in 2007, $22.32 billion. The fourth quarter suffered the most, seeing a decrease of 5 percent in toy sales. Licensed toys, led by Star Wars and Disney Princess, accounted for 27 percent of all sales, according to a press release.

Disney Store Recalls Handy Manny Toys. February 12, 2009 — The U.S. Consumer Product Safety Commission, in cooperation with Disney Store USA, has announced a voluntary recall of about 20,000 Playhouse Disney "Handy Manny" Tool Sets because the character eyes can come off and pose a choking hazard. There have been two reports of children beginning to choke on the pieces after they detached; neither were injured. The sets retailed at the Disney Store from October 2007 through January 2009.

Golfer's Billiard Game Recalled for Lead. February 10, 2009 — The U.S. Consumer Product Safety Commission, in cooperation with Dick's Sporting Goods and Golf Galaxy, has announced a voluntary recall of about 2,300 Golfer's Billiard Games sold at the aforementioned stores because surface paints on the golf balls may contain excess levels of lead. The Acuity and Clubhouse models were sold from October to December 2008 and May to December 2008, respectively.

India and China to Discuss Toy Ban. February 10, 2009 — The trade minister of India said Tuesday he is prepared to talk with Chinese officials regarding the country's decision to bar toy imports from China for six months, based on matters of public safety. Reuters reported that the Chinese government may request that the World Trade Organization investigate the ban, and had indicated that such action could harm trading ties between the two countries. China's trade surplus with India last year was at $11.2 billion.

Toymakers Win $1,000,000 From Doritos. January 9, 2009 — Brothers Dave and Joe Herbert of Jeezle Pete's! won the $1,000,000 Superbowl ad competition sponsored by Doritos this year. The brothers began their filmmaking careers several years ago by reading books such as "Reel to Deal" and contacting their local film commission to hook up with cinematographers and other crew members. Their first major projects were two 2007 Doritos ads, one of which won a $10,000 finalist prize. But this year, they hit the $1 million jackpot with their commercial "Free Doritos!" which can be seen at this link. In addition to their film win, Dave and Joe are debuting their first game, Triviathon, at Toy Fair in New York. "We'd be blessed to have either one of these things happen to us, but we have both," Dave told TDmonthly in amazement. "The only thing we're missing is sleep." Doritos is coming to the brothers' hometown of Batesville, Ind., to present them with their oversized check and throw a congratulations bash, including a parade. After that, the guys fly to New York for Toy Fair and then to L.A. to meet with agents and managers about movie and TV projects. But the prospect of a glamorous new career hasn't deterred them from the toy world. In addition to Triviathon, said Dave, Joe has six to 12 ideas for new games they hope to develop.

Sprig Toys Sponsors Recycling Project at Toy Fair. February 9, 2009 — Cardboard bins featuring the Sprig Toys logo will be set up next to trash cans during Toy Fair 2009, Feb. 15-18, at Jacob K. Javits Convention Center in New York as part of the first-ever recycling program at the show. Sprig is sponsoring the initiative with support from Javits, which has agreed to recycle discarded aluminum, paper and plastic for free, according to a press release.

Hasbro and Mattel Increase Toy Prices. February 9, 2009 — Toy giants Mattel and Hasbro, whose profits dropped 46 percent and 30 percent respectively in the fourth quarter, have both instituted mid-single-digit price hikes this year in an effort to cover expenses such as packing materials, safety testing and overseas labor, according to a Dow Jones Newswire release. The price increases are affecting more than the big guys, however. "All the prices on our end are going up," Shirley Reilly, owner of specialty toy store Let's Play in Hillsboro, Ore., told TDmonthly in early February.

CPSC Clarifies Enforcement Plan for Lead Limits. February 6, 2009 — According to a press release issued in regard to the 600-ppm lead limit effective for children's products Feb. 10, the CPSC has announced that it generally will not penalize those who manufacturer, import, distribute or sell the following items, even if they end up containing more lead than is allowed: items made of natural materials, such as wood or cotton, and select metals that rarely contain lead; a basic children's book published post-1985; and textiles (excluding leather, vinyl and PVC) and non-metallic trim and thread used on kids' blankets and clothing. Prosecution may take place, however, if the CPSC discovers someone had knowledge of a product exceeding the lead limit yet continued to sell it.

Phthalate Ban Must Be Retroactive, Judge Rules. February 5, 2009 — Judge Paul D. Gardephe of the United States District Court in Manhattan decided Thursday that the CPSC must close a loophole of the Consumer Product Safety Improvement Act allowing high levels of phthalates to remain in children's products, the Associated Press reported. Currently, the phthalates ban — setting limits of no more than 1,000 ppm — applies only to items manufactured after Feb. 10. A spokesman for the CPSC said the Commission is not appealing the judge's decision; however, an eBulletin issued by the Toy Industry Association Feb. 6 said, "It remains to be determined whether the CPSC or U.S. Justice Department will appeal the decision to the U.S. Court of Appeals." The announcement also pointed to the fact that the Court did not alter the stay issued Jan. 30 that delays testing and certification requirements for overall lead and phthalates content until Feb. 10, 2010.

LeapFrog Announces Blackberry-Like Toy. February 5, 2009 — LeapFrog's Text & Learn device for 3- to 6-year-olds is being dubbed by some as a Blackberry for kids. While larger than the Blackberry and not connected to the Internet, the toy, which is slated for release in August, features an LCD screen and a full keyboard, and will allow children to "text" as they send and receive messages from LeapFrog character Scout, CBS reported.

Germany's Maerklin Comes to a Halt. February 5, 2009 — After nearly 150 years in business, Germany's beloved model-train maker Maerklin has filed for bankruptcy for failure to secure a credit extension past Jan. 31. The company still planned to exhibit at the Nuremburg Toy Fair, bringing some 400 new products to the show, according to CNN.

Spin Master Spins Into Mexico. February 5, 2009 — Spin Master has just announced its expansion into Mexico, hiring Gerardo Yepez, formerly president of toys for MEGA Brands, as president and general manager of Spin Master Mexico. According to a press release, the company will release Bakugan Battle Brawlers in Mexico later this year, and the TV program by the same name will be shown on Televisa.

J.K. Rowling Becomes Honorary Knight. February 5, 2009 — J.K. Rowling, author of the Harry Potter series that has risen to worldwide acclaim, was inducted into France's Legion of Honor national merit society Tuesday, given the honorary title of "knight" by President Nicolas Sarkozy, the Associated Press reported. "Harry Potter and the Order of the Phoenix" was the first English-language book to make it to the top of the best sellers' list in France.

Firm Reports Weak January Sales in Retail. February 5, 2009 — Research company Retail Metrics announced Thursday that retail sales declined 1.8 percent in January — a number that comes in at a depressing 5.6 percent without factoring in mega-retailer Wal-Mart. The New York Times reported that while Wal-Mart's sales went up 2.1 percent and clothing stores Aeropostale and Buckle reported sales increases of more than 10 percent, others, including Gap and Neiman Marcus, suffered double-digit drops.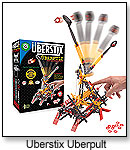 Patch Products to Distribute Überstix. February 4, 2009 — Patch Products Inc., following its recent acquisition of Smethport Specialty, has signed an agreement to become the exclusive distributor for Überstix construction toys in the United States. According to a press release, President Dane Scarborough of Überstix and his company "were immediately drawn to the resources, enthusiasm and integrity evident at Patch Products."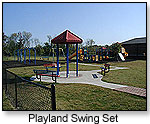 Playland Recalls Swing Sets. February 4, 2009 — The U.S. Consumer Product Safety Commission, in cooperation with Playland International, has announced a voluntary recall of about 700 Arch Swing Sets because metal at the top of the frame can fail, allowing to top bar to fall and possibly injure children or adults. The sets were available through Playland International dealers from September 2001 through May 2006.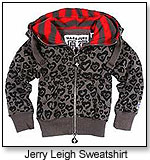 Jerry Leigh Recalls Kids' Sweatshirts. February 4, 2009 — The U.S. Consumer Product Safety Commission, in cooperation with Jerry Leigh of California Inc., has announced a voluntary recall of about 1,200 Harajuku Lovers Hooded Jackets with hood drawstrings that could pose a strangulation hazard. The jackets retailed at various locations, including Nordstrom's and Macy's from August 2008 through January 2009.

Industry Groups Request Emergency Stay of Lead Ban. February 3, 2009 — The Consumer Product Safety Commission coalition of the National Association of Manufacturers, representing 67 organizations, has issued a request for an emergency stay of the effective date of Section 101(a)(2) of the Consumer Product Safety Improvement Act, asking for an extension of 185 days past Feb. 10, or 90 days after the CPSC's final ruling on implementation. Ballot votes are due Feb. 9; if approved, the stay would give manufacturers and retailers more time to ensure that their products comply with the 600 parts per million lead limit. Reasons for the request include pending rulemaking that may exclude certain products and materials from the requirement, lack of clarification on testing procedures, and economic chaos related to the return or destruction of existing inventory that may not be in compliance.

Ty's Malia and Sasha Retire Early. February 3, 2009 — Ty's Marvelous Malia and Sweet Sasha Ty Girlz dolls, thought to be inspired and fashioned after President Obama's daughters with the same first names, are no longer for sale, the New York Times reported. The announcement of retirement appeared on Ty's website Tuesday, following criticism from the White House, including a comment from First Lady Michelle Obama's spokeswoman that the dolls were wrongly utilizing "young, private citizens for marketing purposes." Under previous questioning, Ty had indicated that the dolls were not necessarily created after the 10- and 7-year-old First Daughters. A statement from the founder of Ty said the dolls have been renamed as Marvelous Mariah and Sweet Sydney, and all profits from sales of the Marvelous Malia and Sweet Sasha dolls will go to the Andre Agassi Charitable Foundation, which supports education initiatives for underprivileged children.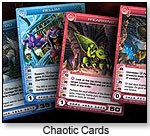 Spin Master Goes Chaotic. February 3, 2009 — Spin Master Inc. has been named by Chaotic USA Entertainment Group and 4Kids Entertainment as the worldwide toy licensee for Chaotic, a brand that encompasses an animated television series, multi-player online gaming and a popular trading card game. According to a press release, Chaotic action figures and collectibles from Spin Master are expected to hit the market late this year or in early 2010, and the company has distribution rights in North America, the UK, Mexico and France; 4Kids Entertainment will distribute rights for other regions. For the past eight months, Chaotic has ranked as the best-selling trading card game in Canada. It's currently third in the United States, trailing Pokémon and Yu-Gi-Oh!

MEGA Brands to Build With Halo. February 3, 2009 — MEGA Brands has entered into an agreement with Microsoft and 20th Century Fox Licensing & Merchandising to produce Mega Bloks construction toy sets based on the new "Halo Wars" video game. The play sets are scheduled for worldwide release this summer, according to a press release.

Bandai Welcomes EVP of Toys. February 2, 2009 — Bandai America Inc. has appointed Mark Schaffner as executive vice president of toys, in which role he will develop fresh alliances and company strategies, oversee sales and marketing, and report to the company's president, Sho Omatsu. According to a press release, Schaffner previously held executive positions with Philips Electronics and FISKARS Brands.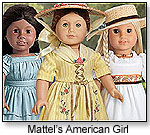 American Girl Brightens Mattel's Dim Profits. February 2, 2009 — Despite Mattel's fourth-quarter profit plunge of 46 percent, the company's American Girl brand actually experienced a 5-percent increase in sales during the same period, climbing 7 percent in 2008 overall, The Capital Times reported.

Inventor of Playmobil Dies at Age 79. February 2, 2009 — Hans Beck, who designed Playmobil figures for German company Geobra Brandstaetter in the 1970s, passed away Friday, Jan. 31, following a serious illness. He was 79, according to a report by Deutsche Welle, and was employed by the company for four decades, from 1958 to 1998.

Mattel's 4Q Profit Plummets Nearly 50%. February 2, 2009 — Mattel's fourth-quarter report revealed that profit fell about 46 percent, with brands Fisher-Price and Barbie respectively seeing 10 percent and 21 percent declines in worldwide sales, according to a Dow Jones release. Net income came in at $176.4 million, or 49 cents a share — 40 cents a share below the same period last year, during which time the company was facing recall fines. Stock for Mattel is down 25 percent for the past year.

CPSC Stays Lead-Testing Rule Until 2010. January 30, 2009 — The U.S. Consumer Product Safety Commission voted today to extend the deadline for select mandatory testing and certification requirements under the CPSIA (Consumer Product Safety Improvement Act), giving manufacturers an extra year to comply. According to a press release, manufacturers and importers of products for children 12 and under must still meet the required limits for lead (600 ppm) and phthalates (1,000 ppm) by Feb. 10, but do not yet have to test for or provide certification for those regulations. A vote to lift the stay will be taken on Feb. 10, 2010. See "What Does the CPSIA Stay Really Mean?" for further explanation.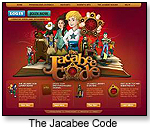 Jacabee to Launch "Code" Series at Toy Fair. January 30, 2009 — Jacabee Inc. is releasing the first book in a 12-title series inspired by the American paintings of artist F. Luis Mora at Toy Fair, Feb. 15-18 in New York City. The Jacabee Code adventure series is designed to instill in children the values and history of the United States, and includes a massively multiplayer online game as well as a television series that is currently in development, according to a press release.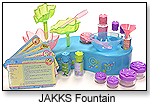 Exploding Caps in JAKKS Aromatherapy Kits Cause Injuries. January 29, 2009 — The U.S. Consumer Product Safety Commission, in cooperation with JAKKS Pacific, has announced a voluntary recall of about 516,000 Spa Factory™ Aromatherapy Fountain and Bath Benefits Kit after receiving 13 reports of injuries to children and adults, including cuts, bruises and eye irritation due to caps exploding off the jars included in the sets. The containers holding the Bath Bomb/Balls and Bath Fizzies can become pressurized owing to a buildup of carbon dioxide. The kits were sold at mass-market and toy stores from August 2008 through January 2009. Consumers should contact JAKKS at 877-875-2557 for free replacement caps that have holes for ventilation.
THIS BANNER IS AN AD:
---
---