est. 1996
Mobile

---
---
Product Information
In livecube classic, we offer our puzzle lover a unique puzzle set. Each set of the livecube has a different color combination so your set of livecube is personalized and has a unique ID number to only your set. In addition, we introduce the cube 3X4X5 play cards, this shape can form about 4000 different combinations itself and with our play card system, it's a never-ending puzzle game. Includes 1 unique puzzle color puzzle (12 pieces), 90 classic play cards, and carrying bag.
ToyDirectory Product ID#: 21520
(added 12/1/2008)
---
Below these ads, you'll find other products by LIVECUBE TBS INC.

AD:



---
LiveCubes are to cube puzzles as genes are to living organisms. . Just as genes are combined to form unique individuals, LiveCube cubes can be used to make all manner of puzzles by simply snapping the cubes together. The puzzles come apart after assembly and, thus, are reusable. A LiveCube package includes play manuals and a total of 120 cubes (1.5 x 1.5 x 1.5 cm) comprising 24 white two-stud cubes; and six red, six blue, six green, six yellow and 72 white four-stud cubes.
ToyDirectory Product ID#: 21522
(added 12/1/2008)
.
It is a new concept of construction toy that can have endless possibilities. It is a teaching tool that will teach kids about colored shape matching, structure, and spatial skills. With livecube manual it is an intelligent toy that can guide kids to use their analytical, logical and motor skills through playing. It comes with four different packages – Lion, Rhino, Goat and Elephant version. Each package includes: 6 red, 6 blue, 6 green, 6 yellow and 24 blocks; a total of 48 blocks (2x2x2 cm) and play manuals.
ToyDirectory Product ID#: 21521
(added 12/1/2008)
.
Livecube for Kids & Parents is a proud winner of the Parents' Choice Award, The National Parenting Center Seal of Approval and The Best Toy Winner from Dr. Toy. This is an exciting 3D adventure for the entire family developing visual, logical and problem solving skills. The package includes: 1 sets of 2 color mix puzzle(12 pieces); 30 Kids & Parents play cards (from 2D to 3D); 5 advance play cards; one carrying bag.
ToyDirectory Product ID#: 21519
(added 12/1/2008)
.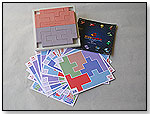 Microsoft VBScript runtime
error '800a000d'
Type mismatch: 'UserLogin'
/product.asp, line 1647