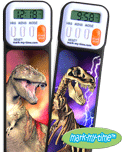 Article Tools:






Hot Holiday Sellers - 2008
Here's What'll Move in Specialty This Year
You've seen other top-10 lists, but they don't have much to do with your store. Here are the latest, last-minute hot holiday toys for specialty in 2008. If you're a mom, dad, grandma or grandpa, add them to your list of must-gets to wow the kids. If you're a retailer, try to stock up to keep holiday spirits (and sales) high.

At the top of the list are the Bakugan Battle Brawlers by Spin Master, based on the hit TV show, which feature marbles that transform into action figures when they land on a magnetized card. Though they're not a specialty-only item, they're still hot in mom-and-pop shops. Bananagrams is a fast-playing word game for competitors of all ages. Snap Circuits by Elenco makes engineering fun. Ganz's Webkinz are falling off the radar, but a new model will still make some little collector smile:
.
.
.
.
.
.
.
.
.
Catalog Request Form

Advertisement: