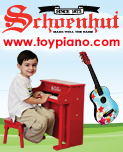 Article Tools:






Safari Ltd.® Let Imaginations Swim
TDmonthly's "2012: A Year of Charity" 2nd 1/4 Roundup, Part I
Founded in 1980, Safari Ltd.® is a family-owned business now in its third generation.

"From the very beginning, the founders' mission was to educate children and adults alike about our fragile ecosystem and its inhabitants," explained CEO Ramona Pariente, who joined the company in 1985 and took over in 2003. Charity has also been part of the company's mission.
® donated more than $140,000 worth of detailed, hand-painted animal and fantasy figurines to the Kids Wish Network of Holiday, Fla., which reaches out to tens of thousands of children at hospitals and shelters across the country.

This year, they joined TDmonthly's "2012: A Year of Charity" promotion and gave away 50 Wild Safari® Sealife Flippers, Fins & Fun gift sets and 50 Frontier Land Safari River Ranch gift sets to three winning specialty toy retailers, who then donated them to their local charities.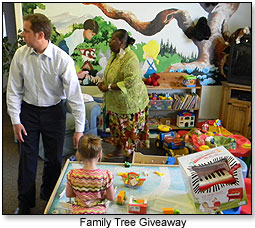 "The children opened them and played with them immediately," Diana Nelson of Kazoo Toys in Denver reported. She carries Safari Ltd.® at her store and thinks they make wonderful playthings for kids. Her charities were Starlight Kids and Ronald McDonald House, Denver. "All of the toys were great quality toys with an educational bent."

Sari Powazek of Doll House and Toy Store in Scottsdale, Ariz. said that her charities — The Crisis Center and Devereaux House — loved that the giveaway contained a mixture of products that could be used for a number of children, over and over, such as the pianos and kitchen sets, and also toys that could be used as individual rewards.
® gift sets as a prize to give to individual children who achieved a level of success or goal, such as: sitting doing homework on own, sitting in classroom to not disrupt," explained Sari.

"The Safari Ltd.® gift sets were a lot of fun," enthused Dan Driver of Jake's Toy Box in Arvada, Colo. To showcase the Flippers, Fins & Fun set, he and his staff emptied out the fish tank-type canisters that hold mini-erasers, filled them with water and added the Safari figurines.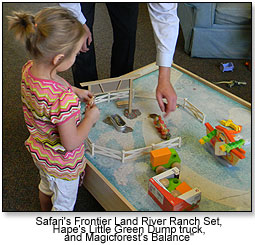 "The River Ranch set was really cool, too," he added. "Yesterday, when we did our last charity toy drop with The Family Tree, Channel 8 videotaped it. The Safari Ltd.® and smaller toys really got a focus."

"We are very excited about the donation and hopefully the media attention this will bring to Jake's Toy Box," said Dana Juniel, director of PR and marketing for The Family Tree.






"What TDmonthly gave to us, what all the manufacturers gave to us, was a vehicle to experience joy and happiness during some really bad times," said Dan. He was grateful that he and his wife were able to get top-quality specialty toys into the hands of more than 100 "deserving kiddos."

The children's excitement was all the more gratifying because the Drivers had opened Jake's Toy Box as homage to their son Jake, who'd passed away from a rare disease at age 4.

The charities that Safari Ltd.® helped out with TDmonthly's "2012: A Year of Charity" were:
Ronald McDonald House of Denver, Starlight Kids, Devereaux House, The Crisis Center, Stride, Hope House of Colorado and The Family Tree.

The winning retailers, who were able to stage events at their stores and pick their favorite charities were Diana Nelson of Kazoo Toys in Denver, Dan & Jill Driver of Jake's Toy Box in Arvada, Colo., and Sari Powazek of Doll House & Toy Store in Scottsdale, Ariz.

Read more about Safari Ltd.® here.

Specialty toy store owners: Enter to win the latest round of TDmonthly's "2012: A Year of Charity" and get the chance to give away 100s of educational products to your local schools and children's charities! Find out how here.
MSRP: $19.99
Age Range: 3 and up
Specialty: Yes (as of 2012)
Gender: Boys And Girls
Detailed replicas of tropical marine life and a realistic coral reef surround this young diver with a wild underwater adventure. Exquisite sculpting and attention to detail make this the ideal gift for any child. The packaging features educational information in 5 languages on the back. All Safari Ltd.® products are phthalate and lead free and safety tested to safeguard children's health. We take pride in the quality, innovation and design that have characterized our products for over 3 generations. Flippers, Fins & Fun Gift Set Includes: Dolphin, Sea Turtle, Queen Triggerfish, Grouper, Coral Reef, and Freddie the Free Diver. Box Size: 11" W x 4.75" H x 4" D (28 x 12 x 10 cm)
ToyDirectory Product ID#: 33530
(added 1/30/2012)
.
MSRP: $29.99
Age Range: 3 and up
Specialty: Yes (as of 2012)
Gender: Boys And Girls
Join all the fun down on the ranch with our attractive accessories that complement the Safari Ltd.® Farm collection. Complete with fences, hay, entrance gate and a water trough, this set makes a perfect companion with our Down on the Farm Barn & Stable in addition to our Safari Ltd.® Farm animals. Children can let their imagination roam as they simulate life on a ranch. All our products are phthalate-free and thoroughly safety tested to safeguard your child's health. Safari Ltd.® takes pride in providing breathtaking, innovative and value priced replicas for now over three generations.
ToyDirectory Product ID#: 33529
(added 1/30/2012)
.
Catalog Request Form
Writer's Bio:
ALISON MAREK is a writer/artist/filmmaker whose work has been published by Fairchild Publications and DC Comics (Piranha Press), among others. Her short films have won awards in festivals around the world and have been broadcast on Showtime and other cable networks. Her new web series, "Mugg's Movers," was sponsored by FlatRate Moving Systems LLC and was selected for an NYU webseries showcase at
writerslabwest.org/webshowcase
. Alison is also the writer of the 2011 Emmy-nominated PSA "Tell Someone," for the Legal Aid Foundation of Los Angeles.
Read more articles by this author

Advertisement: