Retailer Spotlight
St. Paul's Essence of Nonsense is
Serious Fun
By Janie Franz
September 2003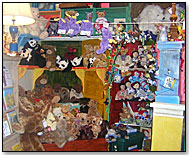 Bears Galore




Store Name: Essence of Nonsense (ToyShow)
Store Location: 1783 St. Clair Ave., St. Paul, Minnesota
Store Owners: Barbara Anderson and Thomas Fletcher

The Essence of Nonsense boasts that it has 1,500 plush bears in its inventory on most days. But this isn't a huge warehouse store -- it's a modest independent toy shop in St. Paul, Minnesota.

Owners Barbara Anderson, a former elementary school teacher, and Tom Fletcher, an artist, hand-select each bear they stock. "We try to see if they have that come-hither face or a woebegone face," Anderson says. Anderson and Fletcher also squeeze-test every bear to be sure each is soft and cuddly.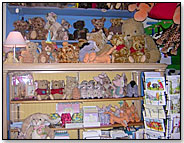 Winnie The Pooh and Friends
Essence of Nonsense carries bears and other plush animals from top manufacturers like Gund, Russ Berrie, Applause, Degan, Manhattan Toy (ToyDirectory), North American Bear and Ganz, a Canadian company. They carry a full line of Muffy VanderBear and her friends, complete with clothes and carrying cases. Among the store favorites are Douglas Cuddle Toys (ToyDirectory) and Jaag, which both make very realistic plush animals.
The Essence of Nonsense also seeks out handmade bears created by Minnesota bear artists. "Many of them are one of a kind and have their own personalities," Anderson says.
Toys and More
The store's customer base is a mix. The bear customers range from young children to elderly people buying for grandchildren and great-grandchildren. "We have people buying presents for adults, too," Anderson adds. "Bears provide such a sense of solace. They just nurture you. They don't judge you. They are just there for you."

The Essence of Nonsense draws customers from small towns and cities in Wisconsin, Iowa, Minnesota and the Dakotas, who find that the store offers not only collectible plush animals, but also delightful books, whimsical cards and toys without batteries or computer chips. The store is also the largest glass marble retailer in five states. Customers know they will find toys at Essence of Nonsense that they and their children can interact with. "At Christmas time," Anderson says, "people come in with a list of people to buy for, not a list of toys."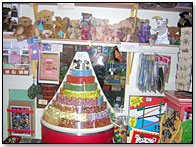 The Largest Retailer of Marbles in 5 States
The store has grown mainly through word of mouth and a small mailing list. "It's a little tough to know where to advertise, since my philosophy in the store is a little bit different than other people's," Anderson says. The owners set what they feel to be reasonable prices, and "we never, ever have sales," Anderson adds. "Most of the marketing in America is based on discounting and sales. We are lucky enough to get mentioned in publications in Minneapolis/St.Paul."
Customers also take business cards for friends and family. "They save the cards for a very long time," Anderson says. "They will come in whenever they are in St. Paul. But most people come in because they are in line at the grocery store, talking to someone about how they want a really good bear or a marble, and someone says, 'Go to the Essence of Nonsense.' Our customers are our best advertisement!"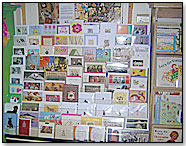 Essence's Selection of Cards
Anderson and Fletcher close their store for most of January, while other stores are taking returns and marking down merchandise. "This break lets me think about what I am doing," Anderson says. "Am I having fun? Am I still able to do what I'm doing?" Then, at the end of January, the doors of the Essence of Nonsense open once again, offering bears, marbles, old-fashioned toys, and warm and funny books.


The Essence of Nonsense closed its doors in April 2010. See articles:

St. Paul neighborhood toy store Essence of Nonsense closing today

Beloved Minnesota toy store The Essence of Nonsense Closed by the CPSIA
Writer's Bio: The mother of two grown children (an artist and a musician), writer Janie Franz once was a radio announcer and did booking for a rock band.
---
---