The Brass Ring
You're It: TinyTag™ Starts Small and Scores Big
By TDmonthly Staff
September 2003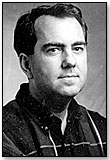 Mark Anderson
Mark Anderson's company, Sean-O Toys (ToyDirectory) , stands as a testament to the do-it-yourself spirit of entrepreneurship. Since beginning with a prototype of the TinyTag laser in 2001, the company has since turned down buy-out offers from major players at last February's ToyFair in New York City and now fronts a team of 65 sales reps. "The thing has made money since we shipped product," says Anderson. Recent retail partnerships include Spencer Gifts, Learning Express and Hobbytown. In designing TinyTag, Anderson drew on the expertise of friends and neighbors, one of whom had done the calculations for the Apollo 13 rescue. "He was ideal in helping us overcome the power hurdles of the system," says Anderson, whose determination to overcome all such hurdles in bringing his idea to fruition is plain in his voice. "If it's a good enough idea, one person can make things happen."
Oprah Did It…
TinyTag
SeanO Toys has been around since May of 2001, founded as a result of unintended consequences. I was watching Oprah on TV when my son, Sean, six at the time, entered the room shooting a laser tag gun. I returned fire with the TV remote and a few pretend bullets. He then returned fire with a car door opener. The idea was then conceived to create a miniature game of laser tag that will fit on a key chain. Sean named it TinyTag.
I thought it was a good idea and pursued it. I was unemployed at the time and began working on the patent and raising money. I had set up several meetings with private investors for financing; unfortunately they were scheduled for Sept 13th and 14th of 2001, a few days after the World Trade Center had been attacked. I was in such a state of denial that I showed up in New York for the meetings anyway. Needless to say, I did not raise any money.
TinyTag
Uncle Bob at NASA
I found myself sitting in front of the television again. President Bush came on CNN and said, "Need money? The government has lots of money to lend." I called the SBA, mortgaged my house and got a loan. My neighbor Matthew Von-Maszewski, who was also not working at the time, traded some of his engineering time for some of my carpentry skills. With the help of his Uncle Bob from NASA, we were able to get the circuitry right. We built the first TinyTag prototype in a toaster oven.
The First Units Arrive…
I spent the next year trying to find a contract manufacturer in China. Once I had found a source, we spent the next eight months communicating by e-mail. We geared up for Christmas last year but found ourselves a victim of the dock strike. Everything came to a screeching halt. We managed to air-freight 1,000 units into the states and wrote it off as a marketing test. We tested it in several stores, and they sold like crazy. In the stores where we were not the top seller, [it was only because] we could not provide the store with enough units.
We did some market tests in December of 2002 and have been in full sales mode since January of 2003. We are new to the toy industry and have made a few humorous mistakes along the way. We packaged everything in boxes of 25 pieces, not knowing that things are sold in dozens and grosses. I guess it's like being new to the beer business and selling a 7-pack—a big "whoops." At the ToyFair in NYC, I was asked if the product was sold in "Try Me" packaging. I replied, "No. It comes in a sealed PVC package." Little did I realize the words "Try Me" were already printed on the package. Ouch.
Kids, Cubicle Workers and Marines
We are aiming at the independent retailer who sells unique toys to boys and girls between the ages of 5 and 12. Kids at this age get it. Moms think it's a great birthday gift – they can cover two kids at once. Each package comes with two TinyTag units and batteries, so it's ready to go. We've sold a lot [of units] to people who work in cubicles. We've also had orders from the U.S. Marine Corps. We're not sure if they are becoming part of the war effort.
We reach the independent retailers through our 65 reps. We were lucky enough to hire Jay Jacobson, a veteran of the toy industry, and he dialed us in to all the top [toy sales] rep'ing firms. We now cover all 50 states. We count on the reps to get the word out.
We only have two items: the original TinyTag in black and TinyTag in a Glow-in-the-Dark version. We sell more of the black version because it has an edgy package design. Some like the Glow-in-the Dark version because it can be used instead of flashlight tag at night. After the second day at ToyFair the product went from having a good buzz to "must buy" status. That was kind of shocking. Buyers just started buying both [versions].
I've heard [the toy industry] has been bad for the past few years. At ToyFair, we didn't notice a lot of activity in any of the booths near us. It became somewhat of an embarrassment of riches to have so many people at our booth actually writing orders. As for the current state of the toy industry, I can only say that after two months of being in the market with the product, sales are on a huge upward trajectory, and the deal velocity is incredible. At ToyFair we were approached by separate companies to buy our company outright, to take us global, to co-brand our product and distribute it, as well as courting us with all sorts of licensing deals.
Everyone at ToyFair said TinyTag would get ripped off. I've heard that is somewhat of a compliment. As Warren Zevon once said, "Send lawyers, guns and money."
---
---