Article Tools:








New and Notable Toys: Dolls - Accessories
Check out these noteworthy toys.
Where's the Party by DREAM BIG WHOLESALE DOLL CLOTHES LLC


Sequin sweetheart neckline bodice, pink satin dress with spaghetti straps. White pink sash with embellished decorative buckle. Sparkled pink organza overlay , ruffled hemline. Pink soft rose flower on hair clip 4/3/2015 [Add to my Inquiry Basket][?]



Deluxe Stroller by Adora

Beautifully crafted Adora accessories are made to fit the smallest PlayTime™ babies to the beloved ToddlerTime™ dolls. Made to encourage hours of interactive nurturing and caring for their babies, just like a little mommy. Deluxe Stroller Features: Deluxe, padded, multi-position padded seat, Adjustable foot rest, Under stroller storage, Convertible shade, All purpose diaper bag, Removable padded Baby bed carrier, Adjustable height handle, Shock absorbing wheels 2/12/2013 (Price: $79.95; Age: 6 and up) [Add to my Inquiry Basket][?]



Baby Stella Dreamy Bedtime Set by MANHATTAN TOY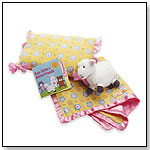 A peaceful slumber full of sweet dreams are on their way with the Baby Stella™ Dreamy Bedtime Set™. With a cuddly soft blanket, a plump pillow and snuggly little lamb friend, Baby Stella is sure to get a good night's sleep. The soft lamb is attached to an elastic strap that fits snuggly around baby Stella's wrist for easy attachment. Tuck Baby Stella in tonight with the Dreamy Bedtime Set and watch her slip into a simply serene slumber. 1/4/2013 (Price: $25.00) [Add to my Inquiry Basket][?]



Monster High Travel Scaris Scooter Vehicle by MATTEL INC.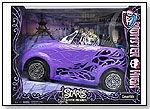 The ghouls of Monster High are hitting the skies for their first trip abroad together in monster style. Their destination is Scaris, the city of lights and hometown for Rochelle Goyle, and they plan to see it all. With a turning steering wheel, moving shifter and backseat that opens for storage, this gore-geous car featuring Scarisian wrought iron detailing is the perfect vehicle for their travel adventures. 12/18/2012 (Price: $24.99; Age: 6 to 12) [Add to my Inquiry Basket][?]



Fabric Doll House by HABA USA/HABERMAASS CORP.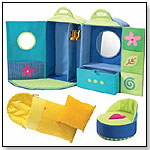 The perfect toy for doll mommies and teddy daddies to create a first home for their little friends. This doll's house has lots of accessories and is easy to carry wherever you go. Includes a chair, sleeping bag, pillow and three hangers. When kids are done playing, they can just close it up and take it with them. Includes carrying handle. Made of cotton/polyester. Measures 41" x 13" x 28" when open. Dolls are not included. 10/24/2012 (Price: $109.99; Age: 1 to 2) [Add to my Inquiry Basket][?]



Follow Me Fairies Activity Packs by FOLLOW ME FAIRIES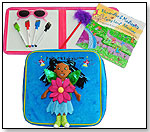 A Fairy Doll & Backpack that is Six Gifts in One. A gift that develops imagination & creativity for girls 3-8. The Follow Me Fairies ® Activity Pack is a plush child-sized backpack complete with an adorable removable fairy and a variety of fun play items. On-the-go playtime has never been easier for busy parents. Place the fairy right in the holder on the backpack, and children will be instantly ready to leave the house for a happy travel playtime experience. Launch date: November 2011.
Awards: 2013 TDmonthly Seal of Approval, 2012 Parent's Choice Classic Fun Stuff Award; 2012 Tillywig Sterling Fun Toy Award; 2012 Creative Play of the Year Award - Creative Child Magazine; 2012 Travel Fun of the Year Award - Creative Child Magazine. 7/10/2012 (Price: $34.95; Age: 3 to 8) [Add to my Inquiry Basket][?]



Stroller by HAPE

This classic stroller lets children take "dolly" for a walk around the block…or all through the house. Stroller is from the Happy Doll Furniture range of the Hape Collection. Measuring 17.52"L x 12.80"W x 20.24"H, Stroller is age graded for children 6 Years +. The toy is beautifully crafted of FSC certified wood from sustainable forests and colored with safe water based paint. Launch date: July 2012. 6/18/2012 (Age: 6 and up) [Add to my Inquiry Basket][?]



Doll Table & Chairs by LAURENT DOLL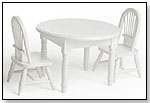 18 inch doll table and chairs. Quality crafted wood construction. The round table has Victorian double profile, baluster legs. The chairs are Amish Wheatback and complement the table. Includes two chairs. "Our doll furniture is embellished with many of the same design elements that distinguish adult and children's quality furniture," Scott Cahill, CEO of Laurent Doll, Inc., told TDmonthly. Launch date: November 2011. 12/12/2011 (Price: $49.95; Age: 5 to 14) [Add to my Inquiry Basket][?]



Wooden Doll High Chair by MELISSA & DOUG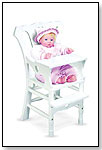 Featuring a removable, locking tray, this durable white chair will can accommodate dolls up to 20".
— Mike DiAndrea, manager of Ace Hardware & Toy Center in Paoli, Pa., told TDmonthly in a Summer 2011 survey that he sells six of this item each month.
— Joe Berardoni Jr, owner of Pun's Toys in Bryn Mawr, Pa., told TDmonthly in a June 2013 survey that Melissa and Doug wooden doll furniture is their best-selling furniture item. 6/29/2011 (Price: $69.99; Age: 3 and up)



Dylan House by brinca dada LLC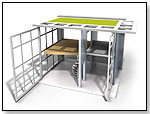 Inspired by modern architecture pioneers Le Corbusier and Gropius, Dylan House features a concrete and glass feel, but with the breezy openness of a beach-front home. Floor-to-ceiling windows open to allow natural light into the house and play from many angles. Dylan House is created in ¾" scale. Furniture is sold separately. Doug Rollins, founder and ceo of Brinca Dada, told TDmonthly that this toy's "Modern design" sets it apart from similar products. Launch date: July 2011. 5/20/2011 (Price: $149.00; Age: 3 and up) [Add to my Inquiry Basket][?]



Welcome Home Doll Furnishings by WELCOME HOME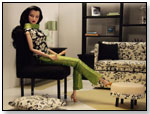 Welcome Home Doll Furnishings are artistic and visually pleasing 1:6 scale furniture pieces designed for dolls. 1/27/2011 [Add to my Inquiry Basket][?]



ZipBin Doll House Playpack by NEAT-OH! INTERNATIONAL LLC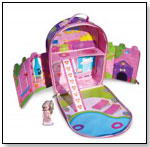 The ZipBin Doll House Playpack from Neat-Oh! Toys is a toy box, a backpack and a dollhouse all in one. Decorated inside and out to stimulate imaginative play, the ZipBin Doll House Playpack is a cute play house for all sorts of dolls, and even includes one doll to start playtime. Best of all, when kids are done playing, they can store and carry their toys in the ZipBin Doll House Playpack. Measures 9"L x 3.5"W x 15"H. Serves as back pack and dollhouse combo to take-along for play on the go includes a small doll. (

Watch Video) 11/1/2010 (Price: $19.95; Age: 3 and up) [Add to my Inquiry Basket][?]



Loving Family Grand Dollhouse & Mini-Van Value Bundle by FISHER-PRICE INC.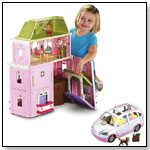 The New Loving Family Grand Dollhouse has a new design and an all-new unique fold feature, which allows the dollhouse to fold up for convenient storage. Features include eight rooms that are deeper and wider for 20% more playable space, stairs to the second floor, mom, dad, twin babies, a complete dining room set, and a patio table with adjustable umbrella and two chairs. Product box dimensions - inches(LxWxH): 15.875 x 9 x 23.375. Fisher-Price Loving Mini-Van included in bundle.
— As of 10.25.10, this product was rated #1 in Walmart's Dollhouses and Furniture. 10/26/2010 (Price: $78.00)



Kit's Glassware and Linens by AMERICAN GIRL LLC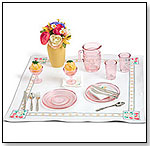 This set includes everything needed for Kit's birthday party. It comes with a printed linen tablecloth, two napkins, a bright bouquet in a ceramic vase, two pink glass plates, sherbet cups with make-believe sherbet, utensils, and two glasses of pretend punch with a pink glass pitcher. 7/16/2010 (Price: $58.00; Age: 8 and up)



Maclaren Jr. Twin Triumph by MACLAREN USA


Thse doll-sized toy buggies are styled in varying fabrics with true-to-life details and functionality. Toys are suitable for a doll sized 1" to 19". 5/25/2010 (Price: $60.00; Age: 3 and up) [Add to my Inquiry Basket][?]



Designer Dollhouse by KIDKRAFT


This fully furnished designer dollhouse has three levels of play with two curved stairways. It includes eleven pieces of furniture and accomodates fashion dolls up to 11.5" tall. 5/14/2010 (Price: $199.90; Age: 3 and up) [Add to my Inquiry Basket][?]



Majestic Doll House by POOF-SLINKY INC.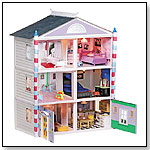 The three-story dollhouse comes with real, working electrical sockets and over 200 pieces to create a dream home. Design the bathroom, three bedrooms, kitchen, and living room using stickers to customize and yarn to make items such as baskets and hampers. Launch Date: February 2010. 3/2/2010 (Price: $99.99; Age: 4 and up) [Add to my Inquiry Basket][?]



Disney's Princess & Frog Magnetic FunŽ Mini Tin by LEE PUBLICATIONS


Dress Tiana and Prince Naveen for a day of imagination and fun! Each tin consists of 2 characters printed on the tin, activity card to be used on the tin and 1 sheet of magnets. (

Watch Video) 1/12/2010 (Price: $6.99; Age: 3 and up) [Add to my Inquiry Basket][?]



Adorable Kinders Box Cover Bed Set by GRANZA INC.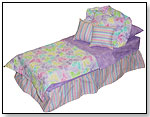 The standard Adorable Kinders rag doll is sold in a sturdy white box. The Box Cover Bed Ensemble converts the box into a 22" L x 10" W bed for the Adorable Kinders doll. The set includes a bed skirt, a fitted sheet, a colorful blanket, a sleeping pillow with removable pillow case, a large stuffed pillow sham, and 2 decorative throw pillows. The entire ensemble is machine washable and can be used with other conventional doll beds. The ensembles are available in assorted colors and prints. The product is made in the USA. Launch date: 2010. 12/16/2009 (Price: $39.99; Age: 2 and up) [Add to my Inquiry Basket][?]



Deluxe Evening Gown Doll Clothes by REGENT PRODUCTS CORP.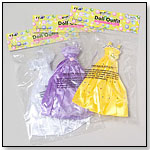 These evening gowns come individually packaged in a clear plastic pouch. The gowns are designed to fit dolls approximately 11.5" in height. Available in assorted colors. 10/20/2009 [Add to my Inquiry Basket][?]



Mixis™ Culturally Inspired Clothing by YNU GROUP INC.


Mixis™ Culturally Inspired Clothing draws on influences from China, Japan, India and Central and North American. Each outfit draws inspiration from traditional, historical and modern fashion trends. (Doll not included).
Awards: A TDmonthly Classics Award for being an all-time favorite toy. 9/23/2009 (Age: 6 and up) [Add to my Inquiry Basket][?]



Lissi Double Stroller by CASTLE TOY INC.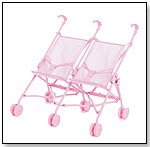 This double stroller is perfect for toting twins. It features a pink plastic frame and pink fabric. (

Watch Video) 8/25/2009 (Price: $31.99; Age: 3 and up) [Add to my Inquiry Basket][?]



Chinese Doll Dress by LITTLE BRIDGES


The traditional dress from China is simple and elegant, made from silken brocade with butterflies, which are a symbol of joy and summer in China. It has silk loop buttons in soft purple to complement the butterflies. It fits 18" and 21" dolls. "Our products are unique in their ability to expose children to different cultures through pretend play," Leah Wheelan, director of Little Bridges, LLC, told TDmonthly. Launch date: June 2008. 7/23/2009 (Price: $14.99; Age: 5 to 12)



Serendipity Doll Clothing Collection: Blue Jogging Suit by THE BEAR MILL


This set comes with a hooded zipper jacket, sweats with tie string, and a loose long sleeve striped shirt. For dressing up 18" dolls. 7/3/2009 (Price: $22.99)



The Elf on the Shelf: The Claus Couture™ Scout Elf Skirt by CCA and B LLC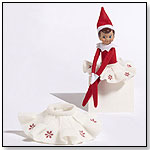 The original Scout Elf Skirt is a dazzling ice-white, pleated skirt, sure to please the most fashion conscious female scout elf. Beautifully embellished with holly berry red snowflakes, this skirt will make your girl elf outshine the stars this Christmas season. Simply place the skirt where your elf can see it and she'll fly into it during the night. One size fits all.
— The Claus Couture Scout Elf Skirt is deceptively simple. At first glance it may appear to be some simple scraps of cloth. Diana Nelson, owner of Kazoo & Company in Denver, was skeptical when she first saw it, but overwhelming sales erased her doubts and made her regret her reduced order of the item. Parents who have experienced the magical tradition of The Elf on the Shelf know that the watchful gaze of the elf can transform misbehaving children into angels. Similarly, the Claus Couture Scout Elf Skirt transforms a generic elf into a fashionable female elf. More important, it can transform a sale, adding another item to a purchase or even encouraging customers to buy a second so their boys and girls can each have an Elf on the Shelf. 6/3/2009 (Price: $6.95; Age: 2 to 12)



Sticky Pixies Couture Dress 1 by STICKY PIXIES


This light, fanciful dress can easily be applied with Velcro to any of the 7" Sticky Pixies fairies, which can be used in scrapbooks or on walls for decoration. 12/5/2008 (Price: $10.00)



Mrs. Goodbee Talking Dollhouse by LEARNING CURVE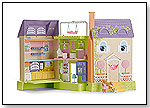 Straight out of Caring Corners, this house includes 12 rooms and features more than 400 songs, words, sounds and activities, plus a girl, baby and dog figurine. It is designed to encourage positive behavior and requires three AA batteries. 12/1/2008 (Price: $79.99; Age: 3 and up)



Our Children's Gorilla - A-Frame Doll House by GEARED FOR IMAGINATION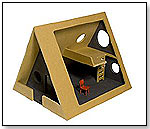 This simple A-frame offers a loft and basic playspace marked by geometric elements. 10/1/2008 [Add to my Inquiry Basket][?]



Doll Dress - Rapunzel by LITTLE ADVENTURES LLC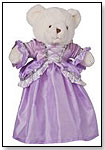 This perfect match to Little Adventures' Rapunzel dress up has a purple and pink crushed velvet bodice accented with silver criss-cross trim. It features a purple, China silk skirt and sleeves, and a princess cone hat. Launch date: 2004. 7/23/2008 (Price: $15.99) [Add to my Inquiry Basket][?]



Catalog Request Form
THIS BANNER IS AN AD:
---
---