Article Tools:








New and Notable Toys: Personalized
Check out these noteworthy toys.
I Built It! Checkers by I BUILT IT GAMES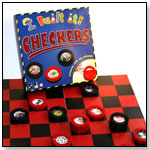 Build your own customized checker set. These "I Built It!" checkers let you choose any of your favorite pictures and add them right into every game piece, making for a personalized game. Each game comes with 12 red and 12 black checker pieces made of durable yet lightweight plastic. These jumbo sized checker pieces are each 2 3/4 inches around, so there is plenty of room for pictures. Also included in each game are a picture sizing stencil, an instruction and idea sheet, and a 24 inch square red and black game board, This oversized game board folds down to fit in a 12 by 12 inch box. (

Watch Video) 12/29/2010 [Add to my Inquiry Basket][?]



Pirate Lunch Box by ROMANOFF PRODUCTS INC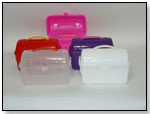 Styled like a miniature treasure chest hauled up from a sunken ship or unearthed on a dangerous deserted island, this Pirate Lunch Box is made of durable plastic and snaps shut for easy transport of a healthy meal, or gold doubloons. The gloss finished box is available in white, red, blue, hot pink, purple, silver and clear. It is ready to be personalized for – or by! - a child.
— Lori Hershman, owner of Evan's Toy Shop in Hamden, Conn., said she personalizes and sells approximately 18 Romanoff lunch boxes per week during a September 2010 interview. 10/28/2010 [Add to my Inquiry Basket][?]



Baby Clothes Bear by THE PATCHWORK BEAR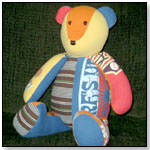 Eco-friendly, handmade and an instant heirloom. Transform outgrown clothing into a keepsake patchwork bear. The process involves one to ship 6 to 10 articles of clothing in the provided box, and approximately 4 weeks later, a classic, vintage-styled bear is shipped back made with the articles of clothing provided. Return postage is included. "Eco-friendly, sentimental and an instant heirloom," Jennifer Cura, owner of The Patchwork Bear told TDmonthly. 10/18/2010 (Price: $98.00; Age: All Ages) [Add to my Inquiry Basket][?]



Military Photo Stones by ANGELSTAR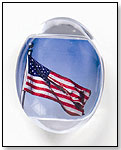 These smooth oval-shaped stones feature military emblems of the Army, Navy, Air Force and Marines. Each stone can be personalized with a loved one's picture, a message or whatever is desired to be featured on the opposite side. 9/23/2010 (Price: $6.99) [Add to my Inquiry Basket][?]



Lace Plates by HISTORY AND HERALDRY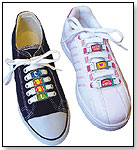 Kids can personalize their sneakers with these durable shoelace attachments for collecting, trading and wearing. Children can spell out their name or personalize their shoes and sneakers with the eye catching, colorful letters and generic images. 9/23/2010 (Age: 3 and up) [Add to my Inquiry Basket][?]



Jesus Loves You DVD by FUNSHINE MUSIC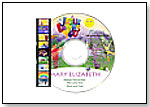 This personalized DVD features a combination of live-action and animation. New and familiar Bible songs are included, with words on the screen. Musical arrangements and compositions from award-winning composers Matt Huesman and Christopher Davis. 6/14/2010 (Price: $29.95; Age: 0 to 7) [Add to my Inquiry Basket][?]



My Name Flashlights by JOHN HINDE LTD.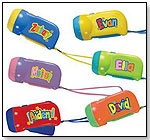 These kid-powered flashlights are available in 104 designs with 88 popular names and eight color combinations.
— "We have sold a lot of those," Gwen Bowden, manager of Doodlehopper for Kids in Springfield, Va., told TDmonthly, listing this product as one of her best sellers in June 2010.
— Gwen Bowden, manager of Doodlehopper for Kids in Springfield, Va., told TDmonthly that My Name Flashlights from John Hinde are her best selling personalized items. "[We sell] one a day, maybe more."
— Of 44 retailers, two said John Hinde is a best-selling product line in a September 2010 survey of most-wanted personalized items. 4/21/2010 [Add to my Inquiry Basket][?]



Eco-friendly Stainless Steel Drinking Bottles by I.D. GEAR INC.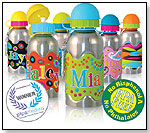 Free of BPA and phthalates, these stainless steel drinking bottles features colorful, attached caps, clips for attaching to a bag, and a wrap-grip personalized for the child. Designs in more than 100 names are available. 4/15/2010 [Add to my Inquiry Basket][?]



Name Puzzle Stool - Flip Back by HOLLOW WOODWORKS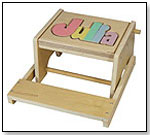 The Name Puzzle Stool can be personalized with child's name and has a back that flips down so child can use it as a step stool. Launch date: April 2010. 4/14/2010 (Price: $69.99; Age: 0 to 10) [Add to my Inquiry Basket][?]



Personalized Music CD's by KIDS JUKE BOX


A retailer can carry over 5,000 names in a space as small as a counter display. This retail-friendly personalized music CD uses a child´s name to be the main character and is personalized in other ways at home by the customer using "grab and go" internet technology. No rack system and no special equipment or mass amounts of inventory are required. The CDs come pre-packed in a colorful and informative countertop display with built-in audio samples. Company President Kurt Penberg told TDmonthly, "Kids Juke Box is the only company in the world that offers Any Name personalized music. No other product gives a better return on space than Kids Juke Box." Launch date: Dec. 25, 2008. 4/14/2010 (Price: $12.99; Age: 0 to 8) [Add to my Inquiry Basket][?]



License Plate by BLUE SABRE INC.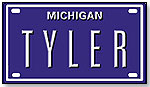 There are over 1,400 standard baby names available for this license plate collection, with options for special names as well.
— These license plates were named as a top-10 best seller at Twirl Toystore & Playspace in Taos, N.M., in early 2009, according to Owner Molly McMullin. "Families of tourists love them for souvenirs. We had them printed with 'Twirl-Taos, NM," she told TDmonthly. "Kids love to see their name on products, and people think they're a great tie-on for packages. A fellow toy-store owner encouraged me to bring these in, and I am grateful for the advice."
— "We always sell a bunch of those," said Molly McMullin, owner of Twirl in Ranchos de Taos, N.M., of her top-selling personalized item, Blue Sabre License Plates.
— Two of 44 storeowners said License Plates from Blue Sabre are their most-wanted personalized item during a September 2010 survey conducted by TDmonthly. 3/27/2009 (Price: $3.50; Age: 5 and up) [Add to my Inquiry Basket][?]



The Breadheads Personalized Learning Cartoon by KID HIP PERSONALIZED LEARNING LLC
The Breadheads, Personalized Learning Cartoon is a personalized learning cartoon where a child's name will be heard 50 times throughout the educational DVD cartoon. Designed to have children sitting and dancing in front of the TV, learning and hearing their own name (

Watch Video) 2/9/2009 (Price: $19.95; Age: 1 and up) [Add to my Inquiry Basket][?]



Pet Calendar by Creations by You, Inc.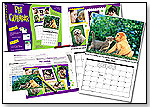 This kit comes complete with art pages and markers for designing and drawing a keepsake calendar featuring a child's favorite pet(s). Components of the 11" x 17" wall calendar can be submitted online or through the mail, and then it will be laser reproduced within two to three weeks. 12/8/2008 (Price: $19.95) [Add to my Inquiry Basket][?]



Monsters Keep Out Wall/Door Art by HIP KID ART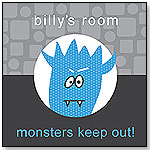 Monsters in the closet or under the bed? Parents can ease a classic nighttime fear by posting this sign on their tot's bedroom door. Personalized with a child's name, the sign tells Monsters to KEEP OUT! Each canvas is a museum-quality Giclee art print, gallery wrapped around a high-quality, 1.5" wooden frame. It arrives ready to hang on a door or wall within two weeks of order. "Personalized with a child's name, they give children a sense of ownership over their rooms and a sense that they are in charge," Amy Turner Senftlebe, creative director and president of Toccare Design, LLC & Hip Kid Art, told TDmonthly. Launch date: November 2007. 11/18/2008 (Price: $75.00; Age: 2 to 6) [Add to my Inquiry Basket][?]



Pop-Up Christmas Album by GOFFENGEL WORKSHOP


Pop-up Christmas Album celebrates Christmas through various themes of Christmas decorated with personal photographs of friends and family. This pop-up photo album holds 38 4" x 6" landscape photographs set on 5 thematic pop-up spreads. Each photograph frame is double layered, like a small book, allowing for two photographs to be inserted into each one. The top photograph when lifted reveals the one beneath it, and waiting inside each frame are little hidden surprise pop-ups. 9/24/2008 (Price: $69.99; Age: All Ages) [Add to my Inquiry Basket][?]



Cards by Kids custom Greeting Cards by CARDS BY KIDS

Cards by Kids turns your children's artwork into one-of-a kind greeting cards. Children's masterpiece artwork are transformed into items such as birthday cards, party invitations, thank you notes, etc. The 4.5" x 6" cards are blank inside and come with 100% recycled paper envelopes. Parents can order directly to preserve their child's artwork forever, and to have cards on hand for any occasion. For schools and organizations, these cards present a creative fundraising idea. Cards are sold in a pack of 10. 7/17/2008 (Price: $16.95; Age: 0 and up) [Add to my Inquiry Basket][?]



Bag Tags by MABEL'S LABELS


These sturdy tags measure 2.25" x 1.25" and are ideal for attaching to backpacks, luggage, sporting equipment and more. Raspberry, green and teal backgrounds are available, and the individuals name will appear in white writing. 3/17/2008



Expecting Big Brother Announcement Cards - Big Brother Baseball by BUDDING FAMILY PUBLISHING


These 5" x 7" cards can easily be framed. These keepsakes will help siblings celebrate their new role in the family, as well as celebrate the new baby. The fun and creative cards are available in a variety of styles. Launch date: January 1, 2008. 2/12/2008 (Price: $3.75; Age: 1 to 6) [Add to my Inquiry Basket][?]



Pressions for Kids by PRESSIONS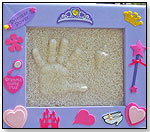 Pressions is a kit that allows anyone to make beautiful raised prints of a baby's or child's hand or foot. It is made in the same frame that it is later displayed in. The finished product has a beautiful sand finish and will be treasured for years to come. Launch date: August 2007.
— "Pressions allows multiple attempts at getting the perfect print — you can even put it away and pull it out weeks later," Pauline Leach of Continual Inspirations told TDmonthly. "The finished product is a raised rather than indented print and looks so professional and unique that you won't believe it was that easy to make." 1/2/2008 (Price: $43.00; Age: 0 to 10) [Add to my Inquiry Basket][?]



Goosie Cards® by GOOSIE CARDS

Each flashcard can be customized with personal photos and text to fit the needs of each specific child, making it a powerful teaching tool for autistic children. The innovative flash cards teach children about the world around them through their personal photos. This item, made in the U.S., is recommended for children ages 3 months and up. "Goosie Cards are the first and only custom flash cards on the market!" Goosie LLC Founder and CEO Jennifer Marchetti told TDmonthly. This product received a 2008 Product of the Year Award from Creative Child Magazine, a 2008 Baby Planners Seal of Approval and a 2008 Family Review Center Editors' Choice Award. Launch date: May 2007. (

Watch Video) 11/21/2007 (Price: $34.00; Age: 0 and up)



Wild Animals Personalized Floor Pillow by OLIVE KIDS DIRECT LLC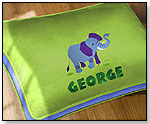 Ideal for the bed, floor or travel, this 20" x 26" x 2" pillow features an embroidered elephant on its machine-washable outer shell. It can be personalized with a child's name and is available in 10 designs. This product received a 2007 iParenting Media Award for Greatest Products. MSRP is $54.99 for non-personalized and $59.99 for personalized. "Our emphasis is on color and fun. Our designs have a nostalgic quality yet are fresh and relevant. We aim our designs at nature, play, toys, music and classical kids themes," Kim Poirier of Olive Kids told TDmonthly. 11/9/2007 (Price: $59.99; Age: 2 to 10)



Customized Visa® Gift Cards by GIFTCARDLAB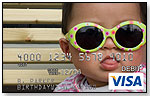 Simply upload pictures to personalize these gift cards. Two lines of embossed text are also offered at no additional charge. Gift card amounts range from $10 to $250 and can be used anywhere in the U.S. where Visa debit cards are accepted. Cardholders can check their balance and view transactions on the Web. Launch date: November 2007. 11/5/2007 (Price: $5.95; Age: All Ages)



Blanket Full of Love by STARRYTIME KEEPSAKES LTD.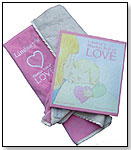 The 28-page personalized book features the child's name throughout the book, with exceptional care taken to effectively creating rhymes for every name. Choose from 42 illustrations to most accurately resemble the intended child, and choose the color of the blanket itself. A personalized blanket is also available separately. This product is an iParenting Media Award and Family Choice Award winner. 10/11/2007 (Price: $49.95; Age: 0 to 6) [Add to my Inquiry Basket][?]



Personalized Thank You Notes by GOOD BUDDY NOTES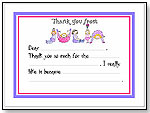 Each package contains eight 4.25" x 6.25" flat cards and envelopes. The following alphabet styles are available: boy, girl, dog, cat, ballet, babies, sports and animals. 10/4/2007 (Price: $12.00; Age: 4 to 12) [Add to my Inquiry Basket][?]



DIY Cross by OUR NAME IS MUD INC.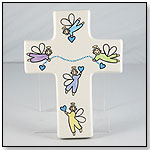 Create a beautiful keepsake to commemorate a new birth, baptism or christening. Both girl and boy angels are available, and the back of the cross has a special place where gift givers can inscribe the cross with the date and their name. Launch date: Spring 2008. 9/27/2007 (Price: $22.00; Age: All Ages) [Add to my Inquiry Basket][?]



Baby's Journey by TERRA TRADITIONS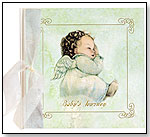 Detail all of a baby's first special moments in the pages of this acid-free, fully archival book. Record anything from the baby's the first Ultrasound to the first birthday. The book is also available in a Swarovski crystal version, with an MSRP of $69.95.This book is an iParenting Media Award winner for Best Baby Book of 2007. 9/27/2007 (Price: $49.95; Age: 0 and up)



Keep It Together Clip Board by AUSTIN-ABBOTT INC.

The Keep It Together Clipboard comes in hot tropical colors that tweens love. It has a handle at the base and opens up for fabulous storage. The clip on the front keeps papers in place. It measures 15-¼" x 10" x 2" 9/19/2006



Alphabet by THAT'S ME PUBLISHING


That's Me Publishing's pending process uses incredibly simple software to enable your customers to personalize and print their own children's books at home. Everything is included in the kit: covers, paper, binding coil, software and directions. In "Alphabet," a child gives his friend, Frog, a storybook for his birthday. The child teaches Frog to read his new book by finding the letters of the alphabet in the world around Frog's pond and then in the names of the child's family and friends. Frog learns quickly. He shows his skill by identifying the letter that begins the child's name. "Our Alphabet Personalized Book Kit works well for specialty toy retailers because it represents a personalized product where shoppers will always find the name they are looking for, since the simple software in the kit allows any name up to 16 letters," Mary Dwyer of That's Me Publishing told TDmonthly. 9/19/2006



Ornaments by GIFT GIANT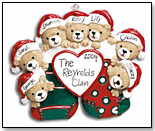 These resin Holiday Ornaments are designed to be personalized. The items become one of a kind when a name is added. 8/22/2006 (Price: $9.95; Age: All Ages) [Add to my Inquiry Basket][?]



Personalized Children's Educational Program by ME A-Z

Each child creates his or her own program. Their pictures are uploaded for the Intro, their names are referred to throughout the text, and they choose from more than 360 graphics and ideas to describe themselves, such as, "Aa: You are Artistic" or "Athletic" or "Awesome" and "Bb: You enjoy Books" or "Ballet" or "Baseball". They can choose a pre-made corresponding sentence or create their own. There is an audio element, which lists the phonetics of each letter and their choices, along with the full alphabet song. Their names and their uploaded pictures are featured throughout. 8/1/2006



Picture Me Holiday Greeting Cards by PICTURE ME PRESS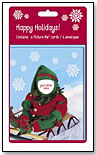 Personalize these holiday cards with a child´s photo and they bring a delightful season's greeting. Each card has a cute holiday message inside. The cards are 3.75" x 4.75" (approx.). It is a 6 card set plus envelopes. 11/10/2005 (Price: $4.99) [Add to my Inquiry Basket][?]



Catalog Request Form
THIS BANNER IS AN AD:
---
---