Playhut Entertainment Unveils Little Signz Products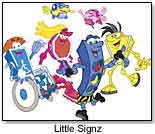 Playhut Entertainment has signed Kappa Books as the first licensee for the company?s original preschool entertainment franchise, Little Signz. Product plans will focus on the preschool property?s innovative approach to shapes and colors through its colorful array of traffic sign animated characters. Playhut will debut at the Toy Fair a series of products, including play structures and tents, and a line of 6? bendable figures of all the Little Signz characters in boxed sets with the pilot episode included. In addition, Playhut introduces the EZ Reader (a series of electronic children?s books) and a collection of electronic plush featuring the series? lead characters.
Blockbuster Movies=A Wealth of Licensed Products
Universal Studios Consumer Products Group announces the line-up for this year?s Toy Fair, based on four upcoming feature films: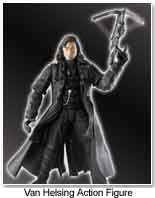 From the director of The Mummy and The Mummy Returns, Van Helsing (May 2004) is a monster movie in the spirit of Hollywood?s classic horror flick. JAKKS Pacific will create a line of action figures, accessories, play sets, lunch kits, back packs and activity toys based on the film.
Bandai will unveil a line of vehicles and playsets with the release of the live-action film, Thunderbirds (August 2004). Thunderbirds features an array of special effects along with a fleet of rescue vehicles, which inspire the toy line.
Expected in 2005, is the full-length animated feature film, Curious George. Universal Home Entertainment, Imagine Entertainment and PBS are also developing an animated preschool series to be released after the film.
A remake of the classic, King Kong, is also expected in 2005. Universal Studios Consumer Products Group will announce licensing partners for the film in the near future.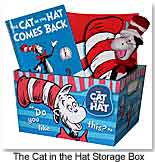 Dr. Seuss, Out of the Box
Wink Inc., (ToyDirectory) makers of colorful bedroom and playroom collections featuring a variety of classic characters, is introducing a series of items featuring Dr. Seuss? Cat in the Hat and Curious George, including nesting storage bins and book-shaped storage boxes. Based on the recent Cat in the Hat motion picture, the storage bins can add color and fun to children?s bedrooms and playrooms. In addition, Wink Inc. is also introducing a Curious George ride-on rocker.


A CHARM-ing Collection
SANRIO recently partnered with High IntenCity Corp., a girls? accessory designer and manufacturer, to produce the adorable CHARM IT! Hello Kitty Collection ($2-$20). The interchangeable charm and accessory collection includes charms of Hello Kitty and her friends, as well as jean clips, charm bands, handbags, notebooks, and much more. The initial collection includes over 60 detailed and brightly colored enamel charms accented with sparkling crystals. CHARM IT!, the original charm system, has enabled girls to customize their jewelry and accessories with a simple snap of a clasp.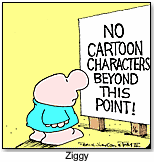 Ziggy Shows a New Face in 2004
Licensee, Kelly Toys, will unveil all new vinyl, plush and beanie Ziggy dolls and Collectibles at the 2004 Toy Fair. As playthings for children and collectibles for adults, Kelly Toys new Ziggy vinyl heads include a series of seasonal Ziggys, as well as Ziggys in uniform, including an Army Ziggy, Air Force Pilot and U.S. Navy Sailor. An immediate opportunity for Ziggy plush will be the new Valentine?s Day Ziggy assortment. This Fall, look for Ziggy vinyl heads dressed in classic Halloween costumes, followed by an offering of Ziggy dressed in festive Christmas outfits and characters of the season. A new assortment of Ziggy Easter beanies will also hit stores.

Ziggy is also getting in on the adult game business courtesy of Arrow International. The company will launch the new Ziggy bingo and other Scratch-off Lottery Games in January.
Itty bitty HeartBeats Gets Fashionable
The popular characters from the itty bitty HeartBeats children´s animated series is leaping off screens and onto kid´s clothing. Levymann Entertainment has joined forces with Wormser Company and Fruit of the Loom to produce a line of children´s sleepwear and underwear featuring the wholesome characters. There will be a limited product release in 2004 with a full product rollout in 2005. Product packages include two plush characters from the series, a CD featuring songs from the episodes, and a video of four episodes of the animated series. They will be available at Toys "R" Us stores and other retail spaces nationwide.
Comic Images Gets Shreked in 2004
Highlighting Comic Images? (ToyDirectory) 2004 line plan is their line of Shrek bobble pens and gumball machines. The Shrek bobble pens are available in 3 SKU?s: Shrek, Donkey and Fiona. Each pen sits in a custom base while the head actually bobbles. The Shrek gumball machines are based on the classic antique gumball machine, and are available in both the 9? and 11? versions. They come with metal bases, glass globes and are ?topped? with the classic pose of Shrek and Donkey.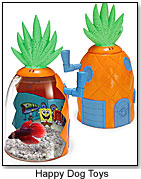 Happy Dog(R) Toys and SpongeBob SquarePants(TM) Make a Splash

Happy Dog(R) Toys has released a series of products for both humans and animals. The SpongeBob SquarePants(TM) Aquarium line includes the Bubblin´ Bus Action Ornament, which has a pump that provides air for diving action and a propeller that creates movement through water; the Patrick Star Bubble House Action Ornament which features the endearing starfish´s home that fills with bubbles emitted through an air tube and gradually opens the rock roof up and down; and the SpongeBob SquarePants Betta Tank, an easy-to-maintain tank with a vented and removable pineapple top for feeding.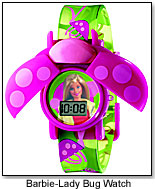 Do You Have the Time?
Seiko Instruments, Inc. is introducing a line of watches based on a variety of licensed characters, including Disney and Barbie. The digital watches come in a variety of styles and colors, and feature comfortable jelly straps and cool features. The line of watches include Barbie-Lady Bug Watch, featuring lady bug wings that open to reveal time and a pouch that can store the watch; Disney Princess Slider Watch and Disney-Power Rangers Slider Watch, both flip top watches that include two interchangeable straps and three character sliders; Disney-Mickey Police Car and Tigger Fire Truck, both of which pop open with the touch of a button to reveal time and feature siren noises.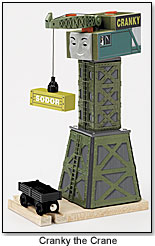 New Thomas & Friends Playsets and Vehicles
RC2 Corporation (ToyDirectory) offers two new ways to take the treasured stories of the evergreen license and pres-school staple, Thomas and Friends, home. Learning Curve´s Thomas Wooden Railway is a classic wooden railway that recreates the timeless Thomas stories and characters. Take Along Thomas & Friends is a line that includes all-in-one, portable playsets and die-cast vehicles.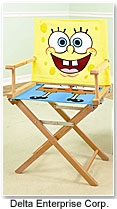 Dora the Explorer Gets Own Line of Furniture
Parents will now be able to decorate their children?s bedrooms and playrooms with furniture and accessories festooned with the likenesses of SpongeBob SquarePants, Dora the Explorer and Blue?s Clues. Delta Enterprise Corp., a leading children?s furniture manufacturer, has a new line of toddler beds, tables, chairs, desks, toy chests, easels and more, each portraying the spirit of those popular Nickelodeon characters. Delta is also developing original themed furniture pieces inspired by The Wiggles, the group of Australian-born children?s entertainers who have become the rage around the globe. In addition, Delta continues to provide the exclusive Baby Snoopy infant furniture and accessories, as well as the Precious Moments Baby Collection.