High-Tech Care Bears
VTech Electronics, creators of the electronic learning category, have developed the first of its kind new TV Learning System - V.Smile. The exciting technology turns game time into brain time by combining a video game platform and educational content in a system that connects directly to the television. Children ages 3-to-7 years old play a variety of entertaining educational games on cartridges that help teach essential curricula such as language, math and science through engaging gameplay. Children navigate each game by using a hand-held joystick with oversized buttons and a feature that allows the joystick to be switched for both right-handed and left-handed players. The Care Bears cartridge will feature popular Care Bear characters to help guide children through various age-appropriate skill levels and developmental activities.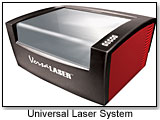 Universal Laser Systems Introduces VersaLaser
A new line of computer-controlled, desktop laser engraver systems, the VersaLaser by Universal Laser Systems (ToyDirectory) transforms images on a computer screen into real items made out of a variety of materials, such as wood, plastic, ceramic and leather. Using a high power laser and a USB connection to a computer, it can cut through, scribe into, engrave text, graphics and photographs or permanently mark materials. VersaLaser is a compact, low-cost laser system that is as easy to use as a printer.