Tools for a Brainy Baby
Parents have been flocking in droves stocking up on the latest Brainy Baby products that "support brain development." Brainy Baby´s new line of VTech products combine VTech´s technology and educational insight with Brainy Baby´s development philosophy to create interactive, visually appealing learning toys for children ages birth and up. The line includes 14 products, including: Number Bug and Happy Hammy Pair, which teach children about numbers, shapes, colors, sounds, feelings and music; ABC Building Block Pair and Touch & Imagine Block; Call & Count Phone and Mini Music Maker Pair, which teach sounds, shapes, numbers, counting, self awareness, and music; Storybook Shapes and Storybook Colors Pair, which introduces numbers, counting, shapes, music, sounds, color and emotions; ABC Roll & Go and Baby Face Pair, which introduces 123s, ABCs, shapes, music, emotions, feelings, and initiates multi-tasking skills; Shape Sorter and Beethoven Pair, introduces shapes, numbers, music, and open and close action; and Baby´s Think Station and Creativity Collage Pair, teaches numbers, shapes, letters, music, sequencing skills, sounds, objects, feelings, and much more.
Learn How To Be A Magician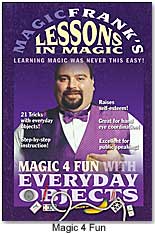 MagicFrank´s Lesson´s In Magic (ToyDirectory) is releasing their first two DVD´S this April: "THE MAGIC 4 FUN VIDEO" ($19.95), which consists of 21 tricks with everyday objects, and "THE KEY TO CARD MAGIC" ($19.95), a new title that consists of 21 tricks with a regular deck of cards. Wannabe magicians can learn how to have the card picked, end up in your wallet, shoe or even in the deck box.
Toys That Stack Up
PlanToys is launching a number of sorting and stacking toys, including the Fun Stack Sorter ($20), which features a curved wood board that allows color pegs to be slotted in to slits for sorting and counting by color. The Fun Shape Sorter ($20) has 4 unique color plates with shapes that must be matched-up on the board in order for the pieces to fit in. A new Hammer Bench ($20) features a rotating peg panel that flips over once the pegs have been pounded so the pounding can start again.
One Small Step for Child, One Giant Leap for Robotics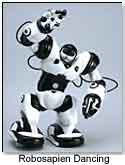 Wow Wee Toys Ltd. has teamed up with robotics physicist, Dr. Mark W. Tilden, to develop the first affordable intelligent entertainment humanoid, the Robosapien ($99). Fiesty, moody and oozing personality, Robosapien comes to life at human command and performs up to 67 amazing tasks, including throwing, whistling, dancing, and even karate moves. Robosapien reacts to both touch and sound signals from his environment, and comes equipped with fast, fully-articulated arms that have a full range of motion and two types of three pronged grippers.

Learn and Sing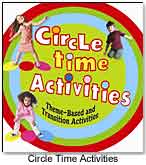 New from Kimbo Educational (ToyDirectory) is a series of CDs that teach children through music. At home or at school, Circle Time Activities helps set up the day for learning and fun with songs about manners, the senses, letter recognition, numbers, colors, the seasons, and more. The CD includes bonus activities and lyrics, as well as links to popular children´s books.
Also from Kimbo, A Tisket, A Tasket is a great musical helper for scout meetings, parties, and schools. 17 traditional, action songs liven up children´s days while helping them to learn important concepts. Activities, literature links and sing-along lyrics are featured in a helpful guide.
New Creative Products From Ohio Art
The Ohio Art Company is launching additions to their line of classic Etch A SketchÒ drawing toys. The Etch A Sketch Draw n' Go ($14.99) includes a "shake-to-erase" magnetic drawing screen on one side and a creative clipboard on the other side, to help give children the freedom to create wherever they are. The two surfaces are built in a handy carrying case with stencils, colored pencils, magic stamper knobs and paper; the Paint n' Draw set ($12.99) gives children the tools they need to create their own unique styles, including paint brushes, paints, stencils, colored pencils, and paper. Spring-loaded drawers unlatch by twisting the magic Etch A Sketch knobs; the Scribbler ($9.99) features the "shake-to-erase" magnetic drawing surface in a unique two-sided format: when children draw on one side, the opposite side shows the drawing in reverse.
The new Etch A Sketch products will be available in Fall 2004.

Eye On the Sky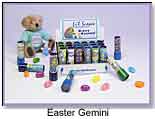 From Gemini Kaleidoscopes comes a new assortment of kaleidoscopes, including the Once Upon a Time collection, which feature favorite children's fairy tale characters, such as the Three Little Kittens, Three Bears and Three Pigs; and the Li'l Scopes Easter Assortment, a selection of 4" scopes decorated in colorful Easter themes.
Etch A Sketch TV
The perennially popular Etch A Sketch is giving televisions a complete makeover with ETO ($34.99), the world's first and only all-in-one T.V. hook-up creativity system. Created by Etch A Sketch Electronics, ETO lets kids create their own drawings and games right on their television set. This interactive creation station is jam-packed with creative thought starters, imagination drivers and fun finders using animation and sounds as well as existing images and backgrounds. ETO comes complete with a library of stock images, backgrounds, animation and music options.
Puppet Mania
New from Puppet Partners Inc., Mr. Tree Puppet was created to help teach children about the seasons and the important role trees play in the world. The puppet comes packaged as a "winter" tree; leaves are included in the set that can attach easily to Mr. Tree's branch with Velcro. Also included is a booklet that contains handy scripts and a teacher/parent's guide.
Also new is the "Good Sport" Puppet/Script Set, three just released puppets that help young people learn how to deal with anger and what it means to be a good sport.
A Mouse Perfect for Wee Ones
New from KidzMouse, Inc., the creator of The Kid Friendly Computer Mouse, is expanding its product like with the launch of several new computer accessories for children and pre-teens. KidzMouse Keys ($39.95) is a simplified keyboard that has fewer keys than a regular one. The touch typing-compatible keys also have a special shape and are color coded to encourage faster typing. KidzMouse Ears ($29.95 for large headset; $24.95 for small headset) lets kids bop along to their favorite music or enjoy language lessons on the go. Special headsets come in two sizes to accommodate children ages 2-13. The Paloma Firefly ($24.95) is a recent addition to the original KidzMouse line. It comes in a burst of colors and lights up to give a real firefly effect. For pre-teens and teens there is the Scroll Mouse ($29.95), which features a scroll wheel for older and more experienced users.
Playing With Timber
Children will enjoy endless hours of fun while learning with the Little Tikes Timberlogs wood construction playsets. These standard and deluxe playset items from Forever Young include solid wood logs, which are richly and colorfully stained in a non-toxic finish. Timberlogs designs offer children a patented building system featuring a unique two in one design, which offers a choice of building with a flat surface or, a multiple interlocking method.

Additionally, these exciting Little Tikes Timber Logs include theme-related plastic parts and accessories that release creative minds for endless building and play scenarios. Each set comes in a unique, cylinder-shaped container topped in a themed play hat lid. All Timberlog sets are compatible with most other log sets. Themed sets include Construction, Fire and Rescue, Fort America West, Playland and America Assortment.
Create Your Own Floor Mat
Forever Young's Little Tikes Soft 'N Learn Mat and Puzzle sets are made of durable non-toxic, surface washable foam. Each offers children the ability to create their own unique flooring. In addition, the sets teach letters and word association skills and can also help children learn their alphabet while playing. Words on the individual tiles also describe pictures and help introduce reading. Each set includes safety style edging.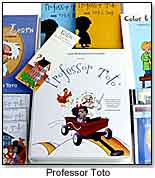 Learn to Hablar Español As Easy as Uno, Dos, Tres
Using a progressive and proven technique developed by foreign language expert Francois Thibaut, children as young as two can learn French or Spanish with the Professor Toto Educational Kit by The Language Workshop for Children (ToyShow). Kids will learn language easy, simply by allowing them to have fun while speaking and singing along. The kit consists of a multi-layered system comprised of videos/DVDs, print elements and audio elements.
A Flock of Backyard Birds
K&M International, Inc.'s line of Audubon Birds were so popular when introduced last year,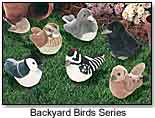 that the company is introducing two new series of the singing bean bag birds from Wild Republic—Backyard Series 5 and Urban Birds ($6-$8). The Urban Series will include the Rock Dove, House Finch, Common Nighthawk, House Sparrow, Common Grackle and European Starling, while the Backyard Birds Series 5 will include such species as the Song Sparrow, American Crow, Dark-eyed Junco, Downy Woodpecker, Mourning Dove and White-breasted Nuthatch. Also due out is the California condor—North America's largest land bird.
Morphin' Mania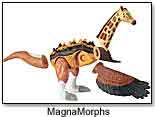 K&M International introduces MagnaMorphs, a unique line of animal and adventure-related toys as part of its Wild Explorers brand. Not your usual, stiff-limbed animal figure, MagnaMorphs feature magnetic body parts that are interchangeable. Kids will have a blast morphing different animal parts to invent their own species. How about a tiggirphant? (Tiger-Giraffe-Elephant combo.)
Get Smart!
Not many products can boast of a fan base that ranges in age from 3½

to 89. Fractiles-7 (ToyDirectory), developed by Beverly Johnson and Marc Pelletier in 1998 to "help bring the beauty of geometry into the mainstream," captures the elegant simplicity of geometry in a way that appeals to all ages. Consisting of tiles designed with angles based on the number seven, Fractiles-7 pieces stick magnetically to a steel activity board, or any magnetic surface, to create myriad designs from users´ imaginations. Johnson, a mother of five with no prior business experience, came up with the idea of Fractiles while playing with cut up magnetic business cards. According to her, users range from preschoolers to advanced math researchers, and include people with physical and learning disabilities.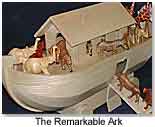 A Most Remarkable Toy
Remarkable Toys has recently launched The Remarkable Ark, a 3-foot long hardwood ark, built much like a real boat. A special toy and keepsake that will be enjoyed by generations, the ark is handcrafted by expert craftsmen; it features a removable roof and upper, and sits on a steerable cradle with a hay cart-style tow bar. The ark comes with Mr. and Mrs. Noah, as well as 20 hand carved 3D animal figures.
A Happy Birthday Lesson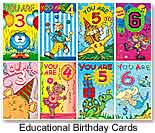 Maple Landmark (ToyDirectory) offers retailers a "complete gift" and one-stop shopping opportunity for customers with the addition of their ingenious new line of educational birthday cards. Designed for children ages three to ten years old, each Educational Birthday Card has 48 pages of specially designed, age appropriate activities that kids will love to take part in. For younger kids the cards feature the basics of coloring, drawing, math and the alphabet; cards for older kids include activities in writing and reading skills, and word and math puzzles.
Hookin' Up Words with Timber Toots

Maple Landmark Woodcraft (ToyDirectory), makers of the NameTrains™ Wooden Railway System, announces its newest addition to the series: Timber Toots™. Crafted from solid maple blocks and printed with capital letters, each Timber Toot car creates an opportunity for play as well as spelling lessons. Both NameTrains and Timber Toots have a non-toxic finish and are suitable for ages 3 and up.
Learning the Wikki Stix Way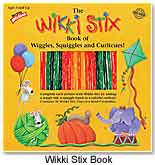 The Wikki Stix Co. is launching the Wikki Stix Book of Wiggles, Squiggles and Curlicues, an interactive board book for children ages 3-5. Each colorfully illustrated page contains an element than children can discover and then add to. Kids can place a missing Wikki Stix curly tail to a Piggy, or a Wikki Stix wavy black smoke to the top of a bright red train. Kids love this board book with surprises inside! The book comes with 36 Wikki Stix.
Kids can now learn to form numerals with tactile, hands-on Wikki Stix with the Wikki Stix Number & Counting Set. Kids love playing with Wikki Stix…they'll never guess they're learning math while playing! The set comes with a series of worksheets and 36 Wikki Stix.

Trackin´ Animals Photo Safari
Carson-Dellosa wants kids to grab their binoculars and join the Wild Goose Team on a life science game called the Wild Goose Trackin´ Animals card games. Three different games in each box have players chasing animals across the globe and back in time. Players ages 5 and up can collect and assemble animal photos, draw and trade cards, and answer trivia questions. Games include Mammals in the African Savanna, Pine Forest and Ocean, Dinosaurs, Mammals in the Rain Forest, Grassland and Arctic, and Wild & Extreme. See them at the Toy Fair (booth 2244).
Also new from Carson-Dellosa are eight new Science Quest Kits for children ages 8 and up. Retailing at $14.99 each, the kits include Anatomy Lab, featuring 16 activities that teach how several parts of the body work; Crime Lab lets kids learn the secrets to performing forensic analysis; Electron Lab explains the reality behind static electricity; Flight Lab includes 11 activities revolving around the science of flight; Rockets & Racing Lab lets kids build their own racing machines and more; Shadow Lab illuminates the science behind shadows; Solar Lab sheds light on solar energy; and Stormy Weather Lab allows children to set up their own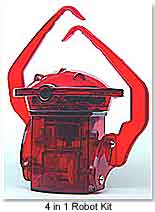 weather station.
Build Your Own Robot
Kids can build their own robot with OWI´s (ToyDirectory, ToyShow) 4 in 1 Robot Kit, featuring four different methods of movement: Hand over hand (Orangutan mode), 2 legged walking (Gorilla mode), 4 legged walking (Centaur mode) and 6 legged walking (Spider mode). A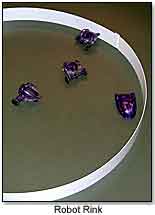 beginner series robot, the easy to assemble, battery-controlled kit teaches the basic principles of robotic sensing and locomotion. Assembling, building, and following instructions help develop fine motor skills and hand-eye coordination.
Also new from OWI is the second generation of its binary navigating robot kit, the Binary Player Robot ($34.95). This "very predictable," two-wheeled robot has an internal program that is stored on a memory disk created by the user. The robot is easily re-programmable by the controller…you. Therein lies the fun. In addition, OWI introduces the Robot Rink ($24.95), a self-contained arena for its highly acclaimed OWIKITS. Made of durable, high-density styrene plastic construction, the Rink is perfect for robot experimentation and interaction at home, school, etc.
Oregon Scientific Inc. Powers Up with New Interactive Learning Toys
February will see the debut of Oregon Scientific Inc.'s (ToyDirectory, ToyShow) new Barbie™ interactive dictionary (ages 3 and up), packed with more than 500 educationally-certified curriculum words and features, as well as colorful illustrations and photos. The product allows for a fun way to learn definitions and word pronunciation with a lot of encouragement from Barbie.
Joining the Barbie interactive dictionary will be Hot Wheels™ interactive encyclopedia, which lets boys discover fun facts through the arena of the well-loved die-cast cars. Oregon Scientific's complete line of electronic learning products will be on display in the company's showroom located at 200 5th Ave, Suite #757, in New York City for Toy Fair 2004.
BookBytes Bite Into the Interactive Book Market
BookBytes by Optidisc (ToyDirectory, ToyShow) are a 12-title set of interactive digital books that contain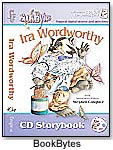 storybooks, activities, puzzles and more. Written by Stephen Cosgrove, author of the popular Serendipity Series, the stories in BookBytes are read just like a book—with pages turning on your computer screen—or, sit back and listen as the author narrates each story. More than another computer game, these stories develop literacy, teamwork and positive values. Each BookByte CD has both audio and CD-ROM tracks.
Each CD includes:
Book Pop - Read or be read to as you flip through the pages of the digital storybook.
Giggle Pop - The adventure continues with six coloring pages and six activities to print and do together.
Puzzle Pop - Use your mouse to put together the jigsaw pieces and complete the puzzle.
Print Pop - Print your own color copy of the book.
Mail Pop - Send an email to the author and he´ll respond!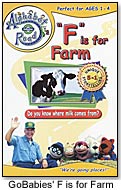 GoBabies Answers the Question "Do you know where milk comes from?" in New Video
The first in the Alphabet Road series (ToyDirectory), "F" is for Farm—Do you know where milk comes from? is a Parents´ Choice award-winning video that takes toddlers on a virtual field trip with the "GoBabies" to Farmer Brown´s real dairy farm. The 5-in-1 multi-sensory format--seeing, singing, writing, sign language and interactive activities—is both fun and educational, allowing children ages 1-4 to learn farm-related words through repetition.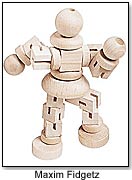 Maxim Debuts Fidgetz
Fidgetz are both puzzles and fiddle-around toys in the shape of small wooden "people" crafted from smooth hardwood blocks strung on heavy-duty nylon elastic cords. The 7-inch Fidgetz Boy has 19 cubes that fold up into an oblong shape. The Fidgetz Girl is made of 25 cubes and spheres. Both are great for long car rides, waiting rooms and restaurants, as well as for teaching manual dexterity and problem solving.
Fast Hands Launches Original Talking Little Lite Checker ™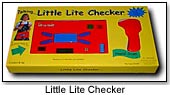 The Original Talking Little Lite Checker ™ is a portable battery-operated scanner that lets kids pretend they're working in a real store. Children can scan objects across the Little Lite Checker or use the Hand Scan™. The toy comes with a shoulder strap to let kids take it anywhere. Because no table is required, special needs children in wheelchairs can also enjoy the buzzer sounds and changing lights as they watch the counter add up the objects scanned. Pressing "total" lets kids hear how many objects they have scanned, as well as see the number, making this a great toy to teach counting basics.
Solar Mars Crawler
Recent recipient of a "Seal of Excellence" award from Creative Child Magazine, Seibun's Solar Mars Crawler is powered by either an included Solar Cell or two AA batteries—running on fast rubber treads, which can be removed to let it roll on wheels. Kids can have fun climbing over obstacles as they learn about physics, electricity and solar power. The motor is powerful enough to climb a 39-degree slope, and the Crawler's parts snap together easily for quick assembly.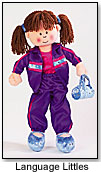 Language Littles adds Alexa, The Greek Gymnast doll & David, The Hebrew Speaking Doll

Language Littles (ToyDirectory) has two new additions for 2004, Alexa, The Greek Gymnast and David, The Hebrew-speaking doll. "Yasou, Hello," says Alexa, who wears a nylon purple warm-up suit and pink leotard with star covered slippers. Alexa recites phrases in English and Greek, teaching kids colors and gymnastic vocabulary in a voice recorded by a native speaking girl. "Shalom!" says David, who teaches the fundamentals of Hebrew, including greetings, names for family members and days of the week. Dressed in a yellow satin yarmulke and a red nylon backpack, David's voice was recorded by a native speaking boy living in New York.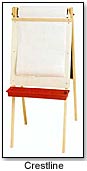 Magnetic Paper Roll Easel and Magnetic Table Top Easel
Crestline's new easels include all the great features of previous models, with the advantage of having a magnetic dry-erase surface. The Magnetic Paper Roll Easel features a top-mounted 18-inch by 100 feet paper roll, double hinges for stability, two trays and steel leg braces. The reverse side is a chalk board. The Magnetic Table Top Easel also has a magnetic dry-erase surface on one side and chalkboard on the other, with a large center tray for keeping track of chalk and alphabet magnets.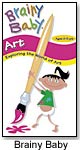 Brainy Baby Debuts Art, Music, and English Videos
The award-winning Brainy Baby Company (ToyDirectory, ToyShow) debuts three new videos for 2004: Art, which teaches the fundamentals of color, texture and mediums through finger painting, sculpture and classic art images, combined with fun music. The Music video teaches rhythm, tempo, harmony and pitch with sing-alongs and colorful animations. English teaches words for colors, numbers, favorite objects, action words and familiar phrases. Of course, there's fun music and a nursery rhyme song, plus a vocabulary review section.

Sammy's Place Mats Teach Kids Table Manners
What's a better way to teach kids good table manners than giving them something fun to look at while they're eating? Neo Matter's 7-day table manner place mat set is designed just for kids' eating experience. With bright colors, playful illustrations, bold type and the character Sammy the kitty, the place mats are like a toy for kids ages 2-5.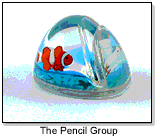 The Pencil Grip, Inc. Gets Ergonomic
The Pencil Grip, Inc. (ToyDirectory), a family-owned business known for its innovative educational toys and supplies, has launched the new Mercur brand Toy Eraser and the Ergonomic Style Prisma eraser. In addition to being a fully functioning eraser, the Mercur eraser also operates as a construction toy. Also launched is the Aqua Page Up, a brand new style of the popular Page Up! paper holders. It contains a liquid filled mini aquarium with six types of tropical fish, sharks and whales available.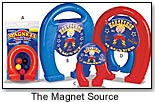 Stuck on Magnets
The Magnet Source is now offering their popular Horseshoe and Magnetic Marbles Set in a new clamshell packaging. This set combines the small (4 inch) Red plastic Magnetic Horseshoe and five brightly-colored Magnetic Marbles. The set encourages children 4 and up to discover the mysterious and fascinating forces of magnetism.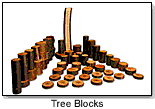 Learning Math the Block Way
Tree Block´s (ToyDirectory) latest addition is the Math Kit, which helps children learn the metric system and math concepts with a wide variety of unlabeled blocks made from hand-cut branch blocks. These simple materials allow children to grasp mathematical principals up to the level of algebra by stacking blocks next to other objects imitating Greek and Egyptian methods of measurement, and achieve a tactile understanding of the metric system.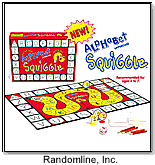 Learning Your ABC´s In A Whole New Way
RandomLine, Inc. (ToyDirectory) is debuting their latest creation, Alphabet SQUIGGLE, an educational game that introduces letters to children in a clever new way by introducing the alphabet and incorporating different activities that support early learning and development. Alphabet SQUIGGLE allows children on all levels to play and encourages them to take the next step-from writing a letter to creating a word.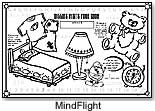 Meet Diggins!
MindFlight (ToyDirectory) introduces their line of Diggins Munchtime Placemats, interactive placemats that entertain young children before mealtime. Each mat allows kids to color, do letter searches and count different items on the sheet for a fun and educational experience.
Say Cheese!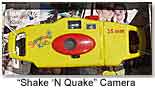 J. Lloyd International is introducing the "Shake 'N Quake" Motion & Sound 35mm camera, an easy-to-use camera for children. By pressing the motion & sound button (located on each handle) before taking a picture, the subject is caught by surprise as "Hold still for the picture," "Don't move!" and other phrases issue forth from the shaking quaking camera.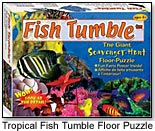 New Puzzles from Nova Design Group
Nova Design Group has two new puzzles coming out: the Magnetic Wheels at Work Puzzle and the Tropical Fish Tumble Floor Puzzle. The magnetic puzzle will entertain children's fascination with all types of vehicles, plus it's a great way for kids to learn the alphabet. Includes 26 magnets, a puzzle board and poster. Covering 24"x36", the floor puzzle is made with durable chunky pieces, easy for even the smallest hands to play with.

A Fun Way To Teach Kids Manners
Tanner's Manners (ToyDirectory, ToyShow) has recently launched the "Tanner's Manners: Be a Kool Kind Kid" CD featuring 17 original songs. Each song teaches a different social skill in an entertaining way. Using poems, songs, role-playing and other activities, Tanners Manners provides kids fro ages 2 to 12 with an engaging, comprehensive grounding in good manners and ethical behavior. Recently, Campbell's Labels for America(TM) and Tanners Manners teamed up with other national organizations to help America's schools and encourage volunteerism in their local communities. In the same spirit, Tanner's Manners will be offering special pricing on their products for those schools registered with the Labels for Education(TM) Program.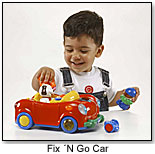 Repair You Car and Drive Away
Chicco´s (ToyDirectory) new Fix ´N Go Car has many realistic sound effects and fun melodies. Flashing lights signal the presence of mechanical "breakdowns": by inserting the appropriate tools into their corresponding shape and color slots, the child can repair the motor, tires, dashboard, or you can even fill up the tank with gasoline. A sound warns chidren each time they choose a slot that is not connected with the flashing lights. To make the car run at full speed, kids can either choose the free wheel or electronic modes.
Bilingual Learning Fun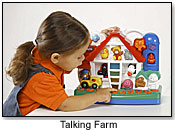 The Talking Farm, also from Chicco (ToyDirectory), is an educational interactive toy that teaches children how to recognize animal names, sounds, colors and numbers. Gradually the child learns to experiment and amuse themselves with words, thus widening their linguistic and numeric skills with the help of their farmyard friends. The Talking Farm is also bilingual (English/Spanish): the child just has to turn the sun-shaped selector to choose a second language and learn in another language the words they already know in there mother tongue.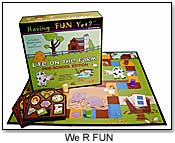 We R FUN Makes Learning Enjoyable for Kids and Parents
Preschoolers are sure to love the happy animal scenes, bright colors and soft feel of We R FUN´s (ToyDirectory) new preschool edition of Life on the Farm. Designed for children ages 3-7, the soft non-toxic foam playmat is a huge 5-piece puzzle. This game became a favorite when tested by early education specialists.
Also from We R FUN, Minus 13 is a new hexagonal pyramid math game packaged in a triangle box. This gameboard is interestingly designed from six stepped triangles. Players ages 7 to adult can put them together to form a pyramid and lock together with the locking cap. Minus 13 is a new way to home basic addition, subtraction and multiplication skills.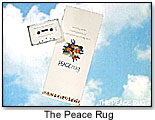 Stop Kids From Fighting!

Hurt feelings, disagreements, and arguments often escalate into physical violence. Stop it early, quickly, and easily by teaching children to use The Peace Rug® (ToyDirectory), a unique research-based proven effective program that teaches children how to resolve issues peacefully.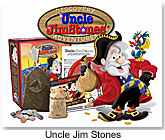 Uncle JimStones Unearths Ancient Coins
Unearth a hidden treasure with Uncle JimStones Ancient Coin Expedition. The newest kit from Uncle JimStones (ToyDirectory, ToyShow) packed with activities, a printed trading pouch, antique coins from around the world, and a certificate of accomplishment.
Uncle Milton Gets A´s In Science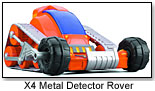 Uncle Milton is adding a host of innovative items to its award-winning science and exploration category, including the X4 Metal Detector Rover, a real, working metal detector combined with an RC vehicle; the X6 Optic Morpher, a hand-held device that lets kids bend reality by distorting the images of friends, parents and even pets; and Mini Science Adventures, working miniature science kits based around the escapades of Xtremely Little Dude, the star of a miniature science adventure comic book that is included in each kit.
A Trip to the Space Farm
Triops Inc. (ToyShow) has just come out with a cool science toy called the Space Farm, a space-age ecosystem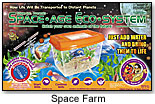 that a variety of aquatic critters in suspended animation (think of those cute Sea Monkeys), that when added to water, magically spring back to life. This unique kit actually contains relatives of the actual critters flown on the NASA Shuttle, or currently sleeping in the International Space Station. Each kit includes a 2-gallon aquarium with windowed lid, rapid grow plant bulbs, dormant brine shrimp and triops eggs, shrimp hatchery, and everything else needed to create and maintain the Space Farm.
Educational Insight´s Toys Educate and Stimulate
Educational Insights, Inc. (ToyDirectory) has launched a series of learning products, including the GeoSafari Quiz Phone ($24.95), an electronic device that teaches readiness, social studies, math, science and vocabulary. The interactive talking and teaching phone comes with a full-color game book. MagStruction features three separate colorful magnetic construction system sets. A series of multiple geometric shapes and a veritable rainbow of colors makes young builders imaginations run wild.
Over 100 other products launched include a String Along Lacing Kit, Time 2 Learn Clock, Host Your Own Jeopardy!, Heximoes, 3-D Maps, Robo-Diver, Sonic Sleuth Binoculars and LogiRobot.