Article Tools:








Toys to Talk About: STEM
These STEM toys are worth a second look.
4M Crystal Mining Kit by TOYSMITH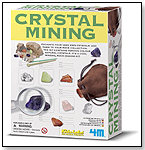 4M Products are creative, imaginative, inspiring and most of all fun! The 4M Crystal Mining Kit let's you excavate your very own crystals. Once you excavate you have beautiful crystals to display and admire. Includes plaster rock with eight embedded crystals, digging tool, display case, drawstring bag and more! Perfect for ages 5 and up. 9/30/2015 (Price: $10.99) [Add to my Inquiry Basket][?]



Pirate Treasure LIMITED SERIES Classic EcoAquarium™ by FUNOLOGY INNOVATIONS LLC

A Classic EcoAquarium setting sail with a new look of Pirates, Treasure & Adventure! The durable color-fast background & tank border sets a tone of swash & buckle. The Classic EcoAquarium brings nature up close & personal. Includes 4x4x5 tank with 2 Frogs or 1 Betta Fish, Lucky Bamboo Plant, Decorative rock, Living Gravel, your choice of Colored Gravel. The natural mix of plant, animal & microbes work together to establish a sustainable mini-ecosystem. Easy to maintain, easy to care. 9/30/2015 (Price: $40.99; Age: 6 and up) [Add to my Inquiry Basket][?]



GeoSafariŽ Jr. My First Microscope by EDUCATIONAL INSIGHTS INC.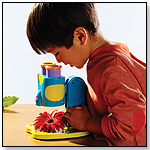 Get preschoolers excited about science and introduce them to the miracles of magnification with My First Microscope! Magnify any small object – flat or dimensional – at 8x with this real, working microscope designed especially for little kids! Encourages scientific exploration; Rewards curiosity ; Introduces kids to a key scientific tool.
— Matt Peel, manager of Toys & Co. in Greensboro, N.C., told TDmonthly in a January 2015 survey that the GeoSafari line from Educational Insights was their store's best-selling STEM toys. 1/29/2015 (Price: $21.99) [Add to my Inquiry Basket][?]



FRIDGE FRACTILES by FRACTILES, Inc.


MSRP: $11.95

Fractiles - a Real STEM toy!

This set includes 48 brilliantly colored flexible MAGNETIC tiles and a color-Illustrated cardboard CD-style package to store the tiles. Board not included. Fridge Fractiles make great stocking stuffers and can be used on a fridge or filing cabinet. They are made in the USA.

"For the past several years, my wife and I have featured Fractiles in workshops we do with public school students. We have been following the currently popular STEM philosophy of combining Science, Technology, Engineering, and Mathematics to get kids interested in how to teach themselves and learn independently, with really promising results. Fractiles is ideally suited to this kind of program and extremely popular with our students as it encourages creativity and innovation. We wish there were other materials of a similarly versatile and compelling nature." - Professor John L. Hall; University of Colorado, Boulder; Nobel Prize for Physics, 2005

"It is a perfect 'STEM' toy that teaches math while kids play. In fact, it plays into 'STEAM' because it has a strong art component, too! Fractiles was way ahead of its time, and now is perfectly positioned to become a hot seller for all the families who are looking to enhance education through play!" - Sallie Kashiwa, owner/president of Timbuck Toys in Colorado

"We have carried Fractiles for several years and, on top of being a great selling toy, they have become one of our personal favorites. They are educational, reasonably priced, and made in America by a reputable company. It's very rare for a toy line to meet all of those qualifications. " - Kristine Reed from Whispering Winds in Mr. Dora, Fla. 4/28/2014 (Price: $11.95; Age: 6 and up) [Add to my Inquiry Basket][?]



Catalog Request Form
THIS BANNER IS AN AD:
---
---


Advertisement: