Baggo Inc.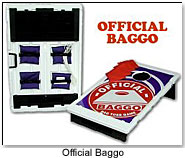 The ?Official? version of Baggo is a bean bag toss game that is fun for any age group! The object of the game is to get the bean bag in the hole as many times as possible. All games, with the exception of Family BAGGO include 2 official Baggo game boards, eight bags, a distance regulator, wall mounting bracket and rules and instructions. Two blow-molded polyethylene game boards decorated with a choice of two distinctive logos provide consistent tournament quality play all the time!
Beat the Cops Corporation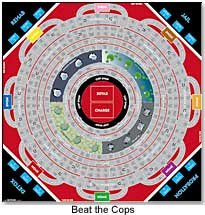 Beat the Cops® is the ?World?s Original Board Game.? Making the wrong move in this ?driving? board game could result in that player ending up in Detox, Rehab, Jail or Probation. Even the most serious of board game players constantly come back to this entertaining and addicting game! ( $19.95)
Borderline Games® Inc. (ToyDirectory)
Borderline USA is a card game that includes 50 state cards, 2 country cards (Canada and Mexico), 1 Gulf of Mexico card, 2 Ocean cards (Atlantic and Pacific), 1 Great Lakes card and 16 Wildcards. The object of the game is to get rid of your cards. For example, a player could say, ? I?m playing Nebraska on Missouri,? and hope that the other players know their geography enough to know that that player is bluffing. Bluffing is a big part of Borderline as you can play California on New York and hope that no one challenges you! Borderline doesn´t just test your knowledge, it teaches you georgraphy! This fun card game has been shown to improve geography skills by 27% after only playing it 3 times! Borderline Africa, Borderline Europe and the Middle East and Borderline World are also available.
Box of Golf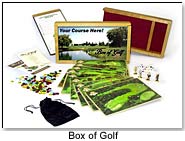 The object of the Box of Golf game is to choose the right club, beat par, strategize, collect gems along the way and of course, to have fun! The player who has collected the most gems at the end of 18 holes wins. There are many different variations of the game, each representing a different golf course. The quality and craftsmanship of these games is unbeatable as all versions of the game are played on wood, not cardboard. Players can even have their own courses depicted on a Box of Golf game. Attendees at the 2003 PGA Merchandise Show held in Orlando, FL definitely took note of that fact as they gave Box of Golf a great response!
Boy Crazy!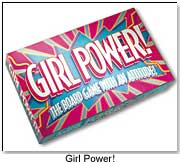 Girls can gain Girl Power with the new Girl Power™ board game. The object of this game is to allow s girl to make her own rules and decisions. Players move around the board collecting spirit, loyalty and pride tokens. The first player to collect 10 tokens can choose to end the game and become the sole winner or she can decide to wait until all tokens have been collected and share her win with multiple winners. Girls love this game which speaks their language and puts them in control! ($10).
Briarpatch Inc.
The Groovy Girls Sleepover Game is the race to put on your PJ?s! Players spin the spinner and visit the TERRIFIC TENT, VOGUE VANITY, POSH PARTY, LUSCIOUS LOUNGER AND BEAUTIFUL BED while changing into a different cute outfit every time! Each player uses her favorite Groovy Girl as her playing piece. This game does not require reading and is for ages 6 and up.
By Plato, Inc.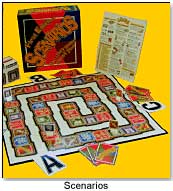 By Plato, Inc. has a fun new conversational board game that?s all about you and your friends! When playing Scenarios ®, you always know the right answer when it?s your turn. Categories in this witty game include: STRANGE STUFF, AMONG FRIENDS, WORK WACKY, AROUND HOME, RHYME TIME and GETTING BY. Players can discover more fun stuff about themselves and friends through the game that has been rated in the top 100 Games in Games Magazine!
C.R. GIBSON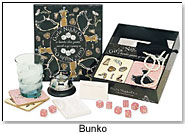 What better way to be a part of the Bunko comeback than with girlfriends? Any group of friends is sure to enjoy this fast-paced dice game that has been played since the Gold Rush of 1848. Bunko Dice Game-Girls Night Out allows players to roll the dice to play against oneself, friends and the clock! ($24)
Cadaco Inc.
Cadaco Inc. has a great new game: WWJD™ the Game! This fun game encourages moral and ethical decision making and discussion with 600 ?dilemmas?. The first player to collect WWJD wins the game. This game, for 2-4 players ages teen and up, includes 600 questions, 16 response cards, 16 WWJD tokens, 40 scoring chips, game board, 4 pawns and die spiritual guide and instructions. WWJD ™ the Game is sure to provoke tough questions and reflective answers!
Café Games, Limited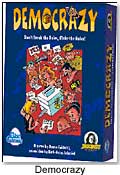 If we live in a democracy, we should be able to vote for new rules, right? With Café Games? new Democrazy game (Best Party Game of the Year; Games Magazine 2001), players can manipulate the rules to their advantage. In order to do this a player must convince their opponents. This fun game is sure to instigate competitiveness in all players as each player will try to pass rules that benefit themselves and veto those that don?t. (Ages 13+; $21.95)
Comic Images
Film Frenzy, the movie watching card game allows players to do both - play cards and watch movies at the same time! With Film Frenzy, the action movie edition, players play along with their favorite action movie and play cards that correspond with what is going on in the movie. There are 120 cards including pause and rewind that keep the game exciting. The person with the most points before the movie is over wins! ($19.95)
Mutual Mania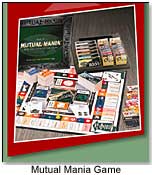 Mutual Mania gives players, ages 11 and up the chance to play the market in a fun and interactive board game. The player who makes the most of their $25,000 starting cash wins! Hazards to avoid during the game include market turmoil, Middle east turmoil and even loan sharks!
Creative Collection Ltd.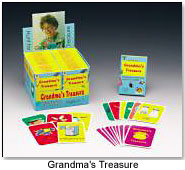 Grandma?s Treasure ™ is a card game offered by Creative Collection Ltd. This interactive game is guided by large color-coded picture cards corresponding to the objects throughout the players? home. The final destination is Grandma?s Treasure! This game can be played alone or with others and the cards can also be used as flash cards. (Ages 3-7; $3.95)
Creative Mind Games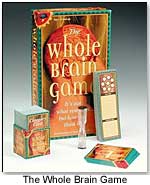 Creative Mind Games presents a fast-paced word association game called The Whole Brain Game™. Players, ages 11 and up, will be laughing hysterically together in this mentally and intellectually stimulating game. The ?right brain? is aroused as players create ideas, use their imaginations and work out patterns. At the same time, the ?left brain? structures responses using logic and language. The winner of this game is the first player or team to both respond at least once in each of the eight different categories and accumulate the highest point total above 80.
CYGNUS Multimedia Productions
The Hobbit is an action quest in which players can become Bilbo Baggins. In the Hobbit, players control Bilbo from Hobbiton into the dark and unpredictable Mirkwood and eventually into the Lonely Mountain where he will find Smaug the Dragon. Throughout the game, Bilbo will accumulate knowledge, items and courage to help complete his adventure.
Dimestore Dreams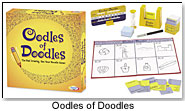 It?s no wonder why Oodles of Doodles was a 2003 FamilyFun Toy of the Year Finalist! This game takes the art of doodling to a whole new level as players race against time to sketch out eight items that fit within a specific category. These simple to draw items make the focus of the game more about teammate?s guesswork and the doodler?s artistic ability. This is a fast-paced and fun game that will keep everyone playing entertained and laughing. (Ages 10 to adult; $19.99)

Earwig Enterprises (ToyDirectory)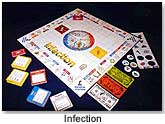 Infection is the educational game about diseases. It is meant to educate, inform and entertain. The disease cards contain symptoms that are as accurate as possible, but the CURE cards are not factual. The player with the least RED diseases then WHITE diseases at the end of the designated time period wins the game. Enjoy this game of human afflictions with your friends and family! Ages 9 to 90. $30.
Enginuity Games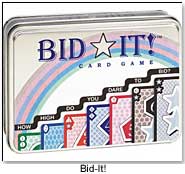 Bid-It! is the bidding game named in 2004?s Game?s Magazine ?Games 100.? In this game, your hand doesn?t really matter, as long as you know how to bid and bluff! The object of Bid-It! is to bid how many of a given card are held by all other players. If a player bids ?four 3?s,? that means that bidder believes that there are at least four 3s being held by all players as a group. The next player makes a higher bid or challenges the previous bid. How high do you dare to bid? (2- 4 players; Ages 8-adult)
Games for All Reasons
Gigglepants® is the fun shape game for children ages 3 to 5. Players take turns gathering colorful shapes as they move around the gameboard and race to put the Gigglepants playpants on over their own clothes before the time runs out, or if they land on a space with the Gigglepants character! Collect all six shapes to win the game! This fun game teaches children about colors, shapes, number and counting.
Game Technologies, Inc.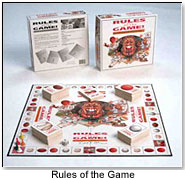 The Nation?s Hottest Sports Board Game is Rules of the Game®! This game is all about rules. Players call the play in scenarios in 6 of America?s favorite pastime sports. People have raved about Rules of the Game® on CNN-FN?s Entrepreneur?s Only, Fox & Friends, People Magazine, the Wall Street Journal, National Enquirer, Guideposts and Sports Illustrated. ($24.95)
Games to Remember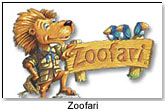 Zoofari is the thrilling game that lets players join the cast of animal characters, risking every step they take! The unique thing about this game is that there are no dice and no spinners! It includes 72 exciting color-coded cards that direct players where to move. ($14)
Gamesource Ltd.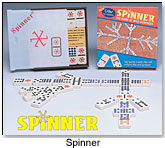 Spinner® is an exciting Double 9 game with 11 Spinner pieces as wild dominoes. This game is a great combination of the best domino games. Designed by Edna Graham, it is for 2 to 8 players and is made from Puremco dominoes. ($29.95)
Gather Around Games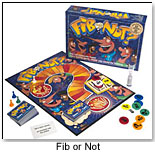 Fib or Not is a hilarious story telling game where players take turns telling stories based on funny subject cards they select. The other players guess whether or not the story teller is telling a fib or not! The stories become more and more outrageous and the more listeners a player fools, the more spaces that player moves forward. (Ages 10 and up; $24.95)