Balitono Inc.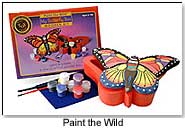 Balitono offers Paint the Wild™ Kits, which are renewable plantation wood boxes carved into 3-dimensional animal shapes and are ready to be painted. When finished, these colorful boxes make a great personal gift of a perfect place to keep one's treasured belongings.
Bemiss-Jason Corp.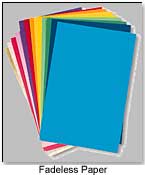 Fadeless® paper is perfect for the artist, designer, craftsperson, teacher, or student, who will be amazed by this paper that continuously retains its vibrant color. The extensive Fadeless® collection boasts twenty-five different colors. New color additions include the metallic and fashion colors and of course, the standard favorites are still available.
Carson Dellosa Publishing Co.

"Everyday Art for the Classroom Teacher" is filled with over 110 seasonal arts and crafts projects designed for the busy classroom. Every level of creativity will find fun in the activities suggested by this book designed for grades 4-8. Most projects only require standard school supplies making this book the perfect guide to creating art with a minimal budget!
A Playful Mind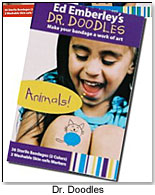 There are no more tears with Ed Emberley's Dr. Doodles Bandage Kit ($4.99). When kids fall and scrape their knee, teary eyes can potentially fill with joy, turning frowns upside down. Dr. Doodles includes an assortment of sterile bandages in four colors and two skin-safe, washable markers, so kids can draw faces or designs on their bandages. The kit also includes a 32-page booklet with step by step instructions for creating simple characters like "Francoise the Fish" or "Powell the Owl." With three varieties of kits (Animals; Trucks and Trains; Funny Faces), kids can direct their attention away from their injury in a creative manner.
Claytoon
Van Aken Plastalina is a pigmented oil base modeling clay. Van Aken Plastalina can easily be molded by hand and can even be melted (150ºF). Van Aken Plastalina is preferred by sculptors, model makers, clay animators and artists of all ages. This premier clay is self adhering, non-toxic, never hardens, remains pliable and can be used over and over. Its consistency improves with age and the four-color non-hardening clay sets are individually wrapped for extra freshness and color brilliance!
Craft House Corp.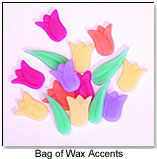 The Bag of Wax Accents allows one to create the expensive trend candles without so much of the price! There are great colors and designs for any occasion and season. Simply place accents in a glass container, add Gel Wax and wick and enjoy a new candle!
Duncan
Enterprises
Fun Sponges are perfect for those painters with small hands! They are easy to clean and paint is easily applied to these sponges to create fun and treasured artwork. Fun Sponges are great for the classroom, camps and at home and come in 5 fun collections: Animal Friends, Alphabet, Numbers and Favorite Shapes. Ages 2-7. MSRP $1.97.