Barker Creek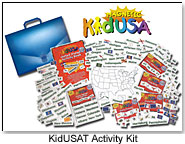 Barker Creek (ToyDirectory) offers the Parents´ Choice-Award Winning KidUSA™ Activity Kit. The kit includes over 300 brightly colored magnetic pieces-States & Capitals, State Flags, State Abbreviations, State Birds, and State Flowers. It also includes a reproducible 152-page activity book which is packed with state specific activity pages, maps, fun facts and flash cards. Finally we have added our new E-Race Away magnetic USA board to further enrich this award winning kit. The Kid USA Activity kit allows kids to learn about the United States with a hands on experience!
Brighter Child Interactive
The Zoboomafoo Beginning Phonics Software With Workbook gives kids an entertaining and educational experience through fun exercises! No reading is necessary as there are fun audio instructions! Developed by educators, the software and workbook allow kids to discover and learn a variety of important skills including: critical thinking, animal knowledge, sorting, color identification, creativity, logic, following directions, letter sounds and letter identification. Engaging activities entertain and teach at the same time! ($14.95)
Cameleon
The Time Timer® allows students to visualize the important concept of time. The Time Timer® literally illustrates the concept of time like an hourglass does, except the Time Timer's® decreasing red color on the face of the clock correlates with the advance of the next hour. This is an important visual tool that any classroom with young students should have!
Cultural Concepts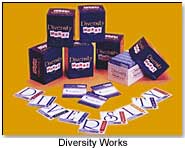 Diversity Works ™ from Cultural Concepts is one of Dr. Toy's 100 Best Children's Products! This educational cardgame showcases more than 60 cultures and fosters cultural appreciation. Players work cooperatively together, gain knowledge about social etiquette, sports, food, fashion, customs, religion, business, music, holidays and language! Groups win the game by earning letter cards and being the first to spell "D-I-V-E-R-S-I-T-Y!"
Creative Teaching Press
Creative Teaching Press offers Getting Ready to Read which directly addresses the basic needs of preschool students, beginning readers, English-language learners and students who have limited exposure to the oral English language. Getting Ready to Read is a necessary resource that helps students learn how to analyze apply rhythm and rhyme, parts of a word, sequence of sounds, separation of sounds and manipulation of sounds before applying these levels of phonemic awareness to the written language. ($17.99; Grade Level K-1)
Educo International Inc.
Jungle Jeff is a simple but amazing maze featuring a colorful "vine" of spiraling metal locked inside clear flexible tubing. This flexible tubing stimulates auditory, visual and tactile sensations. The maze can be secured on any smooth surface. Jungle Jeff has won the Oppenheim Gold Seal Award, 1996's Oppenheim Special Needs Adaptable Product Award, 1996 Today's Parent Magazine Top Toys and was named one of 1996's Exceptional Parent Magazine Great Holiday Toys. (Ages 12 months +)
Educational Materials Association
The Endangered Wildlife Game introduces players, grades 4-12, to geography, habitats, conservation issues, ecosystems, environmental threats and success stories. Each game includes a colorfulplaying board, 50 game cards, a resource book, activities and puzzles, an endangered wildlife glossary and descriptive notes and data. It even includes a FREE Endangered Wildlife Poster. (Standard Edition, $15.95; Teacher's Edition, $39.95)
Educational Design Inc.
With over 450 activities organized by theme and curriculum, Busy Kids-Spring/Summer assures that kids PreK-3 will never be bored! Ideas offered include: Circle Time, Storytime and ABCs & 123's. The fun activities in this book provides meaningful, age-appropriate learning opportunities for the spring and summer seasons. ($24.95)
Edumat Inc.
"Let's Practice Signing" is a two-sided educational mat that teaches the art of Sign language. On one side are graphics representing the correct signing symbol for each letter of the alphabet. On the other side, the graphics are scrambled and the challenge is to write in the letter that represents that graphic. This is a great resource for primary classrooms or in the home. ($3.98)
Frank Martin Associates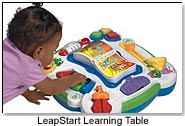 The LeapStart Learning Table teaches, engages and entertains baby. It features over 40 songs, melodies, real instrument sounds and things to spin, roll, slide, open and close and push and pull. The LeapStart Learning Table teaches the alphabet, counting from 1-10, shapes, colors, instrument sounds, songs and cause and effect. It also has detachable legs for floor or table play. The LeapStart Learning Table has won 7 awards in 2 years!
Games Play
UK
EZ Kid Web makes learning about the world wide web a fun and creative activity for classrooms or individuals. Users can make their own website and continue to add new text and images over time! EZ Kid Web provides a challenging and fun learning tool for older children. In just a few moments, children of all ages and can build a great looking website.