Bennett Scopes Inc.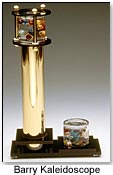 The newest signature scope from Carolyn Bennett is called The Barry. The Barry is 9" tall and has an interchangeable chamber. It is elegantly made of brass and is operated by a two mirror system with a seven point star interior. This classic kaleidoscope is signed and dated by Carolyn Bennett herself. ($144)
Cir-kit Concepts, Inc.
Cir-kit Concepts, Inc. offers a reprint of a 1937 article about dollhouse building in that era, "the good old days". Find out how dollhouses were constructed before miniatures were even considered a hobby. This 6 page fold-out brochure offers collectors a real keepsake!
Columbus International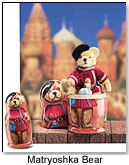 The Matryoshka Bear, designed by HERMANN Spielwaren in Germany is limited to only 1000 pieces. The two wooden nesting dolls that are included in this beautiful set are actually hand-painted by Russian artists. This mohair bear is the "favorite bear of 2004" standing 8.5" The nesting dolls are 1.75".
Dandi Little Horses

Dandi Little Horses® are America's most beloved animal and are soon to become this millennium's most popular collectible. These horses are velvety textured, have soft hair mane and tail and come in a variety of beautiful breeds. Collectors can be sure it's a Dandi Little Horse® because it is the only horse that has both a collectors card and the authentic golden horseshoe.
Danforth Pewterers
Tealight Keepsake Boxes are the perfect bridesmaids gift. After the candle is burned out, these boxes serve as beautiful paperclip holders on a desk, earring holders on a dresser or tiny treasure collections. Each box has a 2" diameter frosted glass base and solid pewter lid. The collection includes: Rose Trellis Tealight, Falling Leaf/spring green Tealight and Leaf/green Tealight. ($18)
Entertainment Earth, Inc.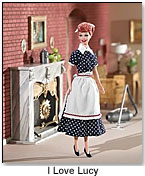 The I Love Lucy® Doll: Sales Resistance is from the hilarious "Sales Resistance" episode of I Love Lucy®. Ricky becomes upset because Lucy has made a frivolous purchase from a commercial she sees on TV. Ricky explains to Lucy how to resist a salesman and requires her to return the item. Later that day, when the salesman comes to retrieve the item, he convinces her to buy a "Handy Dandy vacuum cleaner." Ricky decides that he himself must return the vacuum because he thinks Lucy probably won't be able to resist another salesman's pitch. But then Ricky returns with a new "Handy Dandy refrigerator"! The I Love Lucy ® Doll: Sales Resistance remembers Lucy enjoying a moment with her "Handy Dandy vacuum cleaner" in a navy and white polka dot dress with a white apron.
Fleer Collectibles
The 2004 NBA H2 Hummers allows you to show how dedicated you are to your favorite teams! Fleer Collectibles is proud to present this new collection of the 2003-04 line-up. Some of the greatest NBA teams are featured on these vehicles and the colors and designs are of exceptional quality! Each vehicle is 1:43 scale and is serially numbered but limited in quantity. Don't miss out on this NBA debut!