Bluestocking Press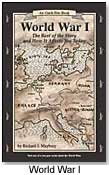 By Richard Maybury and published by Bluestocking Press, "World War I: The Rest of the Story and How It Affects You today, rev. ed" is a concisely written book that gives the reader a new perspective on wars and history with facts that are rarely mentioned elsewhere. These facts include P.T. Barnum's source for his sideshow foreigners and the end of the war in the Pacific and the reason for the use of the atomic bomb. This is a book to be enjoyed by all reading levels as Maybury's writing is easy to follow and understand. A great book for many history classrooms!
Candlewick Press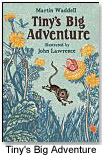 From the winner of the 2004 Hans Christian Andersen Medal and the creator of a New York Times Book Review Best Illustrated Book, "Tiny's Big Adventure," by Martin Waddell and illustrated by John Lawrence, is the adventure of Tiny Mouse's first visit to the cornfield with his sister. The cornfield turns out to be an exciting, but sometimes scary place for Tiny Mouse where there are new sights everywhere he turns! This book does a great job of capturing the subjects of independence and adventure for ages 3-6. ($15.99)
Disney Juvenile Publishing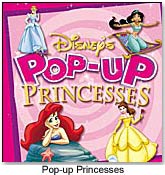 Disney's Pop-up Princesses covers all the Disney Princesses and their friends. Relive the magic with Snow White and the Seven Dwarfs, Jasmine and Aladdin, Ariel and Flounder and more! This hardcover book is 18 pages of pop-ups of everyone's favorite beautiful princesses! ($12.99)
DK Interactive Learning

Baby Love Baby Animals is all about baby's favorite cuddly animals. From little fluffy chicks to big furry bears and tiny puppies to woolly lambs, babies will love this book! With its bright photographs that capture the animals that baby loves, this book is ideal for reading time. (Baby-3 years; $4.99)
Dover
Publications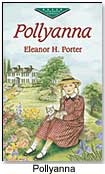 "Pollyanna" is a classic story first published in 1913. Pollyanna Whittier is an orphan who comes to live with her stern aunt. Pollyanna's charisma and optimistic attitude transcends to her miserable aunt and the miserable people of that town. Through the message of this story, it is no wonder Pollyanna continues to be one of the best-loved stories for children today. Ages 10-12. ($3)
Eilfin Publishing
Discovering Dusters is an 80 page informational book on the duster race. This book is a detailed account of the tribal life of the dusters, customs and beliefs, ceremonies, language and mythology. There is also an exciting bonus section on Shamanism which includes nine new miracle groups and new skills such as Tattoo Rites and Charm Crafting!
Fine Print Publishing Company
Pass notes in style! Pass-Notes™ provide students ages 8-13+ with the perfect way to keep up with the latest gossip. It includes 96 colorful pages in a perfect-sized notepad (big enough for juicy gossip and small enough not to get noticed) that features stickers and fun options for note-writers to check such as "F.Y.I. Destroy Totally" and "Erase contents from brain!" ($2.95)
Fun Publishing Co. (ToyDirectory)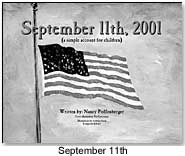 Nancy Poffenberger presents a factual, non-biased book that is meant for children ages 6-12 to better understand the events of September 11th. This 16 page book is illustrated by 4th and 5th graders at the Lotspeich School in Cincinnati, OH. This book has received warm reception by educators, psychologists and parents. ($8.95)
Games Partnership Ltd.
By Barbara and Michael Jonas, The Book of Love, Laughter and Romance offers specific ideas for making relationships special and for making your partner feel more loved, appreciated and desired. In this book, the Jonases interview couples about how they keep the romance alive. Over 45,000 couples have personally written the Jonases to share their enthusiasm about their experiences and other relationship books by the Jonases!