AG Industries, Inc.
Commemorate the 100th year anniversary of aviation history with the new Giant Wright Flyer by AG Industries, Inc. This 20" x 6" plane can be propelled into the air as far as 120 feet, powered by heavy-duty rubber bands wound up by an electric winder. It is a fun way to see just how far the first original plane flew! $34.00.
Geospace International
(ToyShow)
Watch in amazement as the PUMP ROCKET by Geospace International launches a rocket 150 feet into the air! Made of a safe, soft foam, each rocket can be loaded and launched for indoor and outdoor play.

Ages 4 & Up
Paul K. Guillow Inc. (ToyDirectory)
There is a new foam glider in town with eye-catching colored lights that can fly over 50 feet into the air. The Lite Flite Glider by Paul K. Guillow Inc. has a huge wingspan of two feet, which can be decorated with fun decals. Watch for it in the air and on store shelves! Ages 6 and up.
The Franklin Mint
The Franklin Mint celebrates the first nonstop solo flight across the Atlantic Ocean through this replica of the Spirit of St. Louis. This hand-carved mahogany plane is painted with the same colors and markings of the original 1927 plane. With side windows, rotating propellers, and a wood base with a brass nameplate, it is a fantastic gift for any airplane enthusiast. $195.00.
Megatech International
The new Helichoppers by Megatech International (ToyShow) boast of being the "easiest-to-fly radio-control helicopter" in the market. Made of crash-resistant Nylolene, it comes with a 2-channel pistol-grip radio transmitter to easily maneuver the helicopter in various directions, as if you have been flying it for years. Included is portable heli-pad for a quick charge up. Ages 10 – Adult.
Interactive Toy Concepts
Are you are first time flyer? Well, the E-Z Air flier by Interactive Toy Concepts (ToyDirectory) is just for you! This bright, durable foam airplane comes with dual electric motors and a radio-controlled transmitter. Maneuver it at a range of over a 100 feet! It is ready to fly in minutes and can provide hours of fun for the whole family! Ages 8 and up.
Best Lock Construction Toys
Under the Army Desert line, Nighthawks by Best Lock Construction Toys is a 350-piece set that you can assemble into a cool combat helicopter. This fully loaded helicopter comes with complete weaponry, rotating blades, and a pilot cockpit that opens! Included are decals to make this helicopter your very own! Ages 5 and up.
American Retro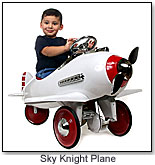 Have your child live out his dreams of being a pilot with American Retro's Sky Knight Plane. This beautiful white plane has a place for your child to sit and imagine flying through the clouds and blue skies. With a steering wheel and a spinning propeller, this plane will fly into the imaginations of anyone who desires to soar! $327.00.