Art Skills
Instead of purchasing a bulky easel, invest in the Door Easel by Art Skills. Easily attach it to the door in a couple of minutes and start drawing! You can adjust the height of the easel so it can be used for all ages. Included is a large roll of paper, plastic protector sheets for the door, and a vinyl bag to hold your art supplies. (Ages 5 and up)
Amos Marketing Inc.
Draw with a stroke of silk with the new Silky Crayon by Amos Marketing Inc. This amazing crayon combines the crayon, oil pastel, and watercolor look into one instrument. You can draw and paint with this Silky Crayon for doodling or for some serious artwork. It is versatile and fun to use! You will love how smooth it draws!
Armada Art, Inc.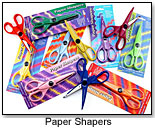 Add style to ordinary paper and photos with the new Paper Shapers by Armada Art, Inc. New designs include bat wings, bubbles, and dragon back! You can use these unique scissors for scrapbooks, greeting cards, ribbons, and more, to make creative borders and shapes. It also comes with a convenient oak stand to store all your scissors.
Jakks Pacific Inc.
Blowing into the market of arts and crafts are Blo Pens by Jakks Pacific Inc. These distinctive markers spray a fine mist of non-toxic ink when you blow into them, just like an air brush. Designed with a safe one-way ink flow system, you can color everything in one single blow! (Ages 4 and up)
Janlynn Corp.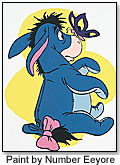 Learn how to paint with Paint by Number by Janlynn Corp. With various designs available from Eeyore to a coral reef, this cool kit comes with a preprinted textured art board where you paint on the corresponding paint color using high quality acrylic paints. This activity will surely bring out the painter in every child! (Ages 6 and up)
Trend Enterprises, Inc.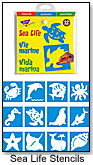 Bring marine life into your drawing book with Sea Life Stencils by Trend Enterprises, Inc. Stencils are a creative way to enhance hand-eye coordination and to make amazing artwork that can be colored in with crayons or paint! Carry it around in the cute snap-closure storage bag and your child will never leave home without it! (Ages 3 – 8; $6.99)