Betty Lukens Learning Fun with Felt
Activity books become educational when a child can interact with the characters themselves. A series of books by Betty Lukens Learning Fun with Felt teaches about many fun topics, such as, "Holidays & Seasons" and "Animals of the World." These books encourage your child's imagination with the aid of colorful felt pieces to create their own stories. It also aids the development of eye-hand coordination and can entertain for hours. $13.95.
Do a Dot Art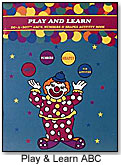 Using colorful markers in the "Play & Learn A, B, C " activity book by Do a Dot Art (ToyShow) is an enjoyable way to teach preschoolers their ABC's, numbers, and basic shapes. By enhancing visual and audio recognition, hand-eye coordination, and teaching prewriting skills, your child will be at the top of the class! $4.99.
Dogs in Hats Children's Publishing Co.
Another fun preschool activity can be found in "Dot to Dot" by Dogs in Hats Children's Publishing Co., where a child can draw through corresponding numbers to form comical pictures. This activity book comes with 60 stickers that add joy to learning numbers! There is even another great book to learn the alphabet. $1.99.
Mindware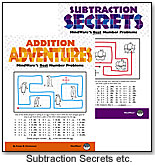 Need help learning addition and subtraction? The "Addition Adventures and Subtraction Secrets" by Mindware, are fun puzzle books that guide your child through a journey of numbers. To proceed to the next step, you must solve addition and subtraction problems. You then use your answers to know which direction to go after, leading the way to the prize at the end. $6.50.


Imagination Movers
Imagination Movers does it again with the new "Snackin' ABCs Coloring/Activity Book," based on the popular Snackin' ABC's song! This 32-page book is filled with coloring activities of the Movers' adventures through the jungle and mountains, all while they eat healthy snacks! Other games and puzzles are spread throughout the book. Many fun activities contained in one book! $5.00.
Klutz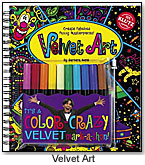 Klutz revamps the coloring book with "Velvet Art: Create Fabulous Fuzzy Masterpieces," written by Barbara Kane! This activity book comes with ten colored markers and is filled with creative projects, like how to make fuzzy wall hangings, picture frames, and mazes. Bring out the artist in your child by kindling their imaginations! Ages 6 and up. $19.95.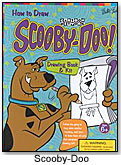 Walter Foster Publishing
Walter Foster Publishing has been teaching children to express their artistic ability with easy-to-follow art instruction books since 1922. Now kids can learn to draw one of the most beloved canine cartoon characters with the new Scooby-Doo! ™ Step by Step Drawing Book and Kit. The step-by-step instructions and professional drawing tips makes re-creating the entire Mystery, Inc. a breeze. The kit includes glow-in-the-dark paw prints and dog-bone cookie cutters so kids can make their own Scooby snacks. The drawing book teaches the basic techniques in drawing Scooby-Doo characters so kids have the flexibility to draw the same characters in various styles. $14.95
Barefoot Books, Inc.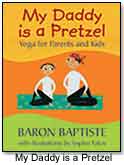 Barefoot Books, Inc. is dedicated to publishing children's books that not only engage children in reading, but also teach them about different cultures and life-styles around the world. Their upcoming fall title, "My Daddy is a Pretzel: Yoga for Parents and Kids" by Baron Baptiste, is a great way to introduce yoga for children and parents in today's increasingly health-conscious world. "My Daddy is a Pretzel" has step-by-step instructions with colorful illustrations that clearly show kids the proper positions. The engaging storyline makes the book more than a yoga instructional book; it is an interactive story book. Baron Baptiste is a well respected Yoga teacher and best-selling author of several other yoga books for adults. The book will be available October 2004 for $16.99.