Cool Company

Bringing Back Low-Tech Fun
By Beth Michaels
August 2003



In the year 2000, three career dads in Seattle were having trouble finding old-fashioned games for their families, so they founded Front Porch Classics (ToyDirectory), a company that develops, manufactures and markets classic archival-quality games.
Since then, Front Porch Classics has made a name for itself by creating games that harken back to an earlier era of whimsical fun and masterful craftsmanship.
Old Century Baseball
The Right Game at the Right Time

When Old Century Baseball, one of Front Porch Classic's premiere games, won Disney's FamilyFun Magazine's "2002 Toy of the Year," among other awards, it helped catapult Front Porch Classics into the limelight they desired.

"From the standpoint of media exposure, we believed that the quality of our products could lead to industry recognition and media interest," states company President and CEO Jamie Colbourne. "Our story seemed to dovetail very strongly with the consumer trend toward cocooning inside the home with family and friends, and we received a lot of coverage."

"Front Porch Classics seemed to be an anomaly at the start, a company making low-tech games and toys, launching in Seattle during the peak of the dot.com economy," says Steve Edmiston, vice president of creative and corporate communications (among many other hats). "But as dads, we believed that high play-value, low-tech games and toys provided tools for families and friends to come together for shared fun and laughter."
Dads Still at Bat
Two of the three founding fathers remain with the company, each bringing a unique perspective. Creative Director Mark Jacobsen is former president of the national greeting card company Madison Park Greetings. Edmiston had practiced law in Seattle for 14 years and is also a feature-film screenwriter with several awards under his belt.

All product conceptualization and development for Front Porch Classics games is done in-house. The entire team contributes ideas for product development. "We're probably the only office space in downtown Seattle with a working toy shop set up inside," says Edmiston.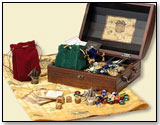 Old Century Dread Pirate
A Game for Home or Away

Front Porch Classics' two product lines, Old Century Classics and Circa Classics, provide an engaging setting for trips to far off lands and times of yore. With games like the recently released Old Century Dread Pirate and Old Century Games Of the World, the entire family can be transported to another time and place using their imaginations, while the batteries stay in the desk drawer.
"Batteries are just one more hurdle to setting a game up," says Edmiston. "We want to eliminate anything that interferes with people connecting through play."
Old Century Baseball Pinball
The company's premium game line Old Century Classics (retail $49.99 to $129.99) features "Coffee Table Games" such as Old Century Shut-The-Box and their award-winning Old Century Baseball, a classic pinball table-game constructed with aged woods. The games' high level of craftsmanship makes them a display-worthy addition to any family room.

Magnetic Seven-In-One game sets
Players can enjoy new renditions of popular games like dominoes, checkers, chess and backgammon by owning the easily portable Six-In-One Mini and Magnetic Seven-In-One game sets, all part of the company's lower priced Circa Classics games (retail $9.99 - $49.99). "Our games are always ready to play. They're easy to access and learn from a game-play standpoint, and they're sitting out on the coffee table," says Edmiston.

New Releases
Old Century Games Of the World
Games of the World is inspired by leisurely activities once enjoyed by kings from places such as India, Japan and Africa. Front Porch Classics believes this is the first time the six games, including Go, Chatarunga and Wari, have been offered in one collection.

Dirk Grove, president of Delaware's Terrific Toys, believes Dread Pirate will be a hit: "We partnered with Old Century Classics to test-launch Dread Pirate on a limited basis during 2002, and we sold every unit we could get our hands on. The game has the same 'wow' factor today that it would have had 100 years ago."
Old Century Tornado Tops
Edmiston reports that Old Century Tornado Tops, which will be released in time for the Holidays, were also hugely popular at Toy Fair this year.

You can find Front Porch Classics toys and games through department stores (Macy's), websites (toysrus.com), catalogs (Back to Basic Toys), specialty stores (The Museum Company) and even the Baseball Hall of Fame and American Museum of Natural History. You can also find Front Porch Classics on the Web at frontporchclassics.com.
Writer's Bio: Beth Michaels is a freelance writer living in Barstow, California, and the proud mother of a son, Kai.
---