Musical Toys Spotlight
By Rachael Mercer, Paul Paterson and Marjorie Wertz
November 1, 2002



Musical toys bring the sounds of music into the home without the expense of purchasing real instruments. While some musical toys offer full creativity to children, others simply require that children participate and prerecorded tunes are piped out for them. In many cases, a child's experience with "pretend" instruments can shape their musical aspirations in later life.
Whatever a child's age, there are plenty of music related toys to stimulate the brain in a fun way. Here's a sampling of what's available for the upcoming holiday season.

Infants

Sparkling Symphony Mirror by Fisher Price
Sparkling Symphony Mirror by Fisher Price
The Sparkling Symphony Mirror brings music into the crib using a mirror for self-recognition skills and a rotating sphere that baby turns to hear more music. There's one setting for long playing music and a second for activity generated passages. Ages: Birth and up, $15.00
Mozart Magic Cube by Embryonics
More than making just simple tunes, the magic cube teaches how instruments combine to make polyphonic sounds. Featuring flute, French horn, violin, piano and harp your little player can become a real composer, adding and subtracting instruments at will. Flashing lights match song tempo and develop the composer in your child. Ages: 6 mos. and up, $34.95

The Learning Drum by Leapfrog
The Learning Drum by Leapfrog
Beat, bang and tap this interactive drum that introduces babies and toddlers to the alphabet and counting. As baby taps, letters, numbers and patterns flash on the top of the drum. Listen to different drum sounds, and play of four learning modes that include: ABC, 123, Interactive Song and Follow the Beat. Ages: 6 mos. and up, $19.99


Toddlers
Mozart Magic Orchestra by Embryonics
Mozart Magic Orchestra by Embryonics

Wolfgang is a conductor wolf, and he teaches how sounds combine to form true polyphonic music. Press Wolfgang's tummy, tail or any paw to start the music. The orchestra button allows all the instruments to play together, or to scroll through the eight musical compositions. Ages: 18 months and up, $39.98
Jumbo Music Ball by Neurosmith
Jumbo Music Ball by Neurosmith
A brand new way to introduce young children to the wonderful world of reading, Jumbo Music Ball asks the questions and children turn, roll, and spin the giant musical sphere in search of the correct answer to a color, shape, or letter. Hidden under flaps are word pictures that reinforce letter and sound learning. Positive reward sounds and phrases encourage children to continue play activity while classical music plays in the background. There are four levels of play, which increase in difficulty. A child can go to the next level only after successfully answering all previous questions. Ages: 2 and up, $59.99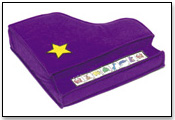 The Soft Piano by Squeeze Me Music
The Soft Piano by Squeeze Me Music
The Soft Piano is the ideal first musical toy for young children. It allows them to improvise their own tunes on the eight-note keyboard, or listen while it plays familiar children's songs. The Soft Piano comes with the Rainbow Gang T Song Book that teaches music in an innovative, age-appropriate way. Ages: 2 to 5, $29.95
---
RELATED LINKS:



Industry Overview: Music and Toys


Product Summary:


Musical CD's, Cassettes, Videos and DVD's for the Younger Set

Musical Toys Spotlight

Nothing Like The Real Thing, Baby

What the Experts Say: PLAY IT AGAIN, SAM

Want to see more Musical Toys? Click Here...

Return to ToyDirectory Monthly front page: Click Here

Send comments about this article to: comms@toydirectory.com