Plush That's Good Enough to Eat: Sid's Favorites
By Heather Augustyn
November 1, 2002



When it comes to toys, my five-month-old son, Sid, likes anything that he can put in his mouth. As a mom, I prefer to find toys that will be stimulating in other ways as well. I like toys that develop Sid's creativity, his intellect, and I like toys that entertain. And if they are going to be chomped on, then Sid has taught me that soft, plush toys are the most satisfying.
Here are a few of his favorites: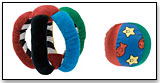 BRIO 2-in-1 Clutch Ball®
The BRIO 2-in-1 Clutch Ball® is perfect for little, gripping hands. The plush bars that line the outside of the ball are just the right size for little, fumbling fingers, so infants can develop their dexterity skills. Inside the ball is another ball that can be removed and used as he grows, to play catch, roll to mom and dad, or even rattle since it contains a bell within. The bell is especially fascinating to infants since they can follow a moving sound.
Sid's favorite toy is the Hug and Learn Baby Tad® from Leapfrog. Even though he may not yet be able to push the star, circle, and square that lights up on the frog's chest, he still can interact with the plush toy by grabbing the frog's hands and feet to turn on the tunes. Equipped with a daytime and nighttime function, the frog is either simulating by singing popular songs, or soothing by playing lullabies. Whenever Sid turns into a little crab apple, the soothing melodies really do calm him. Best of all Baby Tad is recommended for kids up to 4 years, so it is worth the investment.
Sunshine Symphony from Neurosmith is great for teething infants. The soft corners of the plush sun toy are perfect for nibbling, and the flashing lights keep infants occupied and interested. The more traditional baby songs are replaced by classical tunes like Peter and the Wolf, and songs from the Nutcracker. The quality of the sound is excellent, and the way the toy plays them is very clever; an instrument solos, and each time the child presses the button a new instrument is added, demonstrating the concept of the symphony. For my son, who is just starting to be fascinated by music, this toy is wonderful now, and I'm sure will last as he grows.


---
RELATED LINKS:

What the Experts Say: Plush Toys Enhance Child Development


Retailer's Viewpoint: Retailers Weigh In On Plush


Past Present: A Century of Plush


Side Bar: Where Bears Are Born

Want to see more Plush Toys? Click Here...

Return to ToyDirectory Monthly front page: Click Here

Send comments about this article to: comms@toydirectory.com