A Century of Plush
By Phyllis Noah
November 1, 2002





Furby™
The end of the century saw Beanie Babies® in high demand by hoards of collectors, Tickle Me Elmo® creating a frenzy in stores, and children everywhere demanding Furbys®. Now SpongeBob Squarepants® is touted the hottest toy in the United States, and the hot list will certainly go on and on.
When Margarete Steiff of Giengen, Germany created a small stuffed felt elephant in 1880, she probably had no idea of the plush mania that would follow.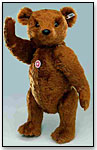 Steiff Bear
Although Steiff originally sold her elephants as pincushions, children soon began playing with them. In the years following, she created a successful career designing new animal toys for children, among them kittens, dogs, and a pink-colored pig. Her nephew, Richard Steiff, designed their famous teddy bear in 1902, and the Steiff name is still known for quality toys.

Steiff Bear
Some historians claim that the first teddy bear was designed in the United States by toy store owners, Morris and Rose Michtom of Brooklyn, New York, who were inspired when they read about Teddy Roosevelt sparing the life of a bear cub. They eventually started one of the largest toy companies in the United States - the Ideal Novelty Toy Company. Then again, the British also claim that the famous bear is their creation named after King Edward VII, whose nickname was "Teddy."

According to Unity Marketing (unitymarketingonline.com), one in five households purchase stuffed toys, with people under 45 being the "prime market." Unity Marketing's research found that most retail stores report that "plush is the number one product category accounting for over 25% of store sales."

Tickle-Me-Elmo®

Modern plush toys can talk, play music or tell stories, and the demand for interactive and licensed plush toys is growing. Among the hottest toys going into the holiday season are plush, including SpongeBob, Chicken Dance Elmo® and a line of electronic plush cats called Fur Real Friends®.

In its second century, plush is still going strong. According to globalissues.org, almost 10% of the 3.6 billion toys purchased in the United States yearly are plush. Marketing research can probably explain why this is, but anyone could guess that it's because plush is comforting, and reminds us of a time when life was a lot less complicated.
---
RELATED LINKS:

What the Experts Say: Plush Toys Enhance Child Development


Retailer's Viewpoint: Retailers Weigh In On Plush


Product Summary: Plush That's Good Enough to Eat


Side Bar: Where Bears Are Born

Want to see more Plush Toys? Click Here...

Return to ToyDirectory Monthly front page: Click Here

Send comments about this article to: comms@toydirectory.com