Cool Company
Block by Block, WJ Fantasy Builds a Reputation
By Jodi M. Webb
October 2003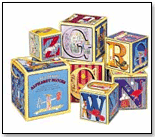 Victorian Alphabet Building Blocks

After spending years in art publishing, John McGrath decided to buy a failing toy company, W.J. Fantasy. (ToyDirectory) The company, founded in the late 1980s, had originally sold Advent calendars. The first owner quickly learned that the company could not survive on seasonal products alone and branched out to include a selection of toy products with year-round appeal.


When McGrath assumed control in 1994, W.J. Fantasy had just introduced their first set of nesting blocks, the Mother Goose Building Blocks. As he sought to rebuild the company, McGrath decided to dramatically expand offerings of nesting blocks. "The building blocks appealed to me personally," explains McGrath. "They were very traditional, very low-tech."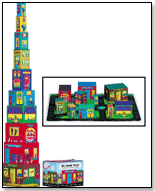 My Home Town Building Blocks

Even though W.J. Fantasy is still one of the country's largest publishers of Advent calendars, that market accounts for only about 10 percent of the company's business. Instead, W.J. is known for their nesting blocks and now boasts 18 different 6-to-10-block sets in graduated sizes.

Sets range from the Victorian Alphabet Building Blocks to My Home Town Building Blocks and Maxi Bug Building Blocks. In March of this year, W.J. Fantasy unveiled a set of nesting blocks with a twist: Let's Play Drums! Building Blocks. Instead of the usual cube-shaped blocks, the set features cylindrical drums. The drum set includes five blocks decorated with people and places around the world, drumsticks and a carrying case. In addition to stacking, children can pound out a beat. But, McGrath is quick to add, "It's not too loud or irritating." They will soon be adding construction-themed and Noah's Ark sets of nesting building blocks and a set of soft blocks.

Let's Play Drums!
Because W.J. Fantasy's blocks are hollow with only five sides, they can be stored "nesting" inside the largest block when not making block towers. Made of laminated cardboard, the blocks manage to be both lightweight and sturdy. "If people ask how strong they are, I'll take a large one and stand on it," explains McGrath. "And we're talking 200 pounds," he adds with a laugh.

ABC Building Blocks

"Building blocks are our niche," says McGrath. "Parents see them as very retro, very low-tech." Low-tech or not, the different sets offer countless educational opportunities for children to learn numbers, animals and more. Although several of their sets are brisk sellers, the ABC Building Blocks set is the company's bestseller.

"They appeal to children as well as parents and grandparents," McGrath says. "The subject matter is traditional, the artwork outstanding and adults can introduce children to learning with them." In addition to being used to build towers, some of the sets, such as the new Doll House Building Blocks, can be arranged as a playhouse for small toy figures.

Doll House Building Blocks
W.J. Fantasy's nesting building blocks have become so popular that the company has begun to develop custom sets for companies and organizations. "They [organizations] usually come to us with an idea," McGrath says.
When Robert Leiber started his job at the Golden Gate National Parks Conservancy in 1997, he had a "brainstorm" for a gift that would complement the mission of the conservancy: tree stacking blocks. "When I began the project, I went to the company I thought had the best product, W.J. Fantasy. Their quality is excellent, and they have been eager to help us every step along the way," says Leiber.

Tallest Tree Stacking Block

The conservancy followed up their Tallest Tree Stacking Block set with a Lighthouse set and will be introducing a new set this fall portraying the metamorphoses of a butterfly and a frog. W.J. Fantasy has also developed sets for organizations like Crate & Barrel, UNICEF and the National Wildlife Federation.

At a time when many companies are striving to develop the newest trend in toys, W.J. Fantasy has constructed its reputation around timeless toys -- producing building blocks not only for today's children, but also for their children and grandchildren.


---
---

Advertisement: