Retailer Spotlight
Mom on a Mission Propels Learning Express
By Shawn Cole
October 2003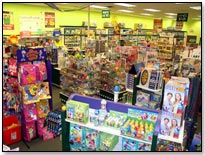 Inside Learning Express

Sixteen years ago Sharon DiMinico had an idea to provide children with high quality educational toys while creating a revenue stream for a local school in Acton, Mass. Today her vision, Learning Express (ToyDirectory), operates over 126 stores in 34 states and, according to DiMinico, donates over $100,000 to schools nationwide and gives away thousands of toys to local children's charities every year.

By 2000 DiMinico had propelled Learning Express to the top of a Forbes 500 list as the top franchise opportunity in its class. Though suffering some of the ill effects of a poor economy, like much of the toy industry, Learning Express is still standing strong as one of the biggest players in the specialty toy market. Eleven new stores are opening in 2003, and, according to recently appointed President Joe Diaz, possible overseas expansion may begin within the next three years.

What sets Learning Express apart from its competition is the ability of franchise owners to operate each store in a unique neighborhood setting with the support and know-how of a big corporation. By offering such services as free gift-wrapping every day, a wish-list registry, free product personalization and a bi-monthly newsletter, each store is able to grab market shares away from giants like FAO Schwarz and Zany Brainy, who are each experiencing sagging revenues and bankruptcies.

Each Learning Express store provides an area for children to play in while parents shop. Toys are grouped by age as well as category, and hands-on testing is insisted upon. DiMinico stocks items that are educational, fun and non-violent.

Storeowner Joe Theriot of Austin, Texas, says that one of the biggest advantages to being a LE owner is the support that he gets from the corporate buying teams. "They are able to negotiate good terms with vendors and locate hot new items for our stores," something that he feels keeps him ahead of the competition.

Individual locations run their own in-store promotions to foster community involvement. Earlier this year, Puzzlepalooza was a big hit at the Austin store. The event awarded children with stickers for passing through five puzzle challenges in an obstacle course also shaped like a puzzle. Each child received a miniature puzzle keychain for participating, and the grand prize was a BIG Puzzle package. In Wilmington a World's Largest Underpants event took place where one of the prizes for summer reading was a pair of men's size 100 tighty-whities in honor of Captain Underpants.

Nationwide Locations
There are only 18 people on DiMinico's corporate staff, which provides a back-office network for all stores. A "Buying Team" decides on the product assortment that is presented to owners for their inventory selection. This team also negotiates with vendors and provides ordering and merchandising support. In addition, the Marketing Team develops tools for all locations and works on the company intranet site, and an Operations Team handles New Store Development and Training. According Jessica Hopp, marketing assistant at LE, "Sharon continues to work seven days a week and visits stores on a regular basis. She has the passion and drive that makes Learning Express a great company to be a part of. She has inspired many store owners to step out of the box and let their creative juices flow."
Susie Miller, a storeowner in Great Falls, Mont., came from a medical retail background. What drew her to the Learning Express concept was the expertise and support that the corporate office offered to franchise owners. On Discovery Day, a day when potential owners meet with DiMinico, Miller says she immediately "loved the entire concept of the store and what Sharon had created." After opening around September 11 and facing a troubled economic climate, Miller now says things are looking up. "For me," she says, "this has been the most wonderful experience ever."
Learning Express attributes its success to being a business of soul. They are guided by a strong mission statement: "To be the leader in the specialty toy industry in terms of quality and substance of product, educational value, product innovation and customer and franchise owner satisfaction." Despite recent economic conditions, the specialty toy industry is one of the fastest growing retail segments, and Learning Express has contributed greatly to the ranks of stalwart toy stores holding out against mass-market retailers. As Miller puts it, working under the Learning Express umbrella "feels like family."
---
---

Advertisement: