Mom's Perspective

Sun-Tan Santa
By Kris Decker
October 2003
It was a sultry August afternoon -- the kind of summer day where your legs stick to the car seat like microwaved Velveeta and your kids try to trade the family dog for a Fudgesicle from the ice cream man.

My son and I were on a mission. Due to a confrontation between a weed wacker and our inflatable swimming pool (The weed wacker won.), we found ourselves prowling around the local toy establishment in hot pursuit of a replacement. As far as my son Ryan was concerned, we would not be leaving that store without something that was going to cool him off.

"May I help you?" inquired a young clerk with Bryl-creemed hair and heavy, black-framed glasses.

"Yes," I said. "We're here to buy a pool."

"You must be joking. We haven't had any inflatable pools in stock since February."

"February?" I squeaked.

"Of course," he said, smirking at my naiveté.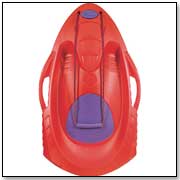 Riva Sno-Raptor Sleds
I looked around, and for the first time since we'd entered the store, noticed the silvery strands of Christmas garland snaking their way around every shelf and display. "Jingle Bell Rock" jumped out of the PA system, and not five feet from us, bright red Riva Sno-Raptor Sleds (ToyDirectory) were stacked to the ceiling and ready to topple over and bury us at the merest hint of a breeze. A robotic Santa did a belly dance and "ho, ho, ho'd" in the corner.
"You mean to tell me that in the middle of an August heat wave, when the temperature outside is 115 degrees, and when there is not a snowflake within 10,000 miles of here, that you don't have a single swimming pool in stock because you're getting ready for CHRISTMAS?!"
"Well," he said. "It is just around the corner you know."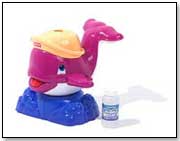 Silly Willy Bubblin'
Sprinkler

"You've got to have something. Look, how about a Silly Willy Bubblin' Sprinkler? Those were big this year -- maybe there's one or two in the back?" I asked hopefully.

"Sold out in January," came his reply.

"A Slip 'N Slide?"

"All gone."

"Super Soaker?"

"Out of stock."

"Water balloons?"

"Pa-leez!"

"How about a little rubber duck and a nose plug?"

"Now THOSE we still have," he said with a grin.

My son and I each learned a lesson that day. For me, it was that no matter how annoying I consider those hyper-organized people who have their taxes done by January 2nd, their Christmas shopping completed by July 4th or their New Year's Eve reservations locked in by September 1st, it might behoove me to plan ahead a little. At least where retail shopping is concerned.

Super Saucer Snow Sled
As for my son, he learned that if you fill your Super Saucer Snow Sled (ToyDirectory) with water and sit in it with your snorkel and mask on, you should probably do it in the back yard where nobody can see you.




Writer's Bio: Kris Decker endures eternal Minnesota winters by writing freelance articles, essays and features. Her two kids (a rich source of poignant, humorous, and most happily, free material) are the inspiration for much of her work focusing on the topics of kids, parenting, families, individuality and creativity. Contact her at WriteEffct@aol.com
---
---