---
Retailers Report: What we want in 2014
With Toy Fair just around the corner and the holidays behind us, it's time to start looking for new toys to stock store shelves. TDmonthly Magazine interviewed retailers to learn more about the products they're excited to bring in for 2014.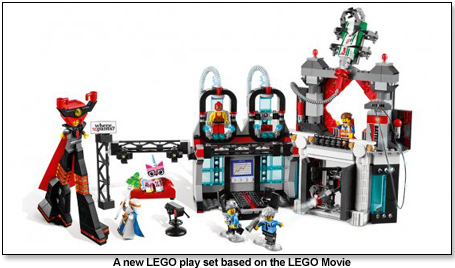 Playing Favorites
Some retailers will be relying on new offerings from old favorites this year, or classic toys that have sold well for years.

"I ordered all the LEGOs for the year already," Barbara Fineblum, owner of Barston's Childs Play in Arlington, Va., told TDmonthly.

Barb Stine, owner of Toys on the Square Hummelstown, Pa., is also interested in new LEGO toys, and will be checking out Blue Orange's offerings too.

Andrea from Hardward Toy Center - Big Smile Toys in Paoli, Pa., is specifically on the lookout for LEGO Movie toys. And, she says, "We always visit Douglas for stuffed animals."

Scouting for Science
Several retailers mentioned they were excited to bring in Living Sands from Play Vision.

"I love the Living Sands by Play Vision - we are sold out right now," Barbara F. told us.

Gladys Griffin, owner of Main Street Toy Shop in Columbus, agrees. "It's technically not new, but we were late to the table on it. When we finally got it, we sold out quickly." She said it's been on backorder, but she expects it will be a consistantly good seller this year.

Molly McMullin from Twirl in Ranchos de Taos, N.M., told TDmonthly that they "like hands-on toys best that teach new skills, like rubber band looms or science kits that teach systems-thinking, like Snap Circuits."

And Cariad Owens Fichtner, manager of Out of the Blue, Ltd in Albuquerque, N.M., is interested in one engineering toy that's gotten quite the buzz in recent months. "Goldie Blox might be good, they had a lot of press recently...it encourages girls to get into engineering and avoid gender stereotypes," she said.

Something New
"I'm really looking for new fresh dolls. That area has needed some help for awhile," Diana Nelson, owner of Kazoo & Co in Denver, Colo., told TDmonthly.

Heather Rounds, buyer for Smart Kids Company in Greenwich, Conn., Molly and Cariad all agree that new companies often yield the best rewards. "It's always the new and unexpected that we look for," Molly said.


If you're looking for exciting new toys, check out the products featured in our February Staff Picks or 2014 Toy Fair Booths to Visit article.

If you are attending Toy Fair this year, you can also check out a roundup of our best Tips and Tricks for retailers navigating toy fair.

Writer's Bio:
Justina Huddleston graduated Magna Cum Laude from Emerson College with a BA in Writing, Literature, and Publishing in 2009. After graduating she was the on-site director of the Boston Children's Museum gift store for a year, selling educational, developmental, and creative activity toys that tied in with the museum's exhibits. Justina also interned at children's book publisher Candlewick Press before moving from Boston to Los Angeles, where she is now Editorial Director of
TDmonthly Magazine
.
Read more articles by this author
THIS BANNER IS AN AD:
---
---