---
Retailing tips: 11 ways to thrive this holiday season
Our top 11 holiday retailing tips will help your store run smoothly through 4th quarter
With additional reporting by Sharri Hefner, Terri Hughes-Lazzell, Chris Lundy, Sheri Jobe, Julie L. Jones, Claudia Newcorn, Marie Raven, Brenda Ruggiero and Alison Marek

It's the most wonderful time of the year - and the most stressful, if you work in retail! Luckily, TDmonthly Magazine has been interviewing experienced retailers and experts about their top holiday tips for years. From training techniques to advertising tricks, you can see their top 11 holiday retailing tips below.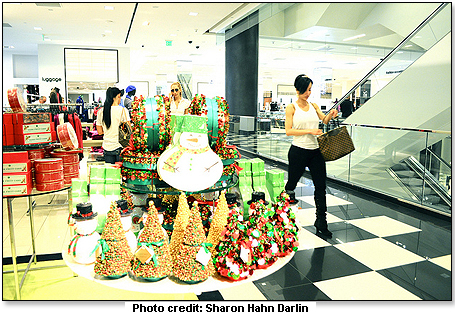 1. Empower your staff to say "Yes."

Giving your best employees some autonomy can take some tasks off your plate and help the store run more smoothly overall.

"We take merchandise back without questioning, we allow customers to open packages to try things out, etc. We try hard to work to the 'yes' which makes everything else go more smoothly," Mary Porter Green, Curiosity Zone, Ashburn, Va., told TDmonthly.

2. Always be demoing.

Having fun with your toys in front of customers and encouraging them to join in is a great way to boost sales. Customers may end up purchasing something they never would have considered if it was left in its box.

"Employees should be encouraged to actively play with the demos; it gets them more excited about items," Yamil Castillo, The Red Balloon Toy Store, Salt Lake City, Utah, explained. "When you know how to play a game, you are more excited to show it to a customer."

Richard Gibson from Learning Express of Newton, Newton, Mass., agreed. "We're always getting new stuff in, and it should be demo'd, like Living Sand from Play Visions. It's always being played with at the counter by either staff or customers. "

3. Make sure your displays are awesome.

Exterior windows, doors and the other areas leading in to your store should entice shoppers. "Try something eye catching just outside the store, even if it's as simple as a balloon arch, music, (or a) bubble maker" suggested Jonathan Margolis, president & CEO of The Michael Alan Group and co-author of "Guerrilla Marketing For Dummies."

4. Make sure your staff is trained.

Customers depend on your staff for information. Provide thorough product knowledge training including "fads", internet promos, etc. to every full and part time employee before the season.

As part of training, make sure your staff "actively assists" your customers. "Many clerks react negatively to the thought of 'suggestive selling,'" Phil Mitchell, founder of Discovery-Based Retail and author of a book by the same name, told TDmonthly. "We reframe the principal by calling it 'actively assisting.' Something as simple as making sure people have the batteries they need for a toy can save them an additional trip," and increase sales. "Reinforce this over and over," he said.

"We tell staff to get out from behind the counter and be friendly. When you are physically nearby, customers are more likely to ask you questions — even if they say they don't need help," Mary Porter Green from Curiosity Zone told TDmonthly.

5. Give new employees low-pressure, specific jobs.

Your well-seasoned employees should be on the floor helping customers, not tied up by minutiae.

"We give seasonal staff low-pressure, simple jobs like wrapping and restocking. There is a lot of pressure to get 'the right toy' for the holidays, and seasonal staff cannot be trained adequately, nor be expected to handle the volume of customers," Dean Smith, owner of JaZams in Princeton, N.J., shared.

6. Hire through recommendations from existing staff

"We hire through word of mouth for part time and gift wrappers. I offer a $25.00 bonus to staff per person that they recommend that we hire," Diana Nelson, owner of Kazoo & Company in Denver, Colo., told us.

7. Use social media to engage your customers

Assign one or more members of your staff to manage your Facebook page throughout the holiday season as part of your customer outreach effort.

"Try to build up any social media presence," advised Jonathan Margolis, President & CEO of The Michael Alan Group and co-author of "Guerrilla Marketing For Dummies." "Encourage friends, customers, and suppliers to either become a friend or 'like' the brand. If possible, leverage Twitter to announce new products, new shipments, extended store hours, and in store specials."

8. Give back to your community

If you support your community, they'll want to support you.

"We've been supporting local charities during holidays and doing good in the community to get our name out there in a feel-good way," shared Kate Noreen, manager of MudPuddles Toys & Books in Marblehead, Mass.

9. Ignore doomsday predictions.

"The newscasters with the 'doom and gloom' … affect the buyers and keep them from spending," Ava Allen, owner of Be Beep A Toy Shop in Columbia, S.C., told TDmonthly. "We've been through the cycle before and it always turns out OK."

Kathleen McHugh, president of the American Specialty Toy Retailing Association, recommended turning off the TV to avoid being influenced by the doomsayers.

10. Give it your all.

The holiday season requires extra time and energy. "It means getting up at 5 a.m. instead of 7 a.m. to make the store look presentable and make sure the shelves are stocked," Owner Bob Samuels of Learning Express in Andover, Mass., told TDmonthly. "[The store] can't be shopworn like the big-box stores are a week into the season. It has to look the same as day one on the last day of Christmas."

"Your customers can shop anywhere, but they are shopping with you," added McHugh. "Reward them with the best your store can be in every way."

11. Remember why you love your job

"Do what you love. I've been doing it for 25 years. If you can't be passionate about it, you need to change," shared Linda Graham, Scheffel's Toys, Inc., Jacksonville, Ore.

"Playing with the kids, seeing their eyes light up when they see a rocket shoot or have a (toy) snowball fight in the store. It makes coming to work fun. And it's not just about playing with the kids. You put adults on a Spooner Board, and you see the adult become a kid again. For a kid to see their parents pogo jump - they're amazed," Debbie Gray, Bear and Friends, Johnson City, Tenn., told us.

Looking for even more retailing tips? Check out the links below.

5 tips for keeping your cool when the weather gets cold

Avoid Holiday Burnout with these 7 Retailing Tips

18 Tips on Creating Killer Retail Window Displays

7 Tips on Selling After Christmas

How To Handle A Customer Complaint

Your First Holiday Season As A Retail Manager

Writer's Bio:
Justina Huddleston graduated Magna Cum Laude from Emerson College with a BA in Writing, Literature, and Publishing in 2009. After graduating she was the on-site director of the Boston Children's Museum gift store for a year, selling educational, developmental, and creative activity toys that tied in with the museum's exhibits. Justina also interned at children's book publisher Candlewick Press before moving from Boston to Los Angeles, where she is now Editorial Director of
TDmonthly Magazine
.
Read more articles by this author
THIS BANNER IS AN AD:
---
---