---
Avoid Holiday Burnout with these 7 Retailing Tips
With all the demands of retail during the holiday season, including longer hours, employees calling in sick, and dealing with gift returns, it is easy to throw up your hands and become the Grinch. But you can't let that comfortable old "grinchy" feeling in or it will cost you sales.

So, how to avoid it?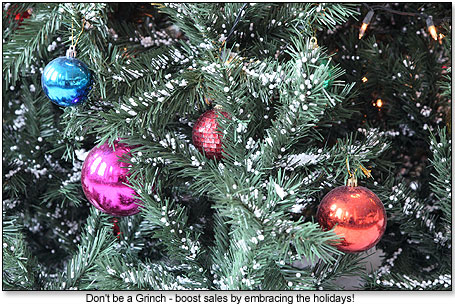 First, embrace the idea of the holiday music. Instead of resenting it, look at it as a reminder these are the "money weeks". Remember that listening to holiday music makes shoppers feel merry. And happy shoppers buy more than unhappy ones!

Second, make a schedule policy ahead of time and stick to it. For instance, no one gets Christmas Eve or the day after Christmas off. No one. Not your daughter, your son, your mother-in-law…or you. No one. The speed of the leader is the speed of the group. If business is slow, you can always be generous and let them leave early. But you don't want to be swamped from noon-5 when the dads shop, only to have none of your employees around to help them.

Third, offer shorter holiday shifts for your employees. This is your business but it isn't theirs. Your employees can become Grinches much more quickly than you. Plan for this by doing them a favor and give them a six-hour shift if you can, or a split shift. They may have to open for four hours and close for four hours, but they can get off during the middle of the day for errands or shopping. Giving them choices ahead of time allows for much happier employees.

Fourth, set a daily sales goal for your store. I don't care how much, but set it. You could also set a goal that by close of business Christmas Eve you'll have done X for the month, and by close of business December 31, you'll have done Y. Track your progress daily. Give the employees something if you meet both goals. Include yourself in the reward too!

Fifth, have short meetings with your staff each day. Task them with selling some of your best high-ticket gift items, and show them how they can upsell.

Sixth, develop your sixth sense. Always have your head up, looking around your store to see who has been waiting a long time, who has a question, which cashier isn't up to speed. Step in when needed to keep the store moving along. Around the holidays people are more stressed than usual, with less time, and they are going to punish those who make them wait.

Seventh, remember that this is the season to be building your contact lists so get every customer to signup for your free newsletter or a drawing. (I always like to give away a train set with the drawing on Christmas Eve at 3pm.) Include on the entry slip the customers' name, email, phone as well as the name and birth date of the person they are buying the holiday gift for. You can use all of this marketing information for other campaigns during the first part of 2013.

Finally, remember: the holidays come with a promise of good things. Don't turn on the TV and watch mindless talking heads tell you how awful retail sales were, are, or could be in some places in the US. The only thing to tell yourself is how determined you are to be remarkable in the minds of your customers; from the moment they enter the door to the time the gift is unwrapped.

Your customers want to see someone knowledgeable and excited to provide them with a great retail experience, not someone burned out and bitter. You can do this; you just need to decide to embrace this season and all it entails.
Image by Wong Mei Teng

Writer's Bio:
Bob Phibbs is the Retail Doctor®, a best-selling author and speaker who has helped thousands of independent businesses compete. His new book, The Retail Doctor's Guide to Growing Your Business has received praise from both Inc. magazine and USA Today and can be found at your local bookstore or ordered at http://www.retaildoc.com/guide. He and his work have been featured in the New York Times, the Wall Street Journal and Entrepreneur magazine. Questions? Contact Bob at info@retaildoc.com.
This article was reprinted with permission of the author, Bob Phibbs, aka The Retail Doctor®.
Read more articles by this author
THIS BANNER IS AN AD:
---
---