Barbie American Idol
From: MATTEL INC.
Other products from MATTEL INC.
Shop for It!

(Read Review below)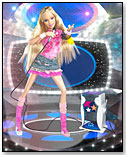 Barbie´s ready to compete on Fox´s hit talent show, American Idol. The new doll line introduces fashionably clad Simone and Tori, ready to rock, each with a pretend karaoke machine that plays a popular pop song. Each doll comes with an extra outfit, backstage pass and play CDs with a CD case.
TDmonthly Review:
What is it?
Based on the popular TV reality show, American Idol Barbie is one of the latest in the Barbie line, and comes in three different characters – Tori, Simone and Barbie. Tori has cascading red hair with braids and comes with two edgy, trendy outfits, along with matching accessories. All three American Idol girls have "Ever-Flex" bodies, making movement and positioning easy. Also included are three miniature CDs and her very own working karaoke machine. Just press the button and she'll sing "What I Like About You." The karaoke machine requires three AAA batteries.
What We Thought
The "Ever-Flex" makeup of the dolls allows for freer movement, more so then the traditional Barbie doll. The colors of her hair and makeup and unique, cool and match the "rocker" image of Tori. The karaoke machine only plays one line of the song, as opposed to the whole song, then fades to silence.
Why They'll Want It.
With the popular TV show still in full swing, young girls will love this new Barbie line that plays off the show. Retailers will love this doll because it appeals to fans of both Barbie dolls and American Idol.
--Susan Maddela, 4/15/05