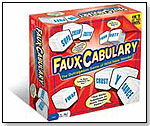 First, a crazy definition is read to the group by the "Wordmeister." Next, players must grab three random word cubes and create a new word to fit the definition. Each new word is read out loud, and the "Wordmeister" picks the best one. The player whose words are chosen the most wins. 3-7 players. Launch date: March 2011.
Awards: TDmonthly Top Toy Award, June 2011
— Why it won: Fauxabulary is a great game for large groups. It's similar to Apples to Apples, but creating new words out of different word-parts encourages kids to think creatively, and have fun with letters. It combines the silly group fun of Apples to Apples with the fast-paced scramble to create and find words like Scrabble or Boggle, and is reasonably priced relative to similar party games.
ToyDirectory Product ID#: 31591
(added 1/25/2011)
---