Cirkis
From: HASBRO INC.
Other products from HASBRO INC.
Shop for It!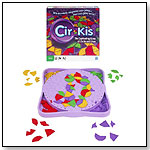 CirKis is a fun, award-winning game in which players take turns placing pieces and compete for control of point-scoring zones. Played on a beveled, circular board, the game challenges players to use their spatial reasoning to strategically place their pieces. The game is governed by a single, simple rule: each piece must touch -- or "kiss" -- the piece placed before it. As the game progresses, players have to devise strategies to corner their opponents and achieve victory. Designed for ages eight and up; game time is 15 minutes.
— As of 06/14/2011 this product had 3 out of 5 stars from 22 reviews on Amazon.com. Pros: Scoring track is on the board; easy but requires strategy; visually striking. Cons: Some said it was boring; several said it was too complicated.