Brave: The Essential Guide
From: DK PUBLISHING INC.
Other products from DK PUBLISHING INC.
Shop for It!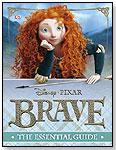 Since ancient times, stories of epic battles and mystical legends have been passed through the generations across the rugged and mysterious Highlands of Scotland. In "Brave," a new tale joins the lore when the courageous Merida confronts tradition, destiny, and the fiercest of beasts. Merida is a skilled archer and impetuous daughter of King Fergus and Queen Elinor. Determined to carve her own path in life, Merida defies an age-old custom sacred to the uproarious lords of the land: massive Lord MacGuffin, surly Lord Macintosh, and cantankerous Lord Dingwall. Merida's actions inadvertently unleash chaos and fury in the kingdom, and when she turns to an eccentric old witch for help, she is granted an ill-fated wish. The ensuing peril forces Merida to discover the meaning of true bravery in order to undo a beastly curse before it's too late. Full of beautiful movie stills, vivid character photography, and tons of interesting and fun movie facts, the captivating movie companion, Brave: The Essential Guide, will take readers along with Merida on her journey to battle against the forces of nature, magic, and a dark ancient curse. Launch date: May 15, 2012.
— As of 09/13/2012 this product had 4.5 out of 5 stars from 2 reviews on amazon.com. Pros: Lots of images from the movie. Cons: One adult reader said it would be better suited for younger fans.