Design Inspiration
The Wizard of Wow: A Creative Moment With Steve Kehrli
By Karen Mendez Smith
July 2003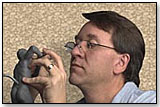 Steve Kehrli

Even at an early age, some creative minds seem destined for success. So it was for Steve Kehrli, owner of Creative Energy Resources in Santa Clarita, California. In the seventh grade, his very first sculpture won an award. That recognition gave him the confidence he needed to seek out mentors such as screen actor/artist George Montgomery, who personally inspired and encouraged Kehrli 's work.

Since 1986 CER has been a full-service creative center, with a team of sculptors, painters, mold makers and photographers on board that build and market just about anything you can dream up.

"The one thing we do that puts us way ahead of anyone else is that we not only execute designs, but we generate original creative ideas," Kehrli tells us. "We love what we do, and I think it shows in the excellence we bring to each project. We're always looking for ways to innovate and improve."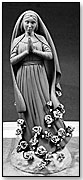 Clay figure
Kehrli and his stable of artists at CER perform a host of different services aimed at helping bring an inventor's visions to life, ranging from aiding design conception to prototyping and in-house mold-making, casting, illustration and sculpting services. Kehrli also manufactures small orders at the Santa Clarita location, but for larger orders, he uses a network of Chinese manufacturers.
While making collectibles and other products for the gift, print and toy industries, Kehrli's services have paid off handsomely. Last year, CER supervised $7 million worth of product sold to Wal-Mart.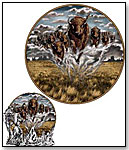 Animal Paintings
"There's really nothing special about me," Kehrli says with genuine humility. "It took a long time until I was really good, but I just kept at it." Shortly after being awarded 1st place in the Rockwell International Design Competition in high school, Kehrli made his first professional sale, and then another. He hasn't looked back since.
The company's website displays photos of over 500 illustrations, paintings and sculptures -- from Native American themes to whimsical, fantasy and animal designs. But design is only one aspect of creating collectible products. Kehrli and his staff also build websites, write and publish books to go along with ideas, and art-direct for overseas companies. They even have a full digital photography department for creating catalogs in-house.

Frog figure
His advice to young designers is simple. "Study the masters," Kehrli advises. "Keep studying and teach yourself how artists like Bernini do it. But most of all, have fun doing it."
Ironically, Kehrli hasn't sculpted in years. Instead, he now passes on that opportunity to new artists in his company. In a world where way too many things seem like marketing clones, it's a refreshing change to see the real thing in action.
Writer's Bio: Karen Mendez Smith has been involved in children's media for over twenty years as a literary agent, writer, and creator of animated television and film. Co-founder of Satori Organics and M/Path Press, she is a parent to eight children and five incredible grandchildren (and counting).
---
---