---
How a 5-MINUTE CHALLENGE® Trumps Challenging Times
Scrambles Squares® Puzzles Offer Elegance and Economy
On the prowl for a product that meets the needs of the times, TDmonthly Magazine and TOYDIRECTORY took a trip to Redondo Beach to visit Kathie and Marshall Gavin, founders of b. dazzle, inc. and makers of Scramble Squares® brain-teaser puzzles.

View the video of our fascinating and fun visit:


Get the Flash Player to see this video.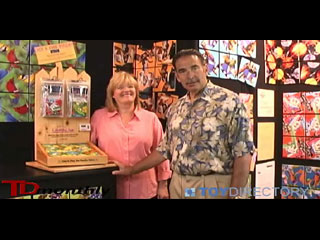 The nine-piece Scramble Squares® puzzles retail for just under $10 and intrigue players of all ages and backgrounds with their deceptively simple design and original artwork. The concept of the puzzle is easy to grasp — line up three rows of three puzzle pieces each — but the number of possible non-solutions is so vast that players rarely discover the one pattern that will solve each puzzle. As Kathie put it, "The average time to solve a Scramble Squares® puzzle is 2-1/2 hours to never!"

Because the solution seems intuitive and yet remains elusive, the Gavins designed an in-store display that challenges players to work out the correct pattern in five minutes or less. Those who win the 5-MINUTE CHALLENGE® are rewarded with a free puzzle of their choice, and the sponsoring store receives a replacement puzzle of its choice from b. dazzle, inc.

View the video of the many varied 5-MINUTE CHALLENGE® display options:


Get the Flash Player to see this video.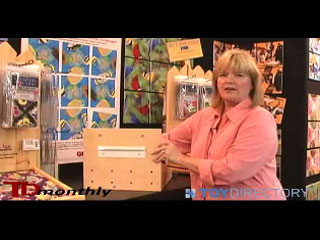 The Gavins designed a number of different 5-MINUTE CHALLENGE® displays to suit the varied needs of both large and small retailers, including those with limited or challenging space. Having a 5-MINUTE CHALLENGE® display vastly increases the sales of Scramble Squares®, Marshall told TDmonthly, as players not only buy a puzzle for themselves to solve at home, but can't resist choosing more puzzles for friends and family from the dozens of themed designs. The fact that Scramble Squares® are made in America is a big selling point, too, he added. As an extra bonus, the back of each package gives educational information on that puzzle's theme.

Watch TDmonthly's video of Kathie and Marshall describing what a Scramble Squares® puzzle is and how and the 5-MINUTE CHALLENGE® works (first video, at top), and then see them demonstrate how some of their most popular 5-MINUTE CHALLENGE® displays increase sales of Scramble Squares® (second video, above).

Finally, below are some of b. dazzle, inc.'s newest Scramble Squares®, for your viewing pleasure:

Manufacturers: Find out how a TDmonthly Video attracts buyers.









.

AD
---






A surprise best seller, the Symphony Scramble Squares® has hit a responsive chord as a gift for children learning to play musical instruments and music lovers and concert goers of all ages.

.

AD
---






Always one of the very best selling Scramble Squares® puzzles in virtually every geographic region, the Tropical Fish Scramble Squares® puzzle beautifully portrays the ecology of the coral reef, gorgeous species of fish and exotic places in paradise.

.

AD
---






.

AD
---






The adorable cocker spaniel, dalmation, german shepherd, and shar-pei puppies illustrated on the Puppies Scrambles Squares puzzle, make this puzzle among the most popular styles among children, as well as with adults!

.

AD
---






.

AD
---






.

AD
---






.

AD
---






Scramble Squares® are nine-piece puzzles that feature original art and only one solution. They're great for everyone from age 4 to 104. Interesting fact: Modern football had its start in the mid 1800s, when Webb Ellis of England's Rugby School scored a goal in a game of English soccer football by picking up the ball and running it over the goal line in a desperate attempt to win the game before the school's five o'clock curfew bell. From that day forward, English football divided into two distinct games: the "handling game," rugby, where the ball could be advanced by carrying it, and the "dribbling game," soccer, where the ball must be advanced by kicking it.

.

AD
---






These nine-piece puzzles are easy to play, but hard to solve. They feature original artwork, plus educational facts on the back of the travel-size package. Interesting fact: In 1964, the general manager of Pontiac, John DeLorean, created the first "muscle car" by approving the installation of 389 cubic inch, 6.3-liter engine in the Pontiac LeMans, adding the designation "GTO" that had been a name first used by Ferrari, Europe's leading sports car company.

.

AD
---
See other articles on b. dazzle, inc., and Scramble Squares®:
Why b. dazzle, inc. Chose North America: Company's Principles Drive Quality Production
b. dazzle, inc.'s Dazzling Rise: Ancient Egyptian Inspiration Brings 21st Century Success
b. dazzle, inc. and its 21st Century Business Model
b. dazzle, inc. Introduces a New Exciting Puzzle for All
THIS BANNER IS AN AD:
---
---