---
Bolaball Inc.
Wrap Yourself Around This One
"The original bola was used to hunt animals and was constructed of three rocks attached together with leather." — Richard Trecartin, Bolaball Inc.

Hoping to be chosen as a subject for TDmonthly's TOY FRENZY! documentary, inventor Richard Trecartin tells about the genesis and development of his game.

I've created an outdoor/indoor game that all people can play.

About three years ago, my wife and I came up the idea of Bolaball in order to get some fun and excitement going when our large family got together (100 people aged from 3 to 88).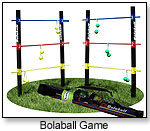 ANCIENT INSPIRATION

The idea for the "bola" has been around for at least 1,000 years; the original bola was used to hunt animals and was constructed of three rocks attached together with leather. We have since developed the bola to consist of two super-bounce rubber balls attached with rope.

The game of Bolaball comes with six sets of bolas and two targets and can be played in singles or doubles. The idea is to throw your bola at the target to get points. The first team to reach 21 points wins the game.

A SEARCH FOR PARTNERS

Five years ago, we started the idea and then spent the next two years trying to find a North American manufacturer. Despite phone calls, emails, faxes and research, we couldn't even get one company to give us a quote. We decided to try overseas.

The first company we approached was in Romania and they sent us several great samples and we came to an agreement. After we gave a deposit the company mentioned several production "problems" that occurred and we needed to pay extra. To cut the story short, we had to sell the games at a loss just to get some of our money back.

We then found another manufacturer in Taiwan and have had some success with them.

LITTLE INVESTMENT GROWS

Originally my wife and I invested $50,000 in order to fill several small orders that we had received. As time went on, we had to get an outside private investor in order to fill the growing demand for Bolaball.

Currently I supply Bolaball games to 1,100 stores across Canada, and we're now approaching the U.S. market at the upcoming Toy Fair in February in New York.
Bolaball
by
BOLABALL INC.
Other products from BOLABALL INC.
Shop for It!






Bolaball is perfect for family gatherings and outings with friends, take it to the park, beach, camping, barbecues or enjoy in the comfort of your own backyard. It's travel bag with shoulder strap makes it the ultra portable game! AND now with the addition of our games stands that allows Bolaball to stand without being hammered into the ground you can play in your driveway, garage, or basement!

Past Videos:

Toy Fair 2008

ToyDirectory Product ID#: 16211

(added 11/21/2007)

.

AD
---






Need replacement balls? Extra sets of balls for the game of Bolaball are available in green, yellow, red, blue, orange and pink. 3 sets per bag. Get your replacements today!

ToyDirectory Product ID#: 16214

(added 11/21/2007)

.

AD
---
Catalog Request Form
THIS BANNER IS AN AD:
---
---