---
February Staff Picks
From arts and crafts to construction kits, these are our February staff picks.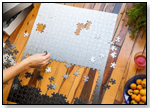 The Gradient Puzzle is a vibrant way to meditate on color. The act of putting it together is slow and deliberate, where the color of each piece is used to locate its proper position. We've used a thick stock and high quality art paper, so the puzzle can be assembled again and again without losing its edge.

ToyDirectory Product ID#: 37463

(added 1/31/2016)

.

AD
---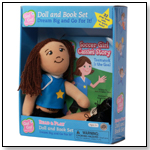 This Read & Play includes: your very own Soccer Girl Cassie doll with her soccer ball, backpack, and towel, and a fully illustrated story book. Children find out who wins the big game as they learn fun facts about soccer in this entertaining story written for beginning readers. Awarded Dr. Toy's 2014 10 Best Award and Oppenheim Toy Portfolio's Platinum Award. Go! Go! Sports Girl products are designed as a fun and educational way to promote self-appreciation and the benefits of daily exercise, smart eating and sleeping habits, self-esteem, and overall healthy life skills for girls. The books and dolls in the series encourage all children to dream big and work hard to achieve their goals—and have fun while doing so.

ToyDirectory Product ID#: 37464

(added 1/31/2016)

.

AD
---




MSRP: $9.99

Age Range: 6 and upSpecialty: Yes (as of 2016)Gender: Boys And Girls





Sharpen your skills at Adventure Camp Archery with a bow with shooting function, knock-over target, rest shelter and a hedgehog. Includes a Mia mini-doll.

ToyDirectory Product ID#: 37465

(added 1/31/2016)

.

AD
---






Coloring Crush includes everything you need to make dreamy, just-add-color works of art. And, for those who can't find the pointy end of a pencil, our introductory how-to guide includes a crash course in using colored pencils, blending and layering, color scheme inspirations and artist-approved techniques.

ToyDirectory Product ID#: 37466

(added 1/31/2016)

.

AD
---




MSRP: $39.99

Age Range: 8 and upSpecialty: Yes (as of 2016)Gender: Boys And Girls





Drive back the enemy with the First Order Snowspeeder™ featuring three-man crew, storage, stud shooter, rapid-fire shooters, hidden wheels and more.

ToyDirectory Product ID#: 37467

(added 1/31/2016)

.

AD
---
You don't have to be an engineer to create with Nano Blocks. With these micro-sized building blocks, a 3D Space Shuttle is constructed like never before. Watch in amazement as the Shuttle is erected to even the tiniest detail. With over 1600 assorted size pieces, create a detailed replica of the Space Shuttle, that fits perfectly in the palm of your hand. Includes detailed color instructions. Not designed for children under age 8. This would be a great addition to any collection and a perfect gift for any inspiring designer, architect or collector.
---



Related Clips:










ToyDirectory Product ID#: 37468

(added 1/31/2016)

.

AD
---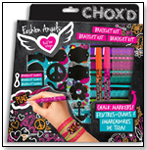 MSRP: $11.99

Age Range: 8 and upSpecialty: Yes (as of 2016)Gender: Boys And Girls





Customize this chalkboard tote with your own unique designs using the chalk markers. Then use the sponge eraser to erase and start again! Kit Includes; chalkboard keeper tote, 3 chalk markers, sponge eraser, and instructions.


ToyDirectory Product ID#: 37469

(added 1/31/2016)

.

AD
---
THIS BANNER IS AN AD:
---
---