GLIDE BIKES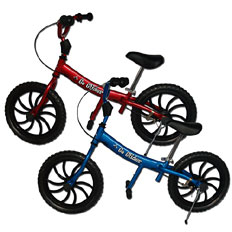 Go Glider

MSRP:
$129.99
Gender:
Boys And Girls
Age:
6 to 9
Designed for kids age 6-9 who have not mastered riding a bike. Kids with learning disabilities can benefit as well by allowing them to learn safely at there own pace. The Go Glider features a 16" Eva foam airless tire, adjustable seat height from 17.5" to 23", and adjustable handle bars. It uses the same proven geometry as the Mini Glider, scaled up for larger kids and is made out of the same high quality alloy finished off in metallic lead free paint. Suggested retail price is 119.99-129.99.
See TDmonthly's Review of the Go Glider
(

Watch Video)
---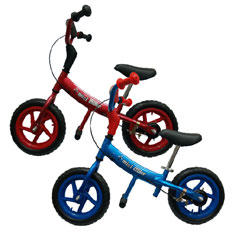 MiniGlider

MSRP:
$99.95
Gender:
Boys And Girls
Age:
2 to 6
Alloy Mini Glider fits kids 2-6 years old. Same Proven Geometry as PV Glider. Designed in the USA. Lightweight - only 8 LBS. No maintenance "air-free" tires Comes with tool to assemble in less than a minute. Availabe in Red Candy Apple and Candy Blue Metallic Paint. Suitable for boy or girl. Really sparkles in the light.
The only balance bike with pegs to rest feet.
(Patent Pending)
(

Watch Video)
---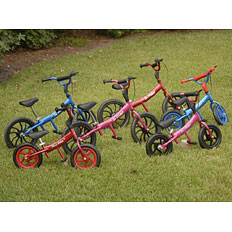 The secret is in the geometry. Adjustable heights to the seat allows for a child to put both feet flat on the ground while learning to balance. Adjustable handle bars allow for an adjustable reach for growing children. There are no training wheels involved. The key to learning to balance is to learn what to do when the bike leans to either side. Training wheels do not allow the bike to lean and so kids never learn what this feels like. As a result, the average time a child spends on training wheels is two to three years. With the MiniGlider, kids learn to balance right off the bat, so most children can ride a bike within a month or two, even two-year olds. Amazing!





AD
---