---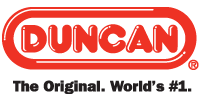 DUNCAN TOYS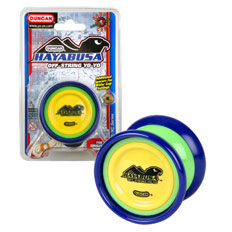 Hayabusa™ Yo-Yo

MSRP:
$24.99
Gender:
Boys And Girls
Developed by Duncan Crew Japan, the Hayabusa™ sets the new standard for the perfect offstring yo-yo. Complete with three different response systems for intermediate to advanced players: friction stickers, silicone stickers, and the new recessed triad.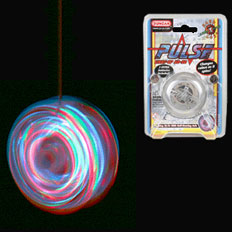 Pulse™ Yo-Yo

MSRP:
$7.99
Gender:
Boys And Girls
Not only the best light-up yo-yo on the market, but the Pulse™ is a high-quality, perfectly balanced, ball-bearing yo-yo that is actually unique, and affordable. New lighting technology offers increased color changing lights and patterns with each second of increased spin time. It turns a standard 2-handed performance into a fantastic show of light and color!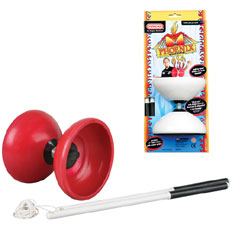 Phoenix Diabolo

MSRP:
$29.99
Gender:
Boys And Girls
Duncan Toys adds new spin to their juggling line by introducing the Phoenix™ Diabolo. Duncan's Phoenix is superbly balanced and well weighted for long lasting momentum, making it perfect for beginners and performers alike. Featuring customizable shell colors and an integrated axle that converts from a fixed position to a one way bearing for easy learning and long lasting spin. Best of all, customization is tools-free with Duncan's built in hand knobs making axle and shell changes quick and easy for every player.
(

Watch Video)
---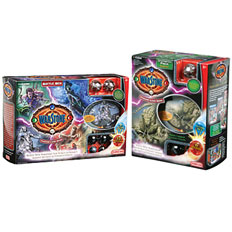 WarStone™

Gender:
Boys And Girls
WarStone is a collectible card game using marbles to compete against opponents on a board. The starter set is designed for 2, 3, or 4 players. To start a game, divide the card deck by color and match up stones with cards of the same color. Set up the battlefield. Place stones in their starting positions. Stones with icons match the icons on the cards. Except for Hex cards, each stone has a matching card. The object of the game is to fire at an opponent and knock a predetermined number of them off the battlefield. The cards instruct you how to attack. Contents include 24 WarStone Stands, 24 Page Rule Book, 2 Savage Stones, 4 Master Stones, 16 Core Stones, 60 Cards, Ruler and Markers, and Storage Pouch.
---

AD
---