Action Cape Batman™
From: MATTEL INC.
Other products from MATTEL INC.
Shop for It!

(Read Review below)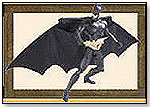 This poseable action figure stands almost 14" tall and features 25 points of articulation. He comes with a pop-out cape that dramatically extends into "gliding" position.
— Jarunee Chantraparnik, owner of Toys Unique in Potomac, Md., told TDmonthly in May 2008 that although Toys Unique carries "very few" action figures, "[we] carry Mattel's Batman."
— In May 2008, five of 55 retailers told TDmonthly that licensed action figures were selling very well in their stores.
— In May 2008, two retailers singled out Mattel as producing the best-selling action figures in their stores.
TDmonthly Review:
What is it?
Batman Begins ActionCape Batman is a 14" highly articulated action figure with an expandable fabric cape. The cape can be contracted to be less conspicuous or – with a touch of a button – expands to give batman a fighting display. The cape can also be tilted up with its supportive armature, to give the appearance of downward flight. Batman comes fully masked, leaving Bruce Wayne in permanent hiding. His head and waist swivel 360 degrees. He has articulated shoulders, upper arms, elbows and wrists, as well as articulated hipbones, upper thighs, knees and ankles. Dressed entirely in black, his waist is accented with a gold-colored utility belt. He comes with a gold-colored Batman boomerang to bring Gotham's nasties to justice.
What We Thought
The figure is impressive looking and extremely poseable. His joints were stiff at first, but a little physical therapy from our testing staff loosened them up. He can balance on his own two feet, even when standing on a fairly slippery surface. The cape mechanism was trickier. The release mechanism sometimes stuck, releasing only half of the cape at a time. His permanent scowl makes him a formidable figure, especially appealing to kids who want a super hero who can scare off all contenders.
Why They'll Want It
The super-articulation of the figure makes it really fun to pose. Kids who are into comics will want this figure not only for play, but also as a model for their own drawings. Batman would probably be best displayed out of the box and next to some books on drawing your own comics, or even a comic or book-making kit. The figure could even be used for stop-action movies, since so many kids have digital movie cameras these days. And of course, anyone who's seen the movie will want the figure just so he or she can relive the best battle scenes and give the villains a good KAPOW!
-- Alison Marek, 6/15/05

ToyDirectory Product ID#: 19288
(added 6/9/2008)
---