Go!!! Cars, The High-Octane Adventure
From: CARRERA
Other products from CARRERA
Shop for It!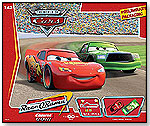 SKU or Item #: 62122
Launch Date: February 2009
Gender: Boys
Lightning McQueen and Chick Hicks are going head to head again, this time in Carrera's high-octane racing adventure GO!!! "Cars," where, like the movie, both the young and young at heart will learn that life isn't always about the finish line, it's about the journey. Carrera GO!!! lets slot car and film fans live life in the fast lane, putting the fate of hotshot rookie race car Lightning McQueen in their own hands during what could be the most important race of his life. Can the NASCAR-inspired Chick Hicks out-cheat the flashy and fast Lightning McQueen? Find out as the two fly down over and through the competition on almost 18 feet of track, featuring two cross over sections, spiral overpass and lap counter. In addition to Lightning McQueen (61147) and Chick Hicks (61149), Carrera is also bringing back #45 The King, Strip Weathers, the 1970 Plymouth Superbird, licensed by Petty Racing. Launch date: February 2009.