Bathing by Liesbet Slegers
From: CLAVIS PUBLISHING
Other products from CLAVIS PUBLISHING
TDmonthly rating:


(Read Review below)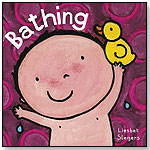 This 12 page board book follows a little boy before, during, and after his bath time. Simple yet colorful illustrations and a focus on a daily activity are ideal for children 12 months and up. The book also introduces children to vocabulary words such as bathtub, clothes, and shampoo.
TDmonthly Review:
WHAT IT IS
This board book follows baby through all the familiar steps of bath time. Brightly colored pictures against a white background are easy for baby to focus on, and the simple sentences feature bolded key words such as "bathtub" "clothes" and "shampoo," to help young ones familiarize themselves with new words.
WHAT WE THOUGHT
This simple yet spirited board book is a great gift item for new parents, and would be a welcome addition to any child´s library. Unlike many board books for babies that focus on everyday tasks, this one has personality. The list-like reporting of bath time is broken up by baby´s voice, which exclaims, "Oh, my shampoo is so sweet!" and "It is fun to sail my boat in the bath." The illustrations are very sweet and stand out nicely against the stark white background. The overall style is reminiscent of Leslie Patricelli, though less whimsical.
WHY THEY´LL WANT IT
Books like this are great for people looking for a gift for an expectant parent, or the baby in their life. The illustrations and the extra personality conveyed by the narrator set this book above the standard fare, in addition to helping baby learn new vocabulary.
—
Justina Huddleston