The Big Baby Book by Guido van Genechten
From: CLAVIS PUBLISHING
Other products from CLAVIS PUBLISHING
TDmonthly rating:


(Read Review below)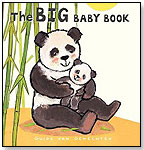 This board book, ideal for children 24 mos. and up who have a new sibling on the way, focuses on babies across the animal world. From naked baby rodents in a warm nest, to a lamb born with all of its curly hair, the charming paintings illustrate the story John's mom tells him about babies in nature. Eventually, John ends up with a new baby to lean about- his little brother.
TDmonthly Review:
WHAT IT IS
Josh´s mom is going to have a baby, which makes him ask if he was once a baby in his mom´s tummy too. His mom says yes, and tells him about babies throughout the animal kingdom, from rats, to sheep and horses. In the end, the new baby arrives, and Josh is a big brother.
WHAT WE THOUGHT
High-quality illustrations and a strong story line make this book a must-read. The illustrations in the book are done by painting over newspaper, giving each picture a unique depth and richness. The book is for ages two and up, and it deals with the arrival of a baby in an informative, age appropriate manner. The story has a nice narrative arc, in that at the end of the book we actually get to see Josh become a big brother.
WHY THEY´LL WANT IT
This book would be an ideal read for children who are expecting a new sibling and have questions about babies. The many illustrations of baby animals and their mothers will also intrigue any child who is interested in animals. It´s a board book, so it is sturdy enough to stand up to a toddler, and is less expensive than a regular hardcover storybook.
—
Justina Huddleston