TDmonthly's Toy Fair 2008 Highlights

Sunday, February 17, 2008

Toy Fair 2008 opens! Check out our Top-10 Game Picks and photos of characters at the show.



Toy of the Day: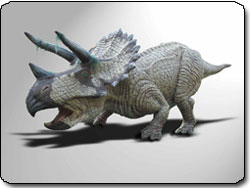 Triceratops Puppet by PUPPETOYS INC.
Age: 4 and up

Triceratops Puppet is a 26" long full body glove puppet. Triceratops is a tank-like plant eater with plated armor and three soft foam huge flesh piercing horns on his head for protection against meat eating predators. As with all Prehistoric Puppets he is fully flexible down to his swishing tail! A great learning and role playing puppet for ages 4 to extinct. Made of a super soft molded polyurethane foam realistically painted.
---

TDmonthly Top-10 Toy Fair Picks - Game Zone
Diverse Elements and Colors Make for Playable Debuts
All played out? Maybe it's time to refresh your game stock with offerings making their big debut at Toy Fair 2008. From designing your own game board to practicing math while conquering villains, there's plenty of creativity, playability and strong presentation in these games...READ MORE
---
Toy Fair Daily Reports
Characters go all out for the grand opening of Toy Fair 2008 in NYC's Javits Center. (Photo report)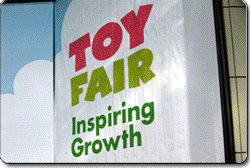 TDmonthly's Video Crew captures footage for its Toy Fair documentary, "Toy Frenzy! Only the Fun Survive." (Photo report)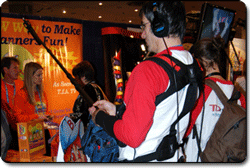 ---

Find Julie!

Julie is playing her way through the Game Zone and getting creative with Arts & Crafts!

Julie will be at the lower level checking out hobby products tomorrow.

Find TDmonthly's Julie L. Jones on the showroom floor and get noticed!

RETAILERS: Give her a business card and your impression of the show and you may be quoted in TDmonthly's Toy Fair Highlights!

MANUFACTURERS: Give her your business card and find out how you can get a FREE VALUE LISTING with ToyDirectory.

Read TDmonthly's Toy Fair Highlights each day to find out where Julie will be the next day.
---

Exhibitor Tip of the Day:
"Never talk for more than two minutes consecutively. Be a 'champion listener' ... and never start selling before you truly connect." — Charles W. Allen, The C.W. Allen Group
---

Retailer Tip of the Day:
"Don't spend so much time looking at existing companies that you already buy from. Try to focus your time finding new, fresh items, and always ask about show specials" — Karen Barwick, owner of Boomerang Toys, New York City
---