TDmonthly's Toy Fair 2008 Highlights
Wednesday, February 20, 2008
Toy Fair 2008 is over but the highlights continue! Be sure to check back in our March issue for additional Toy Fair articles, Top-10 lists, Exhibitor-demo videos from the show, and update on the Toy Frenzy! documentary.
Toy of the Day: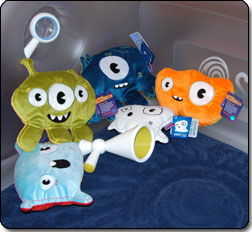 The Shrunks Collection by THE SHRUNKS' FAMILY TOY COMPANY INC.
Age: 6 and up

The Shrunks Family is dedicated to helping kids overcome their fears — of the dark, of what's under the bed, of strange sounds in the night — so that they can sleep peacefully. The line includes a set of tools in sleek white design with accent colors: Mist'r Calming Spray, Blow'r Whistle; Yell'r Blowhorn; See'r Flashlight; and Big'r Magnifier. Kids can use these to help make their fears go away. Also in the line is a Shrunks airbed made with phthalate-free PVC material and a collection of plush characters called Ududolls that each have a different fear.
---
Daily Top 10:

TDmonthly's Top-10 Plush
Show Goes Wild With New Animals


From web-friendly pets to ailments in a petri dish, Toy Fair '08 isn't short on plush friends that are fun for both play and display. Cute and cuddly converged with crazy and ultra-artistic in the aisles of New York's Javits Center, attracting TDmonthly to the following finds...READ MORE
---
Toy Fair Daily Reports
TDmonthly's Toy Frenzy! crew capture LittleMissMatched ™ presenting their products at their booth. (Photo Report)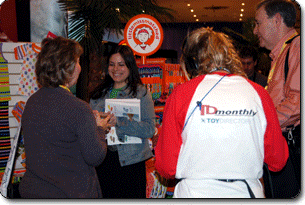 A last look at the floor as the show closes. (Photo Report)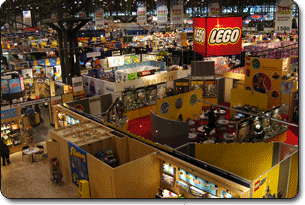 ---

Exhibitor Tip of the Day:
"Most exhibits in the same product/service category all say the same thing. Instead of using common phrases — think 'highest quality' and 'best service' — use dynamic benefit statements such as 'New ... proven methodology' or 'Children now learn manners ... the fun way!'" — Charles Allen, C.W. Allen Group
---

Retailer Tip of the Day:
"If you get to know the president, vice president and directors of sales and marketing, it really pays off in the future. My business is more about connections and community than it is the dollars." — Christine Osborne, owner of Wonder Works, Charleston, S.C.
---

Find Julie!

Find TDmonthly's Julie L. Jones on the showroom floor and get noticed!

RETAILERS: Give her a business card and your impression of the show and you may be quoted in TDmonthly's Toy Fair Highlights!

MANUFACTURERS: Give her your business card and find out how you can get a FREE VALUE LISTING with ToyDirectory.
---